Soas hits back at David Cameron's accusations that it played host to 'hate preachers'
It emerged that only one of the named speakers had visited the college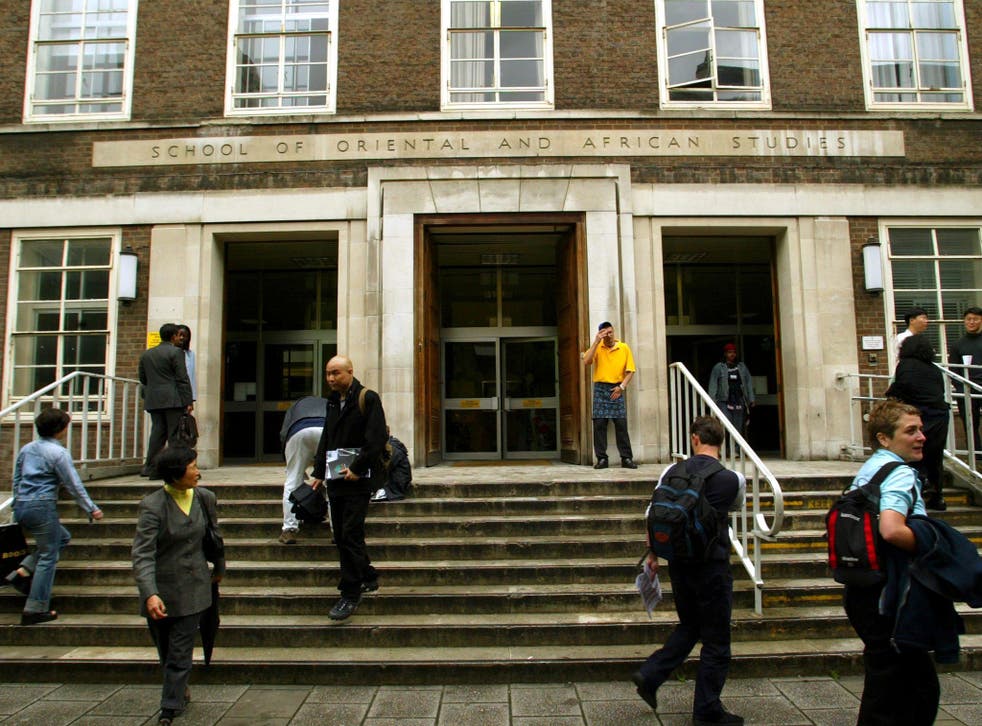 The School of Oriental and African Studies (Soas) has accused No 10 of "inaccuracies" after it was named by David Cameron for hosting "extremist preachers", as it emerged that only one of the named speakers had visited the college, and only to address students on Islamic finance.
Queen Mary, Soas, King's College and Kingston University all denied Mr Cameron's claims that they had hosted "hate preachers" who undermined British values, demanding to see his evidence.
Laura Gibbs, Soas registrar, said: "We were disappointed to see that the announcement... by the Prime Minister's Office includes some inaccuracies. We have not hosted any extremist speakers in the last year, or indeed the recent past.... We take our duty of care to our community and our legal obligations very seriously."
Soas said the controversial cleric Haitham Al-Haddad visited in February 2014, to speak to the Islamic Finance Society, a student group, to explain why the charging of interest is prohibited by Islam.
The four universities were "named and shamed" by David Cameron as he unveiled a new duty for universities to stop extremists targeting students, and ensure speakers with extremist views do not go unchallenged. Institutions will also have to tackle gender segregation at events.
Mr Cameron said that in 2014 there had been at least 70 university campus events involving speakers known to have promoted rhetoric that aimed to undermine British values. Queen Mary, King's College, Soas and Kingston University were identified for having held the most events. These included hosting six speakers, including Dr Haddad, Uthman Lateef, Alomgir Ali, Imran Ibn Mansur (aka "Dawah Man"), Hamza Tzortzis and Salman Butt, who Downing Street cited as having expressed views "contrary to British values".
Professor Simon Gaskell, principal of Queen Mary, said: "We find it difficult to respond to these assertions when the extremism analysis unit has not requested any information", adding that the university would "welcome sight of their definitions for 'hate or extremist speakers' ".
A spokesman for Kingston University said Dr Haddad and Dr Lateef had each addressed the university's Islamic Society once in 2014. Their topics, respectively, were, "How one needs to strike the balance between the worldly life and hereafter", and the crisis in the Central African Republic.
King's College London said that its vetting processes for external speakers complied with Home Office guidance and all relevant legislation.
A Muslim Council of Britain spokesman said: "The decisions on restricting free speech in specific circumstances... should be made at a university level in consultation with student bodies. There should, however, remain sufficient space to allow radical non-violent ideas to be discussed without fear in the open, rather than in private areas where they cannot be challenged."
The universities minister Jo Johnson has written to the National Union of Students calling for it to drop its opposition to the Government's anti-radicalisation Prevent programme. The union said it had "legitimate concerns" about its impact on student welfare.
Extremists at universities?
Speakers identified by government as 'undermining british values'
Haitham al-Haddad
Pulled out of a planned event at Westminster University in February after protests at his homophobic views.
Uthman Lateef
The British preacher has said: "We don't accept homosexuality ... we hate it because Allah hates it."
Hamza Tzortzis
The former member of Hizb ut-Tahir has said: "We as Muslims reject the idea of freedom of speech."
Salman Butt
Former president of the Islamic Society, Imperial College London; now editor of the islam21c.com website.
Alomgir Ali
At Queen Mary, in 2014, he urged students to avoid "unnecessary socialising with the opposite gender".
Imran Ibn Mansur, aka Dawah Man
Views homosexuality as "obscene, filthy, shameless", and likens being gay to having a "disease".
Join our new commenting forum
Join thought-provoking conversations, follow other Independent readers and see their replies