Social mobility: School leavers 'left behind' to drift into dead-end jobs, warns damning report
Committee on Social Mobility condemns the current 'complex and incoherent' system for school leavers looking to find their first jobs saying it is confusing for both young people and employers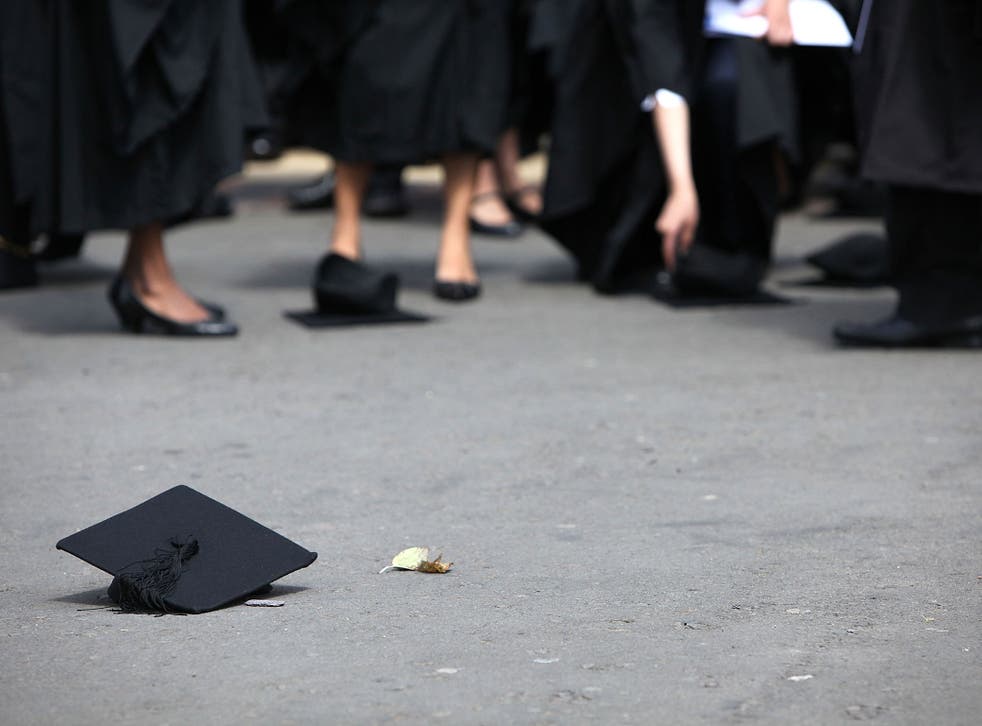 Most young people do not go to university but have been "overlooked and left behind" by the current system which leaves too many school leavers to "drift" into dead-end jobs, a damning report by a House of Lords committee has warned.
Bright school leavers are being denied the chance for social mobility because they are given "gobbledygook" rather than good careers advice and support when they leave school, the House of Lords Committee on Social Mobility warned.
More than half (53 per cent) of young people do not follow the "traditional" academic route of going from school to university before starting work. This majority of young people are "significantly overlooked" in their transition from school to work and the Government's focus on apprenticeships is not suitable for everyone, concluded the report, Improving the Transition from School to Work.
The Committee condemned the current "complex and incoherent" system for school leavers looking to find their first jobs saying it was confusing for both young people and employers.
Baroness Corston, chair of the Committee, warned that too many bright youngsters were trapped in dead-end jobs because they had been denied the right support and advice when they left school .
She said: "The current system for helping people move from school to work is failing most young people. They are simply not being adequately prepared for the world of work. This significantly disadvantages a huge number of young people and limits their opportunity for social mobility.
UK news in pictures

Show all 50
"Recent governments have focused on higher education and apprenticeships as the way to help young people to be successful in later life. Both routes can work well – but it is absolutely not the case that they are suitable for everyone. To focus on university or apprenticeships, to the exclusion of other routes, is to the detriment of many talented and able young people.
"We have found that without being taught life skills, given the right support, access to work experience and robust, independent careers advice, we are in danger of trapping these young people in low-skilled, low-paid work, with little chance of a rewarding career.
"A young person considering their options for further education or employment is presented with gobbledygook. It is totally unclear to them how they can get the skills needed for a successful career. It is also unclear to the people in their lives giving them advice and support in making these crucial decisions."
The Committee acknowledged the value of apprenticeships for some young people and the economy but warned that despite the Government's focus only six per cent of 16–18 year olds became apprentices. The vast majority (77 per cent) of new apprentices in 2014/15 were over the age of 19, and 41.6 per cent were over the age of 25.
The report called for more support for young people who did not go to university or become an apprentice to make a successful transition into the jobs market.
The Committee also found a significant inequality in the investment in the education of young people, with a difference of approximately £6,000 a year per student between the public funding of young people attending further education colleges and university. It cited estimates that a further education places costs the Government an average £2,150 a year compared to £8,400 for university students.
Baroness Corston added: "Non-traditional qualifications are also poorly understood by employers, who cannot be expected to understand the bewildering array on offer, much less have confidence in their quality. That is a major barrier to young people in finding a job.
"The huge difference in funding between the academic and non-academic route into work is something that the Government must look at if we are to give all our young people an equal chance at succeeding in life. Simply put, young people choosing not to go to university are not invested in as they should be."
The Committee also called for the national curriculum to stop at the age of 14, rather than 16, and the ages of 14-19 recognised as a single stage to prepare young people to start their careers.
The report also called for better careers advice which it argued should be provided by independent careers experts and not schools and colleges. It also called for a new Cabinet post so that a single senior Government minister would be responsible for school leavers' transition from education to work, rather than the current situation which sees responsibility fall between a number of departments and ministers.
Alice Barnard, chief executive of education charity Edge welcomed the report. She said: "The Social Mobility Committee is absolutely right. The inequality between academic and vocational education is unfair, restricts social mobility and does not meet the UK's economic needs. Despite making up the majority of the future workforce, young people who take some form of vocational education when they leave school receive much less attention and investment than students who take A levels and go to university."
A Department for Education spokeswoman said: "Latest figures show the number of young people not in education or training is at the lowest on record and we have the highest ever number of young people going into higher education. We have introduced a more rigorous curriculum so every child learns the basic skills they need such as English and maths so they can go on to fulfil their potential whether they are going into the world of work or continuing their studies.
"We will invest £70million in our careers strategy over the course of this parliament to transform the quality of careers education. We have also set up the Careers & Enterprise Company to bring young people into contact with employers and develop closer links with employers so they can play a greater role in preparing young people for the world of work."
Case study: 'I wanted to focus on work, not revision'
Martha Witcomb, 17, lives in Essex and works as a campaign manager
"When I left school I went to college where I did drama and performing arts for a year, but I decided it wasn't for me because it was more of a hobby. I looked into doing an apprenticeship, but it would have involved a lot of studying and I didn't enjoy that at school. I'm more practical. I always did well in exams – I got eight GCSEs – but the thought of sitting in a classroom for another two years... I couldn't have done it. I just wanted to crack on.
"At school there was only the option of going to sixth form, not leaving and finding a job. A few people were told they should do apprenticeships, but mostly they told us to get more qualifications. I wanted to focus on work, not homework and revision.
"I thought, 'I like talking to people, I'm confident; I'd like to work in an office. It was hard to find a job as there's not many about but I found one as a campaign manager at Notgoingtouni.co.uk, which advises young people about apprenticeships.
"I really like my job and really want to stay here. I talk to clients and find leads for sales. There's not a day I can't be bothered to come in. I enjoy what I'm doing."
Join our new commenting forum
Join thought-provoking conversations, follow other Independent readers and see their replies