Pupils without laptops can attend school, government confirms amid concerns over numbers lacking devices
School leaders have warned prime minister number of laptops pledged by government 'falls far short' of what is needed
Zoe Tidman
Wednesday 06 January 2021 18:20 Comments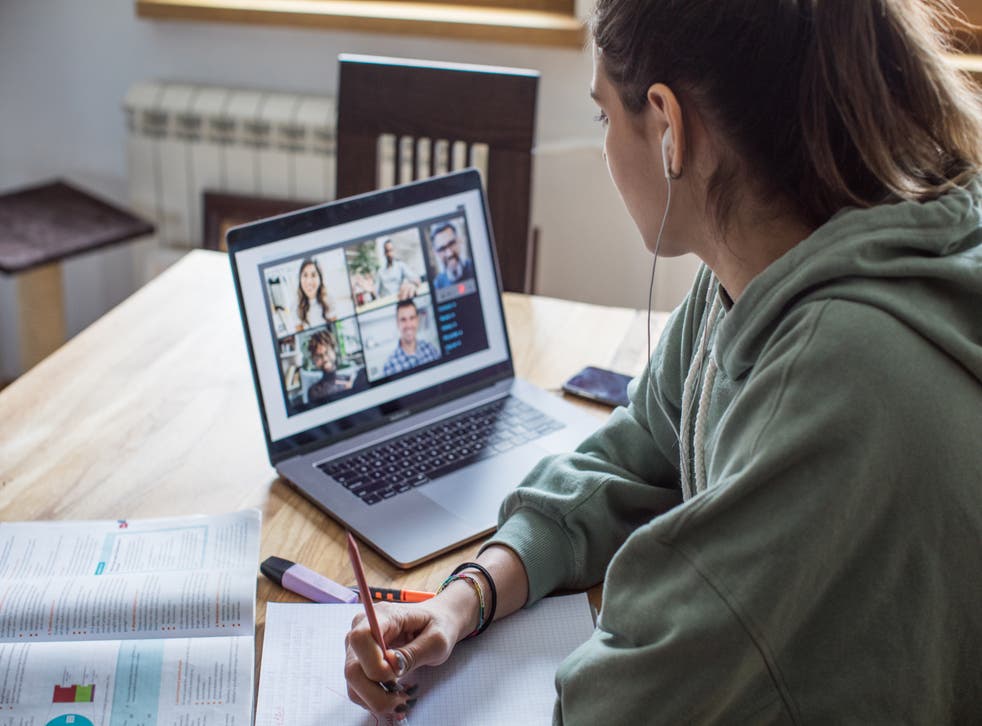 Children without digital devices at home will still be able to go into school during the current coronavirus lockdown, amid concerns over the number of pupils lacking laptops. 
As England was sent into another lockdown this week, schools were told to move online for all children until at least mid-February, except for those classed as vulnerable and key workers' children.
Gavin Willamson confirmed on Wednesday that students without laptops, desktops or tablets would be able to access education in school during the latest lockdown.
The Independent understands government guidance was updated in September to explicitly mention children who have difficulty accessing remote education at home as a group that could be classified as vulnerable by educational providers or local authorities.
Many children remained without laptops as term started, according to headteachers, local councils and charities, who have warned disadvantaged pupils faced falling behind peers as a result. 
Boris Johnson was also warned in a letter before the national lockdown was announced that the number of devices pledged by the government to support remote learning "falls far short" of what was needed.
Ofcom estimates up to 1.78 million children in the UK have no home access to a laptop, desktop or tablet, the letter – signed by charities, MPs and unions – said.
The Department for Education (DfE) said in early January it had delivered 560,000 laptops and devices to schools to date, another 100,000 arriving this week after the scale of deliveries was increased. The department said it was set to reach its target of one million delivered by the end of the academic year.
Headteachers were told last term the number of laptops they could access from the government to support self-isolating students had been slashed. 
When asked about remote learning during the new lockdown, the education secretary told parliament on Wednesday: "The reason we are rolling out and expanding our devices package is because we realise how important that is for all children, especially those children from the most disadvantaged backgrounds."
In response to the question by MP Robert Halfon, Mr Williamson said: "I can confirm – as in the previous situation where we saw schools had to be closed during the months of March, April and May – children who didn't have access to digital devices were able to access education in that school, and that is the same standard and same guidance we are issuing today as well."
But headteachers have told The Independent it was not clear in original first lockdown guidance that children without devices would fall under the vulnerable category.
"The vulnerable category has always been pretty open because the last category has been for schools to identify vulnerable pupils - but when you look at the old guidance, it doesn't imply that level of support," Michael Tidd, a junior school headteacher in Sussex, told The Independent.
"'Vulnerable' was clearly originally intended to mean that they were at increased risk of harm if left at home without interaction from professional bodies," he added.
"I'm not aware that anybody considered lack of devices to be relevant under that guidance."
Another headteacher said children without devices were not going into school during the first lockdown as "vulnerable" pupils.
When asked whether it was known there was scope for this in original guidance, Kit Andrew says: "I think it's largely been missed."
Government guidance updated in September includes "pupils who may have difficulty engaging with remote education at home (for example due to a lack of devices or quiet space to study)" as an example group of those who may be classed as vulnerable by educational providers or local authorities.
Mr Andrew, a primary headteacher in London, said this would "apply to over 50 per cent of my pupils", on top of more than 25 per cent who are the children of key workers.
Stuart Guest, a headteacher in Birmingham, told The Independent if his school followed that guidance, "we would have way too many in school to be safe".
Steve Chalke, founder of Oasis Charitable Trust, which has 53 schools across England, said heads were preparing for a greater number of pupils to turn up to school on Wednesday than in the lockdown in March as more children were classed as vulnerable and more parents who were key workers wanted a place.
He said about a third of the cohort were expected to attend Oasis Academy South Bank, a secondary school in London, following the government's announcement to stay at home.
On the guidance, Mr Chalke said: "If you look at the criteria for vulnerable children, it has grown in several ways."
Mr Williamson said on Wednesday closing schools was "the last thing any education secretary wants".
"But the closing of schools for the majority of pupils does not mean the end of their education, and the outlook for schools, parents and young people is far more positive than the one we faced last year," he said.
The UK education secretary added: "Schools and colleges are much better prepared to deliver online learning – with the delivery of hundreds of thousands of devices at breakneck speed, data support and high quality video lessons available."
Register for free to continue reading
Registration is a free and easy way to support our truly independent journalism
By registering, you will also enjoy limited access to Premium articles, exclusive newsletters, commenting, and virtual events with our leading journalists
Already have an account? sign in
Register for free to continue reading
Registration is a free and easy way to support our truly independent journalism
By registering, you will also enjoy limited access to Premium articles, exclusive newsletters, commenting, and virtual events with our leading journalists
Already have an account? sign in
Join our new commenting forum
Join thought-provoking conversations, follow other Independent readers and see their replies