Teachers face a storm of bullying – by the children's parents
Online abuse includes personal insults, sexual smears and threats of violence, with unions saying the pressure is becoming 'unbearable'
Sarah Cassidy
Thursday 02 April 2015 00:43 Comments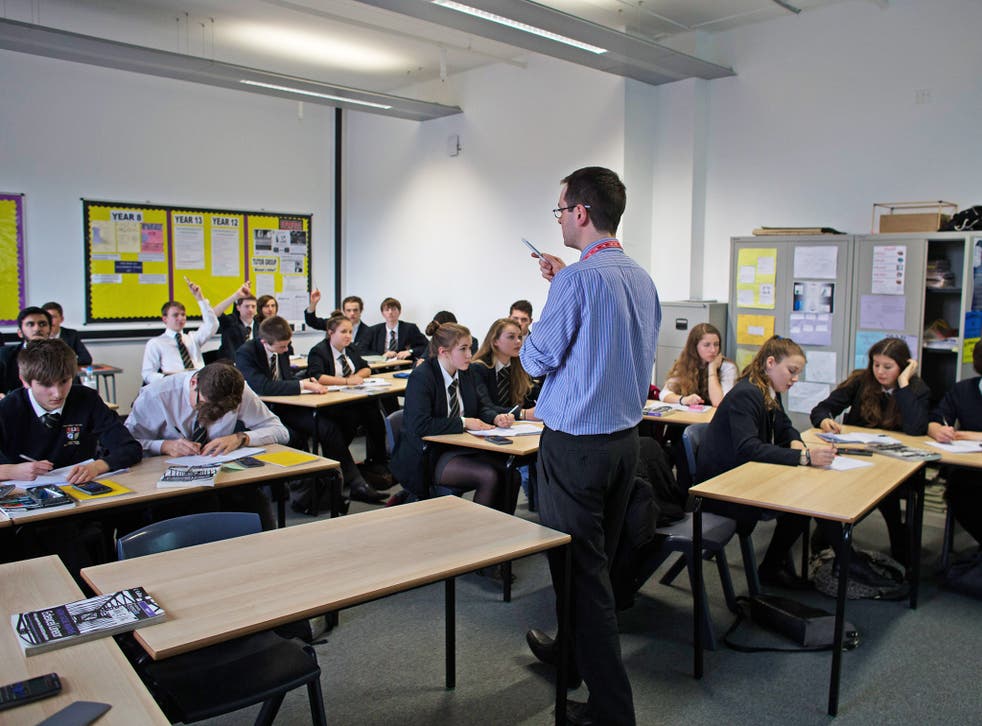 Teachers are increasingly being abused online by their pupils' parents – with growing numbers forced to endure personal insults, sexual smears and even threats. New research shows that parents – rather than children – are the driving force behind a sharp rise in the number of teachers complaining of being abused on social media.
The study highlights how parents are using Facebook to post sexist, racist, and homophobic comments about their children's teachers. Some of the posts falsely accuse school staff of being paedophiles or having sex with pupils. Teachers complain that their appearance, competence and sexuality are regularly mocked online by parents.
Many schools are reluctant to take action to halt the abuse for fear of further provoking the parents, it is claimed. The results of the survey by the teaching union the NASUWT will increase fears that teachers are facing increasingly unbearable pressures.
Yesterday, The Independent reported on research showing that around 40 per cent of teachers quit in their first year, because of the excessive workload and the harsh realities of life in the classroom.
Meanwhile, schools have warned of a looming teacher recruitment crisis as figures show chronic shortages of trainees in key subjects such as maths and foreign languages.
Sixty per cent of the 1,500 teachers who responded to the NASUWT survey reported that abusive comments had been posted about them on social media sites by pupils and parents, compared with just 21 per cent in 2014.
Most of the rise appeared to be the result of an increase in the number of parents abusing teachers online; 40 per cent of teachers reported abuse from parents in the past year, compared with 27 per cent in 2014.
Over a third of teachers had videos or photos taken of them without consent and posted online by pupils, compared with 26 per cent in 2014, and 15 per cent had threats made against them by a parent, compared with 7 per cent in 2014.
The overwhelming majority of comments were posted by secondary pupils, mainly on Facebook, although there have also been rises in pupils using newer sites such as Instagram and Snapchat to abuse teachers.
While the vast majority of teachers did report the abuse from pupils or parents to their employer, the social network or the police, the study found that little was done, with action from social-networking sites falling compared to 2014.
One teacher responded to the survey, saying: "I asked the headteacher to put a note in the school newsletter as there has been more than one case of this but she refused and told me that it is OK for parents to write horrible things about me on Facebook."
Another teacher responded: "The school head said he didn't want to get involved with it any further as it could lead to ruining the school's reputation."
One parent told a teacher through social media that they were "rubbish" and a "bitch" who tried to kill their daughter by making her do PE and not allowing her to use her inhaler. The teacher concerned said this was untrue.
Another school worker faced comments from a pupil's family member about how they looked and that they were ugly.
Among the examples of pupils abusing teachers online published by NASUWT was the case of a student uploading a teacher's photo and then, along with classmates, writing "bitch" and "twat" underneath. One teacher said they were harassed for nine months by students who sent sexually explicit messages and set up a fake social media account in their name.
The union said it had been told of a teacher receiving the comment "I hope she gets cancer", while the heavily pregnant worker had faced remarks such as "ugly fucking bitch" as well as having an account established in her name.
Chris Keates, general secretary of the NASUWT, said: "It is deeply worrying to see that the abuse of teachers has risen by such a huge margin this year.
"Equally concerning is that it appears that more parents are the perpetrators of the abuse. The vile, insulting and personal comments are taking their toll on teachers' health and well-being and undermining their confidence to do their job.
"Many teachers tell us they suspect they are being abused online but dare not look, for fear they could never walk into their school again to have to face their abusers."
She called for the next government to take the issue seriously and to require schools to have a zero-tolerance policy and use all sanctions available to address abuse of staff.
Register for free to continue reading
Registration is a free and easy way to support our truly independent journalism
By registering, you will also enjoy limited access to Premium articles, exclusive newsletters, commenting, and virtual events with our leading journalists
Already have an account? sign in
Join our new commenting forum
Join thought-provoking conversations, follow other Independent readers and see their replies