The tuition paradox: You pay more money, you get less choice
The past six years have seen a spectacular reduction in the number of courses taught by universities, as the impact of higher fees begins to be felt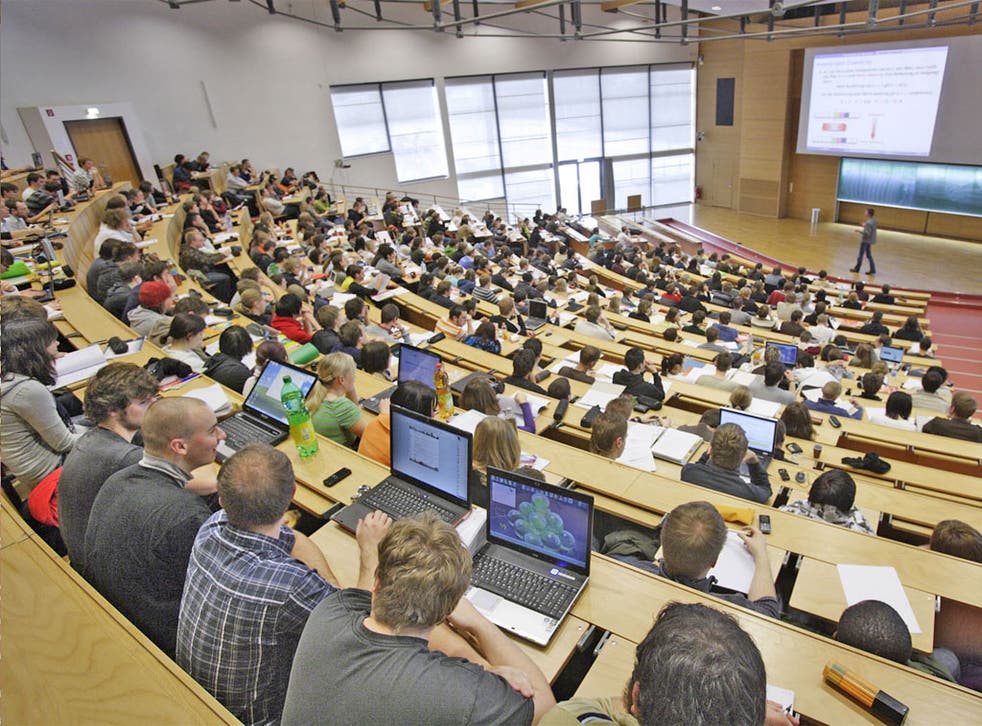 More students paying more money to study fewer subjects – that is the picture of higher education in Britain painted by research published today, which shows a dramatic reduction in the number of degree courses.
A survey by lecturers' leaders shows that more than one in four degree courses has been scrapped since 2006 – the year that top-up fees were introduced in English universities. Languages, science, and arts and humanities subjects are among those which have been axed.
The report, based on an analysis of data supplied by the Universities and Colleges Admissions Service, says the number of courses at UK universities has declined from 70,052 to 51,116 in the past six years – with some regions suffering a bigger reduction than others.
As a result, some areas of the country have become a "languages-free zone", it argues. The number of students has also increased dramatically over the same period, so the emerging picture is of a growing number of students facing less choice about the subject they study, and where they study it.
The South-west has suffered the biggest cut in courses with a 47 per cent drop, followed by Eastern England (40.9 per cent down), the North-west (39.9 per cent) and then the West Midlands and London, both down 33 per cent. The East Midlands is relatively unscathed, with just a 1.4 per cent reduction.
In some areas of the country, subjects are simply no longer on offer. Remarkably, French and German courses cannot be found in Eastern England and the North-east, the report notes.
England has suffered a bigger cut than other parts of the UK, with a 31 per cent reduction in courses compared with just 3 per cent in Scotland, fuelling claims that rising fees are prompting many universities to concentrate on a dwindling number of the most popular subjects.
"The decisions currently being undertaken by many universities and encouraged by the British Government seem completely contrary to the idea of providing a broad and balanced education for university students," said Sir Richard Roberts, Nobel Laureate for medicine and physiology.
"I notice that some universities have been closing chemistry departments where one of the key subject areas for understanding biology is taught. That just makes no sense. Others close humanities departments presumably because they are not viewed as profitable."
James Ladyman, professor of philosophy at the University of Bristol, added: "Provision shouldn't be decided on the basis of short-term popularity contests, but when you introduce a market that is what happens."
A subject breakdown of the reduction of course options reveals that "Stem" subjects – science, technology, engineering and maths, considered vital to the future of the economy – have suffered a greater reduction (14.6 per cent) than arts and humanities (14 per cent) and social sciences (12.8 per cent).
However, the percentage cut in mainstream subject choices is less than the overall figure for course cuts – leading to speculation that some more fringe subjects may have disappeared.
The University and College Union believes the situation will be exacerbated by the introduction of fees of up to £9,000 a year from this September. "We fear that shifting the burden of funding from the state to the student means nervous universities will look to axe even more courses that they worry won't make a profit," said Sally Hunt, the union's general secretary.
"However, we simply cannot have areas of the country where local students do not have access to the courses they want to study. The increasing cost of university means many students will consider studying closer to home."
The Department for Business, Innovation and Skills said it was up to universities to decide for themselves which courses to offer. It pointed out that there was special funding available for those running Stem courses, with ministers currently reviewing which subjects should be eligible.
Various research projects have indicated that students are more likely to opt for courses which will give them the best chance of getting a job afterwards, as tuition fees rise.
The report's publication coincides with separate research indicating that the UK higher-education system is inching down the league table for attracting overseas students, as a result of attempts to curb immigration.
Figures show that of the eight nations most successful in attracting overseas students, only the UK has suffered a cut in its percentage share of the total. While the UK share of the international market rose from 11 per cent to 13 per cent between 2001 and 2009, it fell to 12 per cent in 2010.
The report suggests that the UK risks losing out on its full share of the projected multibillion-pound increase in the market for global education services. It cites curbs on visas and restrictions on postgraduation employment opportunities as the reasons.
Sir Paul Nurse, president of the Royal Society, said: "The problem we have is probably with perception. By clamping down on immigration, out there in the rest of the world the UK is seen as not welcoming scientists who can carry out innovation."
Join our new commenting forum
Join thought-provoking conversations, follow other Independent readers and see their replies