Two out of three schools struggling to fill senior teaching posts, says new report
Maths and English jobs are hardest for schools to fill, while the newly qualified are often not ready for the classroom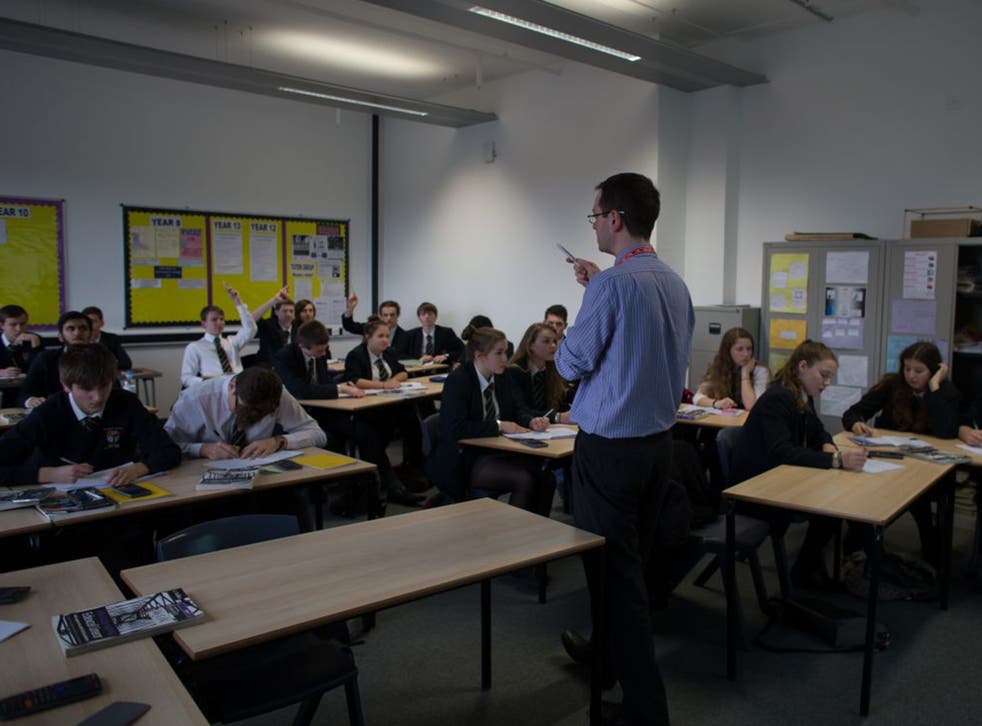 Two out of three schools are struggling to fill senior teaching posts, according to a new survey.
A poll of more than 1,000 headteachers conducted by the National Association of Head Teachers (NAHT) reveals that recruitment is being hampered both by a shortage of teachers and by the poor quality of candidates for posts.
"It's time to be frank," said Louis Coiffait, who leads NAHT Edge – a service set up to help teachers with management responsibilities. "We're facing a recruitment crisis at all stages of the education system. Until we address it ... there's no chance that we'll have the quantity or quality of headteachers we need in the future."
The survey found that 62 per cent of schools were struggling to recruit teachers for the highest paid positions in their schools. In addition, 14 per cent revealed they had failed to recruit deputy heads – while 20 per cent had failed to recruit assistant headteachers.
Among subject teachers, the biggest problem was recruiting maths teachers – 40 per cent of schools had struggled to make an appointment–followed by English, in which 32 per cent had experienced difficulty in finding staff.
While a shortage of teachers was cited as the key reason for struggling to recruit by 40.5 per cent of schools, the numbers citing the poor quality of applicants was slightly higher, at 41.4 per cent.
It was also difficult to recruit newly qualified teachers, according to the heads. One in three said that candidates were not well prepared to start working in a school; 73 per cent of schools said applicants lacked classroom management skills.
Nearly one in three schools (32 per cent) said recruits were less ready to teach than five years ago.
In all, 463 schools complained about the poor quality of recruits while 453 put problems down to a shortage of teachers.
The survey comes after it was revealed at the Association of Teachers and Lecturers (ATL) conference last month that four out of 10 classroom teachers were not in the profession only one year after qualifying.
Mary Bousted, general secretary of the ATL, cited long hours and heavy workloads as factors that were putting teachers off the job.
10 best primaries and secondary schools

Show all 20
The findings were followed by an open letter to The Independent signed by 1,200 teachers – organised by the ATL – pleading for more government support after the election to reduce their workload.
The areas with the worst teacher shortages were East Anglia, with 64 per cent of schools struggling, and the South-east, with 60 per cent. London fared better, with 40 per cent experiencing difficulties.
Asked what qualities the potential recruits were lacking, 73 per cent said classroom management skills, while 58 per cent complained of a lack of subject knowledge.
A motion will be debated at the NAHT's annual conference in Liverpool drawing attention to the "exodus from the profession" and calling for more government action both to "retain the most talented of our young teachers" and urgently address the "unrealistic expectations" placed on them. It warns that current expectations will lead to the profession being "irreversibly damaged – which will have a devastating impact upon our children's life chances".
Mr Coiffait of the NAHT added: "Nothing is more important than ensuring children have access to the best possible standards of teaching. But any improvements we've seen in education will stutter and stall if there's no investment in teacher development and career progression.
"Promising professionals will leave and would-be leaders will choose not to take on leadership roles. That can't be allowed to happen."
Join our new commenting forum
Join thought-provoking conversations, follow other Independent readers and see their replies