Majority of students think universities should take applicants' backgrounds into account, survey finds
Undergraduates from most selective institutions more likely to back reducing grades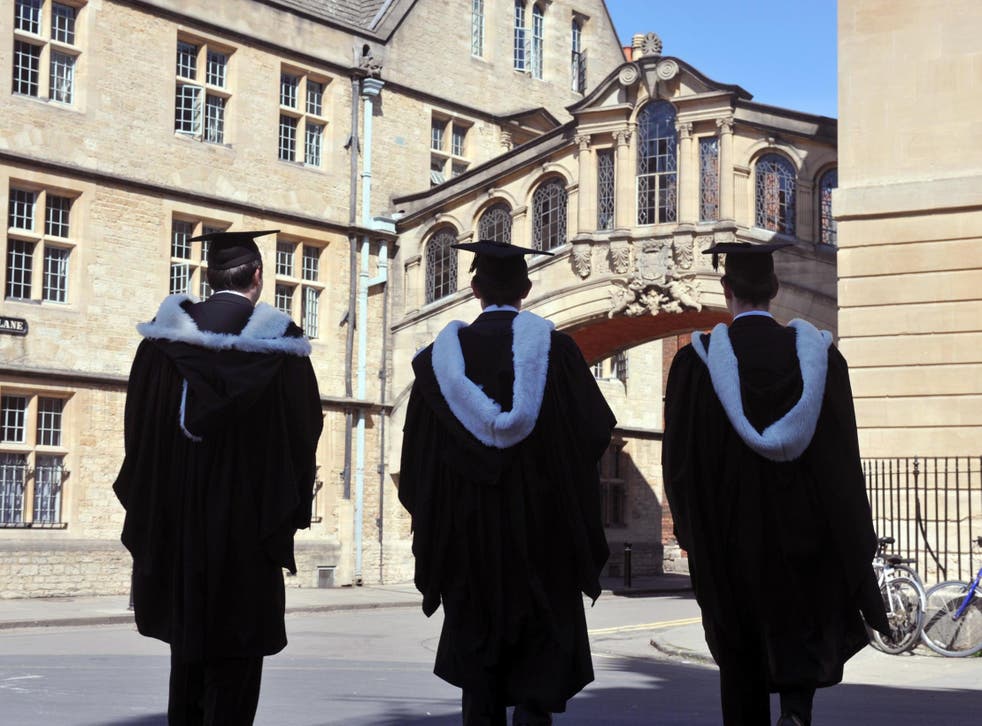 Nearly three-quarters of students think universities should take the backgrounds of applicants into account – but they are evenly split on whether that should mean lowering grades, survey finds.
Nearly half (47 per cent) of students back lowering the entry bar for those from disadvantaged areas, compared to 45 per cent who oppose, the Higher Education Policy Institute (Hepi) finds.
Students at the most selective Russell Group universities were more likely to support lower entry offers to applicants due their circumstances, with 57 per cent in favour and 36 per cent against.
It comes just days after a review into the admissions process was launched by Universities UK.
The survey, of more than 1,000 full-time undergraduates, found 72 per cent of students thought university admissions should take into account an applicant's background when offering places.
Student news in pictures

Show all 34
Around three-quarters (73 per cent) of students thought it was harder to achieve good exam results growing up in a disadvantaged area, rising to 81 per cent at Russell Group universities.
But the poll also found that 38 per cent of students think that those admitted with lower grades would not be able to keep up with their course, while a majority said they thought they would.
And more than a quarter (28 per cent) of students think contextual offers would make it "harder" for students like them to get into university, compared with more than half who disagreed.
Nick Hillman, director of Hepi, said: "Giving disadvantaged applicants lower entry offers is one of the most controversial things that universities do.
"But there is a secure evidence base for it, as many people underperform at school and college because of their personal circumstances."
The survey also found that two-thirds of students did not know if their own university made contextual grade offers, with just 16 per cent certain that it did.
Mr Hillman added: "Our poll shows the principles behind contextual offers are widely accepted by students, who believe disadvantaged applicants need a boost.
"Yet most students don't know if their own university awards contextual offers and only half of students think lower entry offers are right."
Hugo Dale-Harris, policy officer at Hepi, said contextual offers were the "most promising tool" universities have for picking students with the most academic potential regardless of their background.
He added: "It's striking that students at the most selective universities are most supportive, with 57 per cent supporting lower grade offers for applicants who've had to struggle harder.
"We might have expected students, who are typically from more advantaged backgrounds, to be more resistant to contextual offers. But these results demonstrate for the first time that most students recognise educational inequalities and want universities to address them."
Chris Millward, fair access and participation director at the Office for Students, said: "Significant changes are needed to ensure that the admissions process looks beyond grades to identify merit, recognising the potential of talented candidates from underrepresented backgrounds who have so much to offer to their fellow students, university community and wider society.
"So it is positive to see that students broadly support universities taking applicants' background into account when making offers – even when they will not themselves personally benefit from this practice – and don't believe that those who receive these kinds of contextual offers will do worse.
Paul Cottrell, acting general secretary of the University and College Union (UCU), said it was encouraging that students recognise that not all exam achievements are equal.
He added: "The best way to deliver fairness is better use of contextualised offers and to radically overhaul the system so students can apply to university after they receive their results."
Support free-thinking journalism and attend Independent events
A Universities UK spokesperson said that its review of admissions will look at how universities' contextual admissions can be better understood by applicants and the public.
They added: "It is good to see that many students recognise the importance of contextual admissions, which can play a key role in universities' drive to widen access to university by reflecting an applicant's circumstances and potential."
A Department for Education spokesperson said: "We want to see universities continuing to take steps to level the playing field for those from disadvantaged backgrounds.
"There are many good examples of institutions considering a broad range of information in their offers, including the context in which a student's results were achieved, to ensure that opportunities are open to all."
Join our new commenting forum
Join thought-provoking conversations, follow other Independent readers and see their replies