Universities are wrong to lower entry requirements for disadvantaged students, say undergraduates
Bright pupils from disadvantaged areas would more likely benefit from help improving their GCSE and A level grades, undergraduates from both state and private school backgrounds suggest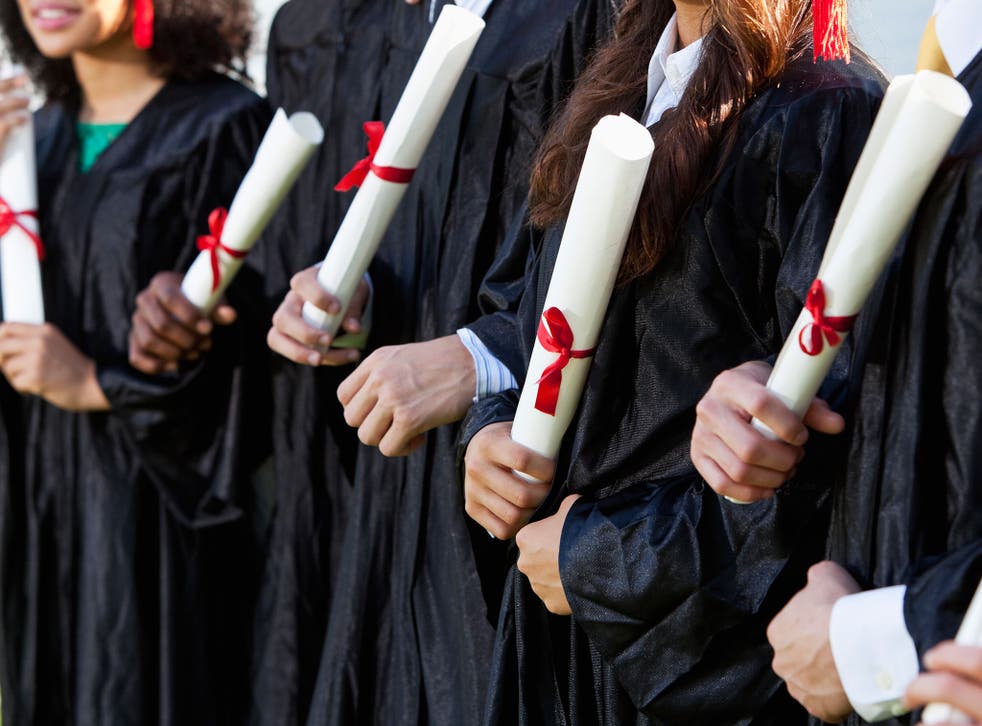 Undergraduates don't think universities should drop entry requirements for disadvantaged students, but should help them get better A-level exam results instead, a new study claims.
In a survey of just under 1,000 Russell Group university undergraduates, researchers found almost three-quarters (73 per cent) believed university access budgets would be better spent helping potential students succeed at school by improving their A-level and GCSE results.
State-school educated students, who made up over 80 per cent of the survey sample, were just as likely as those who were privately educated to disapprove of lower grade offers.
The findings come amid debate over how the UK's top ranking universities can or should improve diversity on campus by supporting candidates from less advantaged backgrounds in undergraduate admissions.
Last year, the gap between rich and poor students being granted university places was found to have reached a record high, according to the most recent Ucas figures.
Students who received free school meals – a long-time indicator of family poverty – are currently less than half as likely to enter higher education as their more affluent peers.
In response to the concerns, the Government's Social Mobility Advisory Group argued the case for bright students from poorly-performing schools in disadvantaged areas being given offers that require lower A-level grades than their more socially advantaged peers.
A number of institutions have since entertained the idea, including the University of Bristol, whose vice chancellor, Hugh Brady, said he was keen to make a "step change" in opening up to students from all backgrounds.
However, according to the student opinion survey – commissioned by online service MyTutor, a community of over 3,500 tutors from the leading UK universities – nearly two-thirds (63 per cent) said lower entry grades for disadvantaged students could be perceived as patronising.
Over half (58 per cent) went so far as to suggest such a move could be counterproductive, as the students targeted were disproportionately at risk of dropping out.
Top 10 universities in the UK according to the Times Higher Education

Show all 10
Henri French, an aerospace engineering student at Bristol University, said giving prospective students lower offers risked students getting places on courses that they "weren't necessarily academically equipped to handle".
"Studying for a degree can be stressful and I've seen situations where students have become overwhelmed by a course, quickly fall behind and drop out when they don't get the same support they did at school," he said.
Latest data from the Higher Education Statistics Agency suggests there has been a steady rise in the first-year dropout rate for young first-degree entrants from the most disadvantaged areas.
The figure was 8.8 per cent in 2014-15, up from 8.2 per cent the year before and 7.7 per cent in 2012-13.
An overwhelming majority (72 per cent) of undergraduate students agreed applicants would benefit from the opportunity to talk to someone of a similar background studying the same course or attending the same institution before filling in their Ucas application.
Almost two in five (39 per cent) also said first-term remedial lessons to help bring students up to speed are too little, too late.
Johnson risks row with Prime Minister over dropping students from migration statistics
More than one-third (37 per cent) of undergraduates questioned said they had thought about quitting their studies at some point because the preconceived ideas they had about university life didn't match up to reality.
Responding to the survey, second-year Exeter student Megan Godley said she had personally benefited from a university access summer school she had attended before submitting her Ucas application.
As the first person in her family to go to university, she said the experience was "very helpful".
"It gave me the chance to talk to people already in higher education and really made me think about what I wanted and didn't want from my university experience," she said.
She too does not agree with the idea of offering lower grades as part of an access scheme, however.
"People end up arriving at university at a disadvantage and I've seen students struggle to understand the lecture materials. Helping students to get better A-level results is a more sensible way to go."
Another student – a third year physicist at Manchester University who asked not to be named – felt access schemes that dropped exam entry requirements were "better than nothing but patronising for disadvantaged students".
"There is a reason that a university asks for a particular set of grades to get on a course," they said.
"I understand that not everybody gets the same opportunities at school but I've seen some people really struggle here. Somewhere down the line there is always going to be a point where things can't be made easier because of previous circumstances."
When asked to compare school with university, almost half (47 per cent) of the 950 Russell Group students who took part in the study said the quality of pastoral support at their school was better than at their university.
Universities Minister Jo Johnson has told vice-chancellors that the Government hopes to double the proportion of students from disadvantaged backgrounds entering higher education and to increase the number of BAME students by 20 per cent by 2020.
According to Edward Timpson, Minister of State for Vulnerable Children and Families, universities intend to spend more than £833m on their access schemes this year.
James Grant, a co-founder of MyTutor,said: "Exam results are of course only part of the puzzle.
"The very best access schemes help prepare students for the pressures and challenges of university life. They don't just focus on the academic aspects but also help with moving away from home and being more independent."
Join our new commenting forum
Join thought-provoking conversations, follow other Independent readers and see their replies