What is it about Michael Gove that makes people hate him so much?
No Education Secretary has ever embarked on such radical reform, so quickly, since Kenneth Baker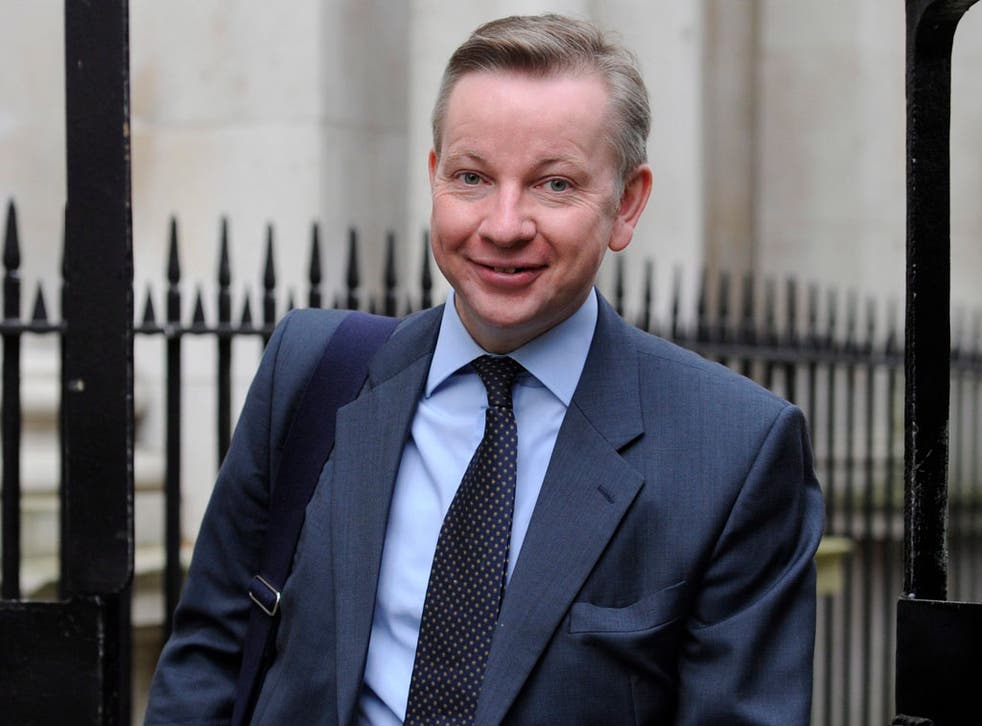 Michael Gove is the most hated Education Secretary ever. Discuss. If you had been sitting at teachers' union conferences for the past eight days, you might think so. Do not just take my word for that. Listen to what some of the delegates have been saying.
For instance, Sarah Caffrey, from Bristol, at the National Union of Teachers' conference in Torquay, called him an "evil entity who hovers around and seems to think we're doing such an excellent job we should be working longer and longer hours for less and less pay".
So how has this well-mannered man described by one teachers' leader as "charming" during the past week stirred up such a hornet's nest? (The teachers' leader did add, however: "He doesn't listen.")
The truth is that no Education Secretary of right or left has embarked on such a radical programme of reform so quickly since ... well, possibly since Kenneth Baker introduced his Great Education Reform Bill of 1987 which ushered in Ofsted, the education standards watchdog, national testing of all children at 7, 11 and 14 and the first signs of a move towards school autonomy by allowing schools to opt out of local authority control.
It is a moot point as to which incurred the greater wrath – after all there were boycotts of the national tests as a result of Kenneth (now Lord) Baker's reforms.
On balance, I think it would have to be Gove – his reforms have coincided with the squeeze on public spending which have led to curbs on teachers' pay and cuts to their pension. These are the issues that have prompted the most serious threats of industrial during this year's conference season.
Votes by the NUT and National Association of Schoolmasters Union of Women Teachers have left schools facing national strikes on pensions. In the NUTs case it will start in the summer term with a proposed national stoppage in June plus regional strikes and further industrial action by both unions on both issues in the autumn.
To be fair to Mr Gove, these issues have not really emanated from his department. All public servants are facing the same squeeze from the Treasury. What has, though, is the drive to promote academies and free schools – another issue that prompted strike demands this Easter. The NUT, in particular, is calling for teachers in every school planning to become an academy to be sounded out on whether they want to take strike action over it.
The likelihood is that there will be some strikes – 22 took place in the past year as the number of academies soared to 1,800 – but most planning to convert will go ahead unscathed. Where Mr Gove may have trouble is in converting schools into academies against parents' and teachers' wishes, as is happening at Downhills primary school in Haringey, north London. This school – where parents differ from Mr Gove and Ofsted in refusing to believe it is failing – could well become a cause celebre if teachers begin strike action.
That brings us on to Ofsted – where NUT members have asked their executive to look at whether they could withdraw co-operation from inspectors and actually show them the door. The likelihood is this will quietly be pushed into the long grass with such action being declared a breach of contract. With all the other battles it has on, the union is unlikely to want to get involved in that one. That it was called for in the first place is in part down to Mr Gove's decision to appoint the hard-nosed headteacher Sir Michael Wilshaw as chief schools inspector (who believes headteachers should model themselves on Clint Eastwood – standing on their own and getting things done). He wants "satisfactory" schools renamed as "requiring improvement", and "no notice" inspections. With his reforms to exams – A-levels to set by leading academies, a reviewed national curriculum focussing on traditional or 1950's values depending on your point of view, teacher training to be done in the classroom rather than those nasty Marxist teacher training colleges, Mr Gove is making a root and branch reform of the whole education system. Small wonder, therefore, that he has inspired so much ire.
Undoubtedly, there will be significant amounts of industrial action in schools in the months ahead – especially as the two big teachers' unions already have a mandate to strike from earlier ballots on pensions and (in the NASUWT's case) pay. Most hated ever, though? Having sat through 33 years of teachers' union conferences, I find that too close to call.
Testing times: past education secretaries
Sir Keith Joseph (1981-86)
Introduced the Technical and Vocational Education Initiative, which teachers saw as dividing children at 14 into academic "sheep" and vocational "goats".
Kenneth Baker (1986-89)
Introduced Ofsted inspections, national-curriculum tests for seven-, 11- and 14-year-olds, proposal to allow schools to opt out of local-authority control and run themselves as grant-maintained schools.
John Patten (1992-94)
Generally thought by teachers to be incompetent but famously diverted attention from a serious report on school discipline by declaring he had been flogged by a monk at school.
David Blunkett (1997-2001)
Faced a demonstration at an NUT conference and was forced to take refuge in a small room after promising as shadow Education spokesman to introduce Fresh Start scheme – closing down underperforming schools and reopening them with a new name and staff if Labour got in.
Charles Clarke (2002-04)
Pushed top-up-fees reforms through the Commons – charging students up to £3,000 a year.
Join our new commenting forum
Join thought-provoking conversations, follow other Independent readers and see their replies