'You're not welcome': teachers vote to ban Ofsted
NUT conference calls for boycott of inspections and tests in protest at government changes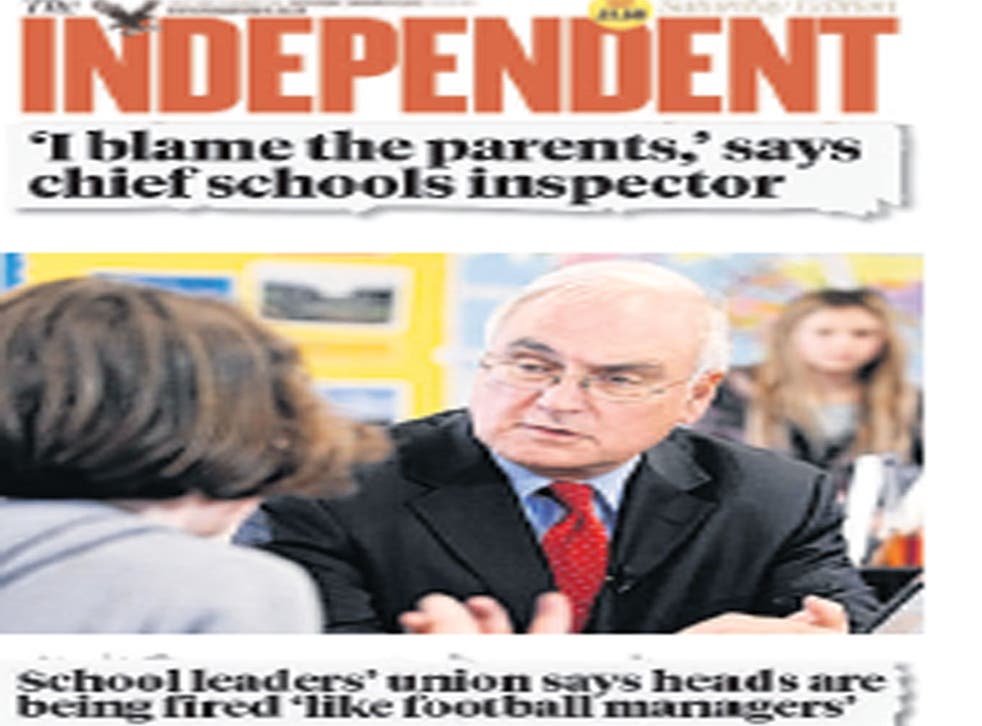 Ofsted inspectors could be barred from classrooms across the country after teachers voted overwhelmingly to boycott the inspection body.
The executive of the National Union of Teachers will now examine the proposals after teachers spoke out about the stress and damage to morale caused by the inspection regime, at the union's annual conference in Torquay.
Teachers' leaders are especially angry at changes being introduced by the new Chief Inspector of Schools, Sir Michael Wilshaw, which seem to make it harder for schools to make the grade.
Schools previously rated as "satisfactory" will be rebranded as "requiring improvement" and failed if they do not improve after two inspections. Teachers believe the increased fear of failing will put the profession under more pressure. Their stand against Ofsted yesterday is the latest development in a politically charged union conference season.
The NUT also warned they would boycott a new government reading test if results from it are turned into yet another means of school assessment.
On Saturday the union passed a resolution alongside the National Association of Schoolmasters Union of Women Teachers to take industrial action, including strikes, over pensions and pay.
Martin Powell-Davies, from Lewisham in south London, spoke of the "excitement" at being able to tell a class: "Stop what you're doing – we've got an unwelcome visitor and we need them to leave." The message would be, he argued, "Ofsted, you're not welcome in our schools".
"This surely could be one of a lengthy list on non-strike actions that we could consider. We could get united action alongside other unions as well," he added.
Delegates said the NUT should follow the lead shown in Northern Ireland by the two teaching unions – the Irish National Teachers' Organisation and the Ulster Teachers' Union – where school inspections have had to be cancelled as a result of a policy of non co-operation. At least 12 were cancelled and others were left incomplete. One teacher said: "They have proved that action short of strike action can have teeth."
Yesterday's motion also expressed anger over schools being forced to convert to academies by Michael Gove, the Education Secretary, if they fail inspections by Ofsted.
It warned that schools serving the country's most disadvantaged areas were most likely to be singled out because Ofsted was linking test and examination results to the grades it was awarding schools.
It added: "The new inspection arrangements will not reduce the stress and workload created by the inspection regime. The linkage of test and examination results with Ofsted grades will continue to penalise those schools serving the most disadvantaged areas."
However, John Blake, a delegate from Newham, east London, warned that non-co-operation could be illegal as teachers would be in breach of contract. The motion, however, was overwhelmingly approved by delegates.
A spokeswoman from Ofsted said: "Recent independent studies have shown the positive impact inspections can have on school performance. Headteachers also tell us following their inspection that it was a positive experience with more than nine out of 10 saying it will help the school to improve."
She said that inspections tended to concentrate on areas which most needed improvement, adding: "We take into account a school's context and do not expect the impossible, but there are hundreds of truly outstanding schools serving the most deprived communities. If they can do it, then others can, too."
Delegates also backed a call for a boycott of the Government's new reading test for six-year-olds if there was any attempt to include results in primary school league tables.
So far ministers have insisted they do not intend to publish school-by-school results but just tell parents whether their child has passed or failed. However, delegates warned that the amount of information included in the tables was increasing each year.
The conference claimed the tests – which entail asking pupils to spell 20 real and 20 made-up words to test their understanding of phonics – were unnecessary. Jennie Harper, from Croydon, argued the tests were "SATs [national curriculum tests] for five and six-year-olds". She added, "There is no magic, one-size-fits-all method of teaching. I make this promise to my children – I will stop the test at the first sign of any stress or distress."
John Holmes, for the union's executive, added: "This test will do absolutely nothing to raise reading standards. Pilots show it will label two-thirds of children as failures at five and six."
The Department for Education has insisted that the test will be useful in discovering children struggling with reading "who would otherwise have slipped through the net".
Join our new commenting forum
Join thought-provoking conversations, follow other Independent readers and see their replies