Holocaust Memorial Day: Anne Frank Trust encourages pupils to discuss prejudice and discrimination
Richard Garner joins the Trust as it prepares to commemorate the 70th anniversary of the liberation of Auschwitz next week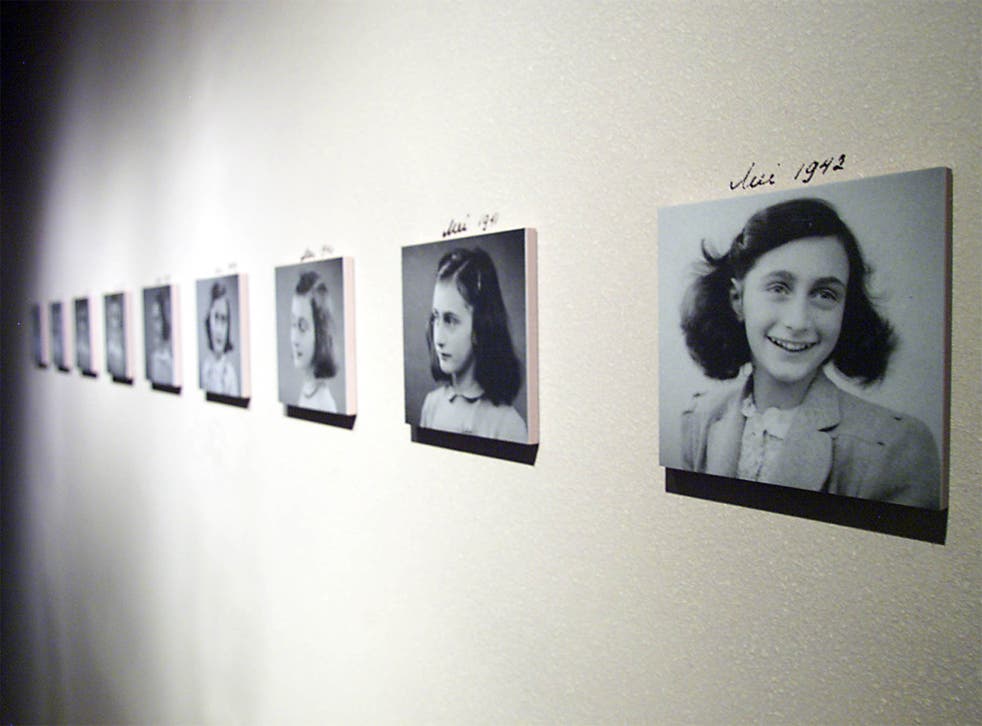 It all started from Gillian Walnes' front room in Dorset in 1991. Along with friends and relatives of Holocaust survivor Otto Frank, she decided to set up a trust in his daughter Anne's memory to combat prejudice.
The organisation is a bit bigger than that now – the Anne Frank Trust employs 30 staff and regional organisers to take its work into schools. Last year, it reached more than 30,000 young people in 70 schools across Britain.
Through its ambassador scheme – whereby secondary school pupils are encouraged to go into primaries to tell Anne Frank's story – it tries to ensure that the next generation never suffers in the same way as Frank and countless others did under the Nazis.
"It is a bit bigger than I thought it would be," says Walnes, as she prepares to address a training day for potential ambassadors held at Arsenal's Emirates Stadium in north London.
Tuesday is Holocaust Memorial Day and the Anne Frank Trust will be hosting a memorial lunch at which one of the guest speakers will be Eva Schloss, Anne Frank's stepsister. Eva, an Auschwitz survivor, is also one of the founding members of the Trust who gathered in that living room in Dorset along with the late Bee Klug and Rabbi David Soetendorp, friends of Otto's.
The Trust is also preparing to commemorate the 70th anniversary of the liberation of Auschwitz. However, it is quick to point out that it is not only concerned with the Holocaust. Events of the last few months, from Peshawar to Paris, have shown that the necessity for an organisation like the Anne Frank Trust has probably never been greater.
"We aim to combat prejudice and hatred in all its forms," says Walnes, now the executive director of the Trust. "There are plenty of things that we have to combat – stereotyping in particular, homophobia, anti-Semitism, Islamaphobia.
"We work in a wide range of schools – mono-cultural mining communities in areas like Durham, multi-cultural schools and schools that have a 100 per cent Muslim intake.
"All these schools are in areas where they have never had any engagement with anyone Jewish. Through Anne Frank's writings we show that a Jewish girl like her is just like them."
Typically, the Trust will work with pupils in Years Seven and Eight – 12 and 13-year-olds who are at the beginning of secondary school. Some might be shy pupils, says Walnes, but the idea is to give them the confidence to go out and tell others what they have learned from reading Anne Frank's diary.
"It made me feel grateful for what I have," a girl on the programme from Glasgow says later. "Anne Frank never got to have her childhood, fall in love, get married, have kids, but I'm getting the chance to have mine. I've learned not to take stuff for granted."
And Marianne Ferm, who is in charge of personal, social and health education at Frances Bardsley School in Romford, Essex – one of the schools that has turned up for the day's training session – is a firm believer in the programme.
"We are in our third year [of running the programme] and what I like about it is not only that it is an incredibly important subject matter, but it allows the girls to take responsibility for teaching it as ambassadors," she says.
"One of the things that's mentioned time and time again is that the programme questions the whole idea of stereotyping and the way that we look at the world of discrimination. We look at what they can do to challenge it."
Girls who have been on the programme develop more confidence, she says. "There are girls here who wouldn't have spoken at the beginning of the programme but now they feel encouraged to write and talk about their experiences."
Her thoughts are echoed by a survey which showed that 83 per cent of teachers who had used the programme in their schools agreed, or strongly agreed, that their pupils were more respectful of different groups as a result of it – and were therefore more likely to challenge discriminatory behaviour.
Myah Humphries, 13, another of the girls on the training day, says: "It's teaching us something we don't know about, and I'm looking forward to passing that on as an ambassador."
Another school signed up to the programme is Kingsford Community School in Newham, east London, which has been through traumatic times: three of its pupils were murdered within weeks of one another – "innocent victims who were at the wrong place at the wrong time", according to the Trust's annual report. They died, it adds, as a result of "hate-related violence in their community [being] all too commonplace".
"The important messages being delivered by the Trust have emphasised to our pupils that – despite difference – it's very important that our common humanity is never undermined by the actions we take towards each other," says Joan Deslandes, the school's headteacher.
The Trust not only spreads the writings of Anne Frank through schools – it also visits prisons and has set up projects in nine of them during the past years. "We worked with 1,700 offenders," says the Trust, "68 of them became peer educators." The Trust explains its philosophy in this way: it uses Anne's writings from her diary as a "general force" for good to try and prevent other children suffering the same cruelty she had to endure.
One person who has been impressed by the work of the Trust is Sir Bernard Hogan-Howe, Metropolitan Police Commissioner. "Get the Anne Frank Trust programme across the country," he says. "What an impact that might have for a society of some 60 million people in the coming years."
"At our core, we are all about how we see and relate to others, ourselves and the world around us," says Daniel Mendoza, the chairman of the Trust. "Everyone has within them the ability to co-exist and thrive regardless of our differences. Identity, responsibility, empathy, these are some of the building blocks that shape responsible and inspirational human beings."
He adds that the Trust "provides vital education to combat discrimination and strives to create a future free from hatred".
Shining a spotlight on the work of the Trust coincides with a growing sense of realisation amongst those in charge of running education in the UK that the values it speaks of – confidence building, communication skills, respect for others – play an increasingly important part in the education of the individual. A consensus has emerged on that issue – including Tristram Hunt, Labour's shadow Education Secretary, and Nicky Morgan, the Education Secretary.
Those may be called 'British values' in some circles. Whatever one thinks of that phrase – and it has been criticised for its assumption that they are not shared elsewhere – there is no denying the importance of these core skills. It is a legacy of which Anne Frank would no be proud.
Join our new commenting forum
Join thought-provoking conversations, follow other Independent readers and see their replies