What does the future hold for Michael Gove's free-schools policy?
Take-up of Gove's much heralded policy has been notable by its absence, with just 24 ready to open this term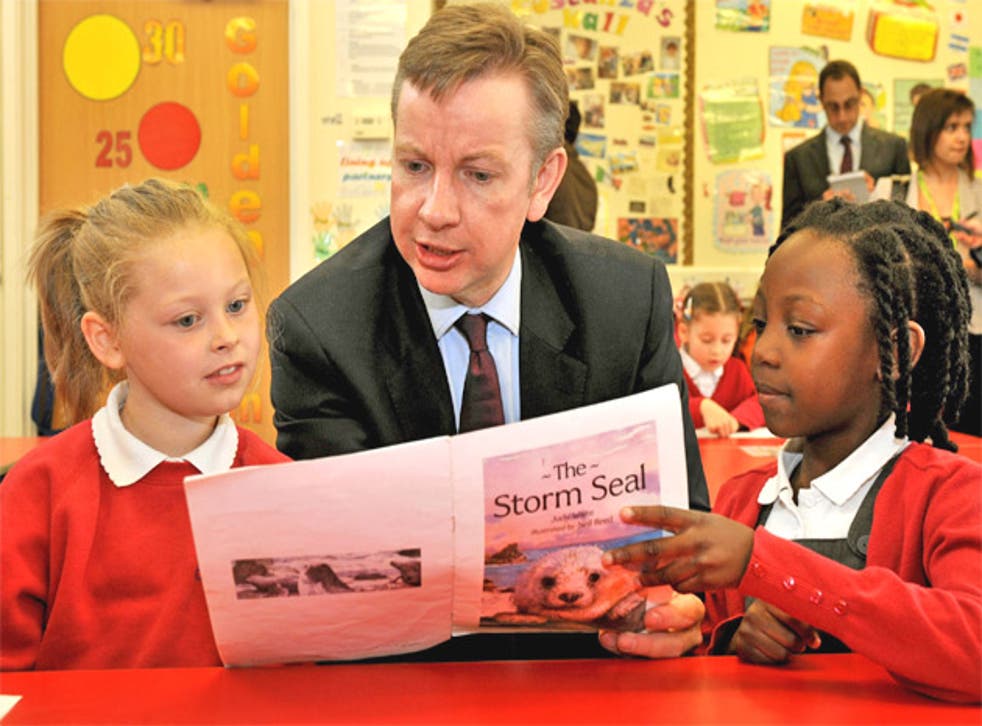 From little acorns mighty oaks do grow. There is no doubt that the opening of Education Secretary Michael Gove's first new free schools at the start of this term is quite modest in comparison with the hype the policy was given in last year's election campaign. A total of 24 will open their doors for the first time this year.
In addition, of the 323 applications submitted to the Department for Education in the first tranche, only 40 were given official blessing – and eight of these were advised to re-apply for opening in September 2012 and a ninth was withdrawn. Others have been approved to the business and pre-planning stage. There is a question mark over just how much the scheme will grow in the following few years, given the nature of the public-spending squeeze.
Mary Bousted, general secretary of the Association of Teachers and Lecturers, an opponent of free schools, described them as "a flea-bite of annoyance", but said she did not think they would have a major impact. She said many potential supporters of free schools would be interested only if they could make a profit out of them – a point also made by Swedish government advisers from whom the policy originated. That is not to be allowed in the English scheme, though. Officially we should have a clearer idea of the impact of the programme when the decisions on the second round of applications will be made known. Rachel Woolf, of the New Schools Network, which advises on setting up free schools, believes there could by next September be as many as 100 of them.
What can be said of the first tranche, though, is there is a heavy religious influence in the programme. Two of the 24 that have so far entered a funding agreement with the Government and will definitely open, are Jewish primary schools. One, the Eden Primary school in Haringey, north London, is planning to adopt a liberal ethos welcoming applications from all faith groups. The second, the Etz Chaim Jewish Primary School in Barnet, north London, which is backed by chief Rabbi Jonathan Sacks, places more emphasis on its distinctive Jewish characteristics.
There is also a Hindu primary school, Krishna Avanti in Leicester; a Sikh school, Nishkam Free School in Birmingham; and a Church of England primary school in Camden, north London, an area where there has been a significant shortage of primary-school places in the past two years. Another project is dedicated to teaching pupils the philosophy of the Beatles' former guru, Maharishi Mahesh Yogi. This school already exists as a private school in Ormskirk, Lancashire, and will transfer to the state sector. The best-known free school, though, is probably the one in west London that is the brainchild of the journalist and author Toby Young. The school in Acton will have a music specialism and place an emphasis on Latin in the curriculum.
Some critics are, of course, completely hostile to the programme, believing the schools will be unaccountable and could weaken existing state schools by reducing their pupil intake. Even from within the free-school movement, there is some criticism of the process.
Some argue that a list of the areas in which the first tranche will be set up is hardly a "Who's Who" of Britain's most disadvantaged areas where standards in the state sector have been traditionally low. It reads: Barnet, Birmingham, Bradford, Camden, Enfield, Hammersmith and Fulham, Haringey, Kirklees, Leicester City, Norfolk, Redbridge, Suffolk and Tower Hamlets. Some of those areas, of course, are in the deprived inner cities but by no means all of them.
There has been criticism that some of the most innovative projects aimed at tackling the gang culture in the inner cities have also been turned down. Among the rejected applications was a plan to set up a high school in Lewisham, south-east London – the Diaspora High School – which would guarantee school leavers three months' work experience on leaving school to avoid them ending up on the streets. A second project, aimed at setting up a school for disaffected pupils in Sandwell, West Midlands, an area at the centre of rioting earlier this month, has also been rejected. In the first case, it was because the proposers did not satisfy civil servants they met the requirement for 50 per cent of their intake for the first two years to have already been recruited. It had 110 parents applying for 120 places in the first year. The decision, though, is now being reviewed by civil servants.
In the second case, the department's free schools group said it was worried about an "excessive" staff-pupil ratio, to which the project countered by saying its charges – many of whom would have suffered child abuse or been excluded from schools for behavioural problems – needed one-to-one tuition to help to re-engage them in education. Savings would also be made as the local authority was earmarking a site for the venture.
Jennifer McNeil, director of the Sandwell project to set up the Motivate and Empower 2 Achieve free school – which was incidentally backed by seven local headteachers, while many free school projects have run into opposition locally – said in a letter to Mr Gove: "It would appear you have forgotten the initial reasoning for setting up a [free] school, which was to allow parents' groups to set up innovative schools that allow young people to enjoy a creative curriculum and reverted back to traditional schools run by affluent white groups that can afford an education consultant to write their proposal."
The department said that it had received so many "excellent applications" for 2012 that it had to prioritise them. That, it argued, was only what taxpayers would expect.
It is true that one of the original criticisms of the scheme was that it could have given the green light to all sorts of dubious groups – particularly among fringe religious communities – to set up schools with state backing. I have argued that the fact that so many applications have been rejected is not necessarily grounds for criticism but evidence that all applications are being thoroughly investigated.
That having been said, there is still criticism the process for accepting schemes is too bureaucratic and focuses too little on their educational aims – which was not mentioned in the rejection either of the Diaspora or Sandwell proposals.
Meanwhile, Labour has said that – if it returns to power and a free school is running effectively – it will not seek to close it.
Little acorns do indeed grow into mighty oak trees, but some get trampled into the ground before they can flourish. It remains to be seen just how effective a contribution the free school project will be making to state education in, say, a decade's time.
The new free schools
West London Free School, Hammersmith and Fulham: This is the proposal put forward by the journalist and author Toby Young, which will concentrate on a traditional academic curriculum with an emphasis on pupils learning Latin. It will also be a specialist music school.
Eden Primary School, Haringey, north London: This will be the first Jewish primary school in the borough. It hopes to attract all members of the Jewish community – Reform, Masorti, Liberal and secular.
St Luke's Church of England primary school in Camden, north London: The school is in an area where there is a shortage of primary school places. It will have 15 pupils in each year group and also open its doors to non-faith children.
The Free School, Norwich: A primary school launched by teachers and parents. The school aims to provide affordable child care for parents as well as primary school education.
Nishkam Primary School: A Sikh primary school in the heart of Birmingham. It will be the first faith school of its kind in the Midlands but encourages applicants from all faiths.
Kings Science Academy, Bradford: The school aims for all its pupils to achieve the English Baccalaureate of five A* to C grades at GCSE in English, maths, science, a humanities subject, and a modern foreign language.
Batley Grammar School: An independent school established in 1612. It wants to transfer to the state sector as a free school. The school hopes to keep to its traditional academic ethos but has had to drop selection .
Stour Valley Community School in Suffolk: It emerged from a campaign against a local government reorganisation, which would have robbed the district of Clare of its middle school.
Krishna Avanti Primary School in Leicester: This will be based on traditional Hindu values. It is modelled on a parent school already opened in north-west London and aims to promote pupils' holistic health through yoga, meditation and the arts.
Aldborough E-ACT free school, Redbridge: This primary school has a private sponsor, E-ACT, which already runs some of the Government's flagship academies and whose director general is former headteacher Sir Bruce Liddington.
Canary Wharf College, Tower Hamlets: The school will start as a primary school but later expand to provide secondary education as well. It plans to restrict class sizes to 20 and provide a Christian environment "welcoming children from different faiths and backgrounds".
Woodpecker Hall Primary Academy, Enfield: This will be a "sister" school to the neighbouring Cuckoo Hall school, one of the first primary schools ranked as "outstanding" by inspectors to become an academy. It says it will adopt all of the "best practice" of Cuckoo Hall.
Etz Chaim Jewish Primary School in Mill Hill: The name means "tree of life" and the school aims to be part of the "beating pulse of Jewish life". Supported by Chief Rabbi Lord Sacks, it describes itself as a "modern orthodox Jewish school".
All Saints Junior School, Reading: A junior school in an area of Reading short of pupil places, it is proposed by the CfBT Education Trust.
ARK Conway Primary Academy, Hammersmith and Fulham, and ARK Atwood Primary Academy, Westminster: Two primary schools being opened by an education charity set up by the hedge-fund financier Arpad Busson. It already runs a secondary academy in the neighbourhood.
Bristol Free School: A secondary school planned in the Clifton area of the city.
Discovery New School, Crawley, West Sussex: This will be a new primary school dedicated to the Montessori methods of teaching, which places an emphasis on children learning through discovery rather than an over-concentration on testing.
Langley Hall Primary Academy, Slough: The school, proposed by The Childcare Company, will be for five to 11-year-olds with an attached day nursery for nought to four-year-olds.
Maharishi School, Ormskirk, Lancashire: An existing private school dedicated to the teachings of former Beatles' guru, Maharishi Mahesh Yogi, which places accent on the values of transcendental meditation. It will transfer to the state sector.
Moorlands School, Luton, Bedfordshire: A former private school.
Priors Marston primary school, Warwickshire: This was a tiny village primary school closed by the local authority 15 years ago, which kept going as an independent school based on voluntary contributions. It will now transfer back to the state sector.
Rainbow School, Bradford: The aim of this school in a largely Muslim area of Bradford is to set up a multicultural primary school for the community, according to its founders.
Sandbach School, Cheshire: A private boys-only school that is transferring to the state sector.
Join our new commenting forum
Join thought-provoking conversations, follow other Independent readers and see their replies