First Kiss, now First Sniff: Dogs meet for the first time in parody video
In the same week the internet was tricked by 'First Kiss', dogs show humans how to be intimate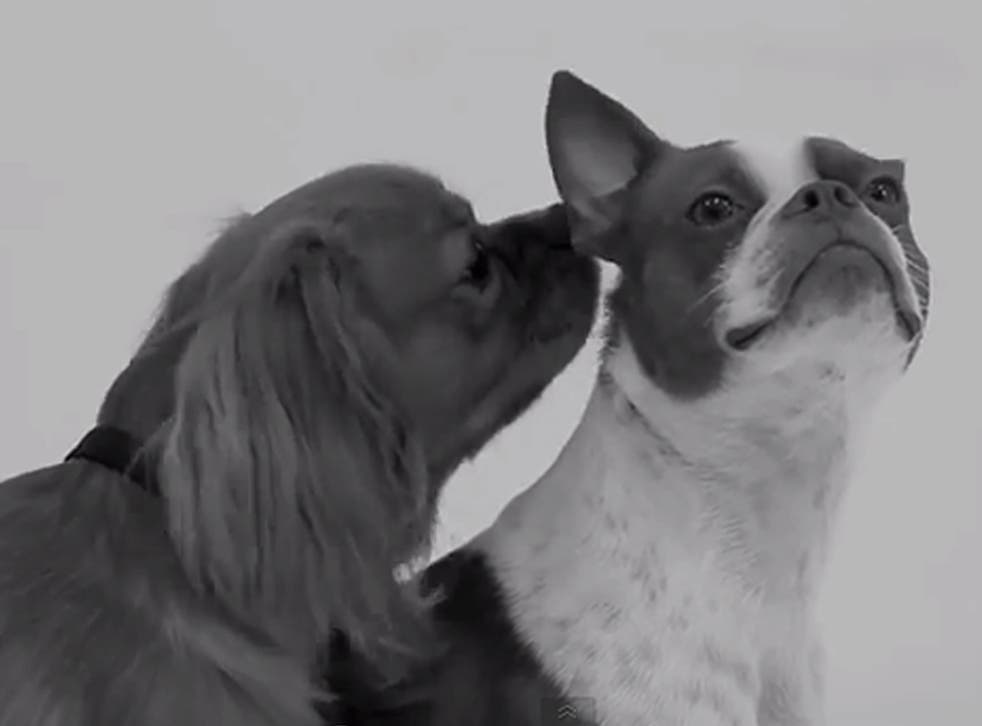 After the viral video First Kiss was exposed as a marketing ploy for a clothing company, another film crew has taken the idea of capturing the potential rush of getting physical with a complete stranger and applied it to a scenario where the emotions are so intense that they are impossible to fake – dogs sniffing each other.
For a day-or-so at least, over 30 million viewers were fooled into believing that the nervous laughter and over-enthusiastic kissing between suspiciously conventionally attractive and charismatic 'total strangers' in short film First Kiss were real.
Three days after Tatia Pilieva's short was released on Youtube, the minute-and-a-half long video by London-based advertising agency Mother London and production company Bosh shows honest tender moments between a group of dogs - complete with the awkward pre-kiss apprehensions that endeared viewers of the original video.
Dogs of all shapes and sizes pluck up the courage to get to know each other in the footage.
A spaniel is the first to take the plunge by enthusiastically wagging its tail and a willing pit bull from behind.
In fact, the dogs take the concept of the original video one step further and exchange parters, as the pioneering spaniel is embraced by a whippet later in the video.
Before long, the pitbull joins in again, and the trio are locked in a heart-felt doggy ménage a trios.
Mother London Producer Dan Keefe told The Independent:"Since there was such a fuss about the fact that First Kiss wasn't 'real', we wanted to try and make something with a bit more honesty. And anus sniffing."
"We put a few posters up around Shoreditch [London] offering £10 for anyone who'd let us film their dog. Aside from that a couple of Mother employees brought in their pooches, plus the giant cosmopolitan mastiff puppy that lives in the locksmiths opposite our office made an appearance."
Showing that capturing true romance is more complex just hiring a group of actors, Dan added: "Predictably, the 5 month old giant puppy did an enormous poo right in the middle of our office."
Register for free to continue reading
Registration is a free and easy way to support our truly independent journalism
By registering, you will also enjoy limited access to Premium articles, exclusive newsletters, commenting, and virtual events with our leading journalists
Already have an account? sign in
Register for free to continue reading
Registration is a free and easy way to support our truly independent journalism
By registering, you will also enjoy limited access to Premium articles, exclusive newsletters, commenting, and virtual events with our leading journalists
Already have an account? sign in
Join our new commenting forum
Join thought-provoking conversations, follow other Independent readers and see their replies