New blood test can detect cancer before any symptoms show
Earlier detection 'could save millions of lives every year', oncology expert says
Andy Gregory
Tuesday 31 March 2020 16:01 Comments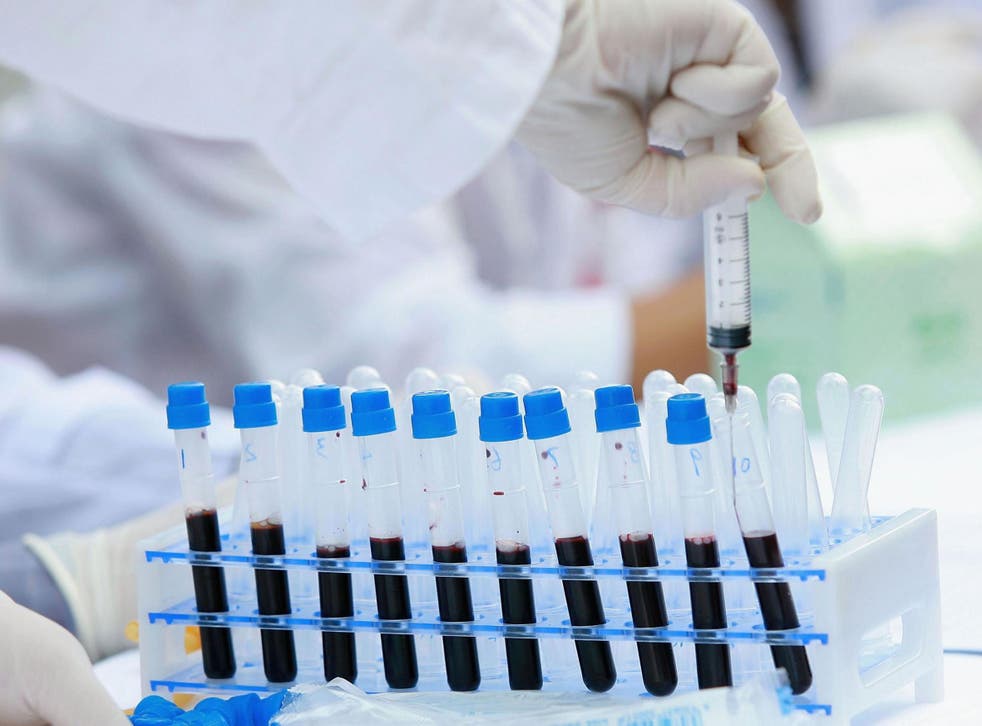 A new blood test has successfully detected more than 50 types of cancer, often before symptoms show.
More than 99 per cent of positive results were accurate in a "landmark" study using samples from over 1,200 people, published in the leading journal, Annals of Oncology.
It is the first such test able to identify so many types of cancer – including lung, bowel, ovarian and pancreatic – and diagnose in which tissue the cancer originated, which it did with 93 per cent accuracy.
Scientists are hopeful it could eventually help to diagnose tumours sooner, particularly hard-to-detect cancers and those for which no screening is available, although its success rate is currently significantly higher in more advanced cancers.
"This blood test seems to have all the features needed to be used on a population scale, as a multi-cancer screening test," said one of the lead researchers, Professor Geoff Oxnard, of Harvard Medical School's Dana-Farber Cancer Institute.
Science news in pictures

Show all 20
"Everyone asks when will a test like this will be ready for use. Based upon this successful clinical validation in thousands of patients, the test has actually now been launched for limited use on clinical trials.
"But before this blood test is used routinely, we will probably need to see results from clinical studies like this to more fully understand the test performance.
"Certainly the field is moving quickly and it makes us hopeful that blood-based cancer detection will be a reality."
The test, funded by Grail, looks for cell-free DNA, which leaks from tumours into the bloodstream.
As this can leak from other cell-types as well, the test analyses chemical changes to the cell-free DNA called "methylation" – a process that controls gene expression, but when acting abnormally can fuel tumour growth.
The test was developed using artificial intelligence. Researchers fed data on methylation patterns from blood samples belonging to thousands of cancer patients into a machine learning algorithm.
The scientists – from Harvard's Dana-Farber, the Francis Crick Institute and University College London – then taught the algorithm to distinguish which methylation patterns corresponded to which types of cancers.
It was then tested on blood samples from 1,264 patients, 654 of whom had cancer.
While 99.3 per cent of results showing a patient had cancer were correct, it was significantly more likely to fail to detect a cancer that was present.
Overall, across more than 50 types of cancer, it was correctly diagnosed in 18 per cent of those with stage one cancer. For stages two, three and four, the success rate rose to 43 per cent, 81 per cent, and 93 per cent, respectively.
However, this varied between cancer type – often with encouraging results in usually hard-to-detect tumours. For example, it showed a 63 success rate for those with stage one pancreatic cancer, rising to 100 per cent for stage four patients.
"Detecting cancers at their earliest stages, when they are less aggressive and more treatable, has a huge potential to save lives and we sorely need tech innovations that can turn this potential into reality," said Cancer Research UK early detection head, Dr David Crosby.
"Although this test is still at an early stage of development, the initial results are encouraging. And if the test can be fine-tuned to be more efficient at catching cancers in their earliest stages, it could become a tool for early detection.
"But more research is needed to improve the test's ability to catch early cancers and we still need to explore how it might work in a real cancer-screening scenario."
Editor in chief of Annals of Oncology, Professor Fabrice André, added: "This is a landmark study and a first step towards the development of easy-to-perform screening tools. Earlier detection of more than 50 per cent of cancers could save millions of lives every year worldwide and could dramatically reduce morbidity induced by aggressive treatments.
"While numbers are still small, the performance of this new technology is particularly intriguing in pancreatic cancer, for which mortality rates are very high because it is usually diagnosed when it's at an advanced stage."
Register for free to continue reading
Registration is a free and easy way to support our truly independent journalism
By registering, you will also enjoy limited access to Premium articles, exclusive newsletters, commenting, and virtual events with our leading journalists
Already have an account? sign in
Join our new commenting forum
Join thought-provoking conversations, follow other Independent readers and see their replies