Ministers warned 'kamikaze' Christmas plans could fuel third wave of coronavirus
NHS facing prospect of having to cancel thousands of operations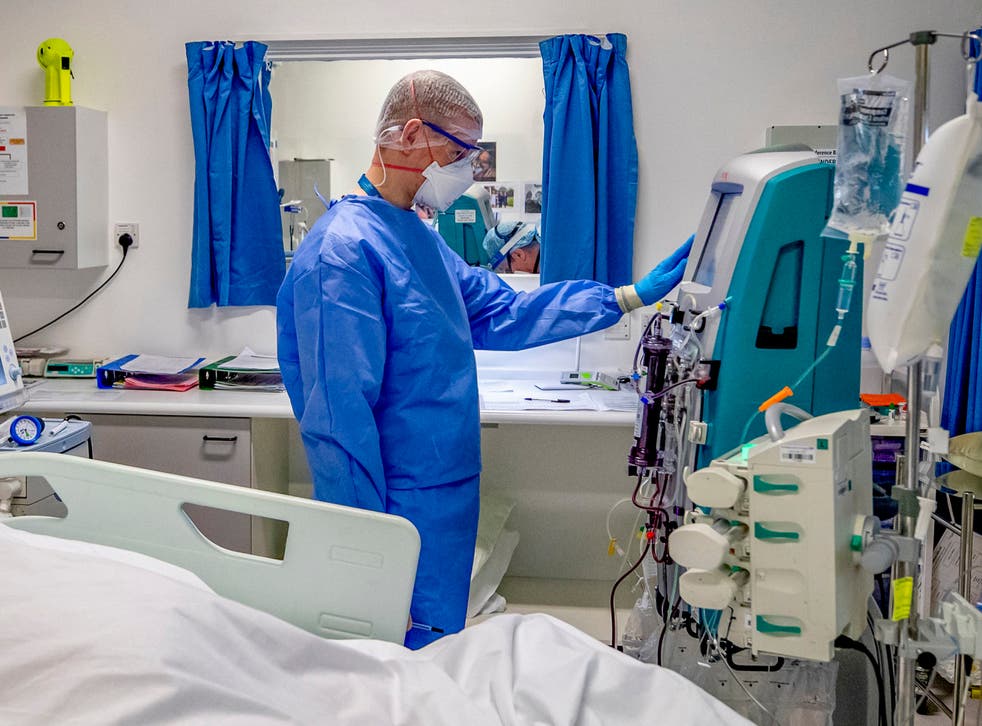 Hospitals could "buckle" under the pressure of another Covid spike caused by a Christmas rules relaxation, health leaders have warned.
There is mounting concern among NHS leaders and clinicians over the ability of the health service to cope this winter – traditionally its busiest period – with internal modelling suggesting some hospitals could see Covid patient numbers similar to those seen earlier in the year. 
With the NHS facing the prospect of having to cancel thousands of operations to cope with the surge in coronavirus patients, Downing Street is coming under pressure to perform a U-turn over its Christmas plans, which currently allow up to three households to mix for five days.
Sir Keir Starmer, the Labour leader, said the party would back a change to the plans following a spike in infections in recent days.
As the prime minister's official spokesperson confirmed plans were being reviewed, a joint editorial by the British Medical Journal and Health Service Journal, called for the plans to be reversed, saying: "We believe the government is about to blunder into another major error that will cost many lives. If our political leaders fail to take swift and decisive action, they can no longer claim to be 'protecting the NHS'."
The Hospital Consultants and Specialists Association said the government must reverse its "kamikaze Christmas Covid plan".
Dr Claudia Paoloni, the trade union's president, said: "Germany has more beds and more staff than our underfunded NHS, yet has announced a Christmas lockdown. The UK's failure to do the same will see hospitals buckling, the mass cancellation of non-Covid work and propel us zombie-like into an avoidable emergency.
"If the government is again caught flat-footed in the face of a new, faster-spreading strain of Covid-19, we risk a truly gruesome winter for patients and hospital staff."
She said hospitals across the country were already seeing bed occupancy levels for Covid patients near where they were at the start of the November lockdown with other areas even worse.
UK news in pictures

Show all 50
The existing tiers are "woefully inadequate" and the Christmas plan is a "fantasy position which, if not reversed, threatens to become a winter nightmare for the NHS, patients and staff", she said. "Inaction will mean patients dying needlessly and thousands of critical cases going untreated. The government must move now, urgently, to reverse these kamikaze plans."
A survey by YouGov found a majority of the public backed the idea of keeping restrictions in place during Christmas.
A poll of 3,856 people found 57 per cent believed the relaxation should not go ahead while 31 per cent said it should.
Katherine Henderson, president of the Royal College of Emergency Medicine, told The Independent that hospitals were already feeling the strain.
She said: "Unless we get community transmission under control, we are going to have a terribly difficult time in January. We are already very busy and if we face another surge in January, which happened in America so there is no reason to think it won't happen here, we will be adding problems in a month that is always the most difficult."
She said it was important people considered the impact of their own actions regardless of the government's stance on Christmas.
She said a snapshot survey of 51 hospital A&E departments this week found that 95 per cent of them were having to keep patients waiting in ambulances outside hospital, with 40 per cent of departments admitting they were being forced to care for patients in corridors and other non-designated areas.
She added: "We are under sustained pressure now and we are going to see a surge in January. It's incredibly important people realise this is real, they can affect what happens and make it better or worse."
One intensive care doctor from the East Midlands added: "I think it's crazy to be allowing such mixing over the Christmas period after all that we have achieved locally with lockdown and tier three restrictions, and even more so in areas with rapidly rising cases like London and south Wales."
The challenge for hospitals is that while the number of patients may be lower than the first wave, hospitals are treating many more non-Covid patients with around 10 per cent fewer beds and less staff available.
One doctor said the recent autumn peak of cases had proved more difficult than the first wave because of this increased demand. They added: "We didn't have access to the same number of redeployed staff that we had in the first wave. To do that again so soon after the second peak is going to be immensely difficult."
An internal NHS report seen by The Independent said the rise in infections across England was "concerning" with cases increasing a week before the end of the November lockdown.
It warned this had already led to the start of a rise in hospital admissions earlier than previously expected.
The modelling predicts the number of inpatients will rise through to 23 December with increases in January after the Christmas holidays.
It said a third peak was now likely at the same magnitude as that seen in November.
Register for free to continue reading
Registration is a free and easy way to support our truly independent journalism
By registering, you will also enjoy limited access to Premium articles, exclusive newsletters, commenting, and virtual events with our leading journalists
Already have an account? sign in
Register for free to continue reading
Registration is a free and easy way to support our truly independent journalism
By registering, you will also enjoy limited access to Premium articles, exclusive newsletters, commenting, and virtual events with our leading journalists
Already have an account? sign in
Join our new commenting forum
Join thought-provoking conversations, follow other Independent readers and see their replies