special report
Coronavirus: Britain faces a care crisis that could overwhelm the NHS
Britain can only protect the health service if the care sector takes some of the strain. But homes across the country are already buckling under pressure from the Covid-19 pandemic, reports Shaun Lintern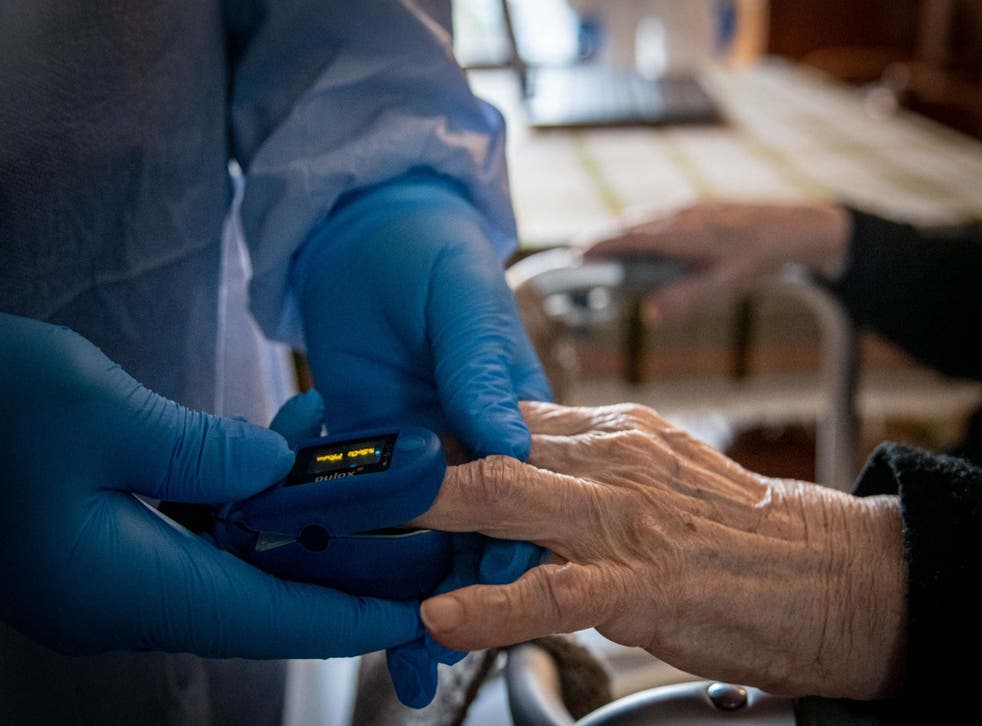 Britain's fractured and underfunded social care system is at risk of collapsing within weeks due to pressure from coronavirus – piling further strain onto hospitals, an investigation by The Independent has found.
Across the country, care providers say they have been pushed to the brink of closure because some local councils are refusing to release emergency funding made available by the government, while many face staff shortages, a lack of equipment and too few nurses to care for extra patients being discharged by the NHS.
Some care-home managers have warned that the vulnerable or elderly who fall ill may be all but abandoned by local NHS services, with reports of unlawful do-not-resuscitate orders being put in place by some GPs.
While national efforts have focused on shoring up the health service to help it cope with a surge in coronavirus infections, experts warned not enough has been done to make sure the 18,000 care sector companies, on which the health service may rely, can withstand the next few weeks and months.
Concerns have been raised in Whitehall by leading care groups, but they are yet to receive a response.
Sara Livadeas, chief executive at The Fremantle Trust, a not-for-profit charity providing care to 1,100 people in homes across Buckinghamshire, said she believed social care had been "forgotten about", adding: "I have not slept for weeks, I am very worried."
Some companies have complained supplies of personal protective equipment for staff have been requisitioned by the NHS, with deliveries from China seized at UK ports. Costs for items like masks have increased by 1,500 per cent.
This has led to increased fear among staff, who earn an average of about £16,200 a year, with many already off sick or self-isolating – adding to the sector's 122,000 vacancies. The new sick-pay rules mean companies are paying out money much earlier, creating more issues with their cash flow.
Already coronavirus has found its way into some care homes, with dozens closing around the country. If the situation worsens, providers say they could be forced to close completely, with residents either moved or sent to local hospitals, exacerbating pressure on the NHS at the worst time.
Hospitals desperate to free up beds for coronavirus patients are aiming to discharge patients to the community within two hours, heaping pressure on councils and care companies.
New guidance from the government this week insisted: "Some of these patients may have Covid-19, whether symptomatic or asymptomatic," sparking fears the virus could be transmitted into homes from hospital wards.
One manager said: "Residential homes are not nurse-led and my concern is if we have a lot of people in residential homes who have Covid-19 there aren't the nurses there to care for them. Residential homes are not geared up to provide that care."
They added that district nursing services and GPs were already busy and would be unable to cope with any extra demands. "The NHS is the last resort for our residents if we have to close but in reality, at the moment with coronavirus we don't even know if that will be possible."
With a dearth of workers, homes are relying on agency staff and overtime workers. But this in itself causes issues – some are concerned that agency staff who work in multiple homes could spread the infection. Once it gains a foothold in one care home, the virus could spread rapidly and leave large numbers of vulnerable patients seriously unwell.
Some groups of neighbouring homes are drawing up plans to support each other but there are concerns that residents could be left without care after several attempts around the country to impose blanket "do not resuscitate" orders on vulnerable or disabled people.
Adam Fullwood, a barrister at 39 Essex Chambers and a specialist in social care, warned such orders would be "wholly unacceptable and potentially illegal". He said: "At times of national crisis you need to maintain basic principles of human rights and the rule of law, otherwise some of the pillars of society start to disintegrate. I would be very concerned that the social care sector can't cope with the demand being put on it."
Kate Terroni, chief inspector for adult social care for the Care Quality Commission, said: "Applying blanket approaches to groups of people is unacceptable, and these decisions must continue to be made on an individual basis according to need."
The Independent understands concerns have been growing within Whitehall over the resilience of the social care system in recent days as providers, regulators and local authorities have raised fears with ministers and civil servants.
The Care Provider Alliance, a group of 10 national associations representing the care sector, wrote to Boris Johnson on 27 March warning: "Margins are very tight and the sector is working at full capacity, while also experiencing increasing levels of staff sickness.
"Managers are terrified of the consequences of outbreaks in a care home where the residents are currently asymptomatic.
"With the increase in payroll costs, due to sickness, isolation and shielding, many providers will be unable to cover this month's payroll. When providers can access [protective equipment], costs are also far in excess of normal."
The group told the prime minister that there was a "real threat of wide-scale insolvencies and business failures". More than a week on, their letter remains unanswered.
Ahead of the coronavirus outbreak the government made £2.9bn available to local councils for the care of vulnerable people, but this is not being passed on to some care companies to deal with the extra strain.
Birmingham City Council said it would not offer providers extra financial support and Dorset Council told companies it was "business as usual".
In one email to a care provider raising concerns about a lack of protective equipment in Tower Hamlets, the borough council told them: "We will do what we can to assist you, where possible, but in this instance, it is for you to provide the services."
Worcestershire County Council has not offered any extra financial support and stuck to the rates agreed in February which one provider said "do not even cover the rise in the national minimum wage".
An email from Leicester City Council asked homecare providers to hold open services for residents which had been cancelled for 14 days without any payment, meaning the providers have no income to pay their staff and no capacity to take on any new discharges from local hospitals.
Knowsley Metropolitan Borough Council told care companies last week it was "not proposing any enhanced payments in response to the coronavirus situation".
There are around 18,000 social care providers across the country overseen by 152 local councils and, while the NHS has benefited from a centralised approach to the coronavirus crisis, that is not the case with the care sector.
Helen Buckingham from the Nuffield Trust think tank warned the system was not getting the attention it needed. She said: "The NHS has a national command and control structure that can swing into action and that just doesn't exist in social care.
"It is very understandable that so much focus has been given to the NHS in recent weeks but it's critical that a significant degree of support for the social care sector is needed in order for it to care for the people it serves and to minimise additional pressures on the NHS.
"Matt Hancock is the secretary of state for health and social care and I would expect to see him paying personal attention to the issues."
The UK Home Care Association, which has 2,000 members, said data it had from 81 councils shows around 60 per cent had yet to increase their funding to even cover the rise in the national living wage that came into effect on Wednesday.
Jane Townson, its chief executive, warned: "If no money is forthcoming there are going to be mass insolvencies, many are worried they are not going to make the April payroll. Some providers could go out of business this month."
"This crisis is enough to send many providers over the edge, but some councils are acting like it is business as usual and not releasing emergency funds. We need the money now.
"The localised nature of the sector could cost lives unnecessarily."
In the last decade around £7bn has been taken out of social care as a result of cuts to local council budgets.
Julie Ogley, president of the Association of Directors of Adult Social Services, told The Independent the current crisis had "laid bare the well-established fragilities within adult social care".
She said: "What is needed now is a fuller recognition and prioritisation of adult social care by the government. There are two fronts in the battle against Covid-19. The first is in our NHS hospitals and intensive care units which are dealing with the most acute cases.
"The second is in people's homes, including care homes, and in our communities where social care staff are working tirelessly, at risk to their own health, to keep older and disabled people safe and to prevent the escalation of this crisis. Failure to prioritise what happens in our communities will leave millions of us at risk and the NHS unable to cope."
A spokesperson for the Department of Health and Social Care said: "We are working around the clock to give the social care sector the support they need to tackle this outbreak, including providing PPE to over 26,000 care home providers across the country, and reinstating the professional registration of 8,000 former social workers so they can fill vital roles in local communities.
"We are also increasing testing capacity for all staff – whether in the NHS or Social Care - and the health secretary announced an ambition to carry out 100,000 tests for coronavirus every day by the end of this month.
"The full weight of the Government is behind this effort and we are working closely with industry, social care providers and local authorities to provide support for staff doing incredibly important work in social care."
Register for free to continue reading
Registration is a free and easy way to support our truly independent journalism
By registering, you will also enjoy limited access to Premium articles, exclusive newsletters, commenting, and virtual events with our leading journalists
Already have an account? sign in
Register for free to continue reading
Registration is a free and easy way to support our truly independent journalism
By registering, you will also enjoy limited access to Premium articles, exclusive newsletters, commenting, and virtual events with our leading journalists
Already have an account? sign in
Join our new commenting forum
Join thought-provoking conversations, follow other Independent readers and see their replies