Coronavirus: Test and trace workers report new problems with troubled service
New issues emerge as calls grow for Baroness Dido Harding to resign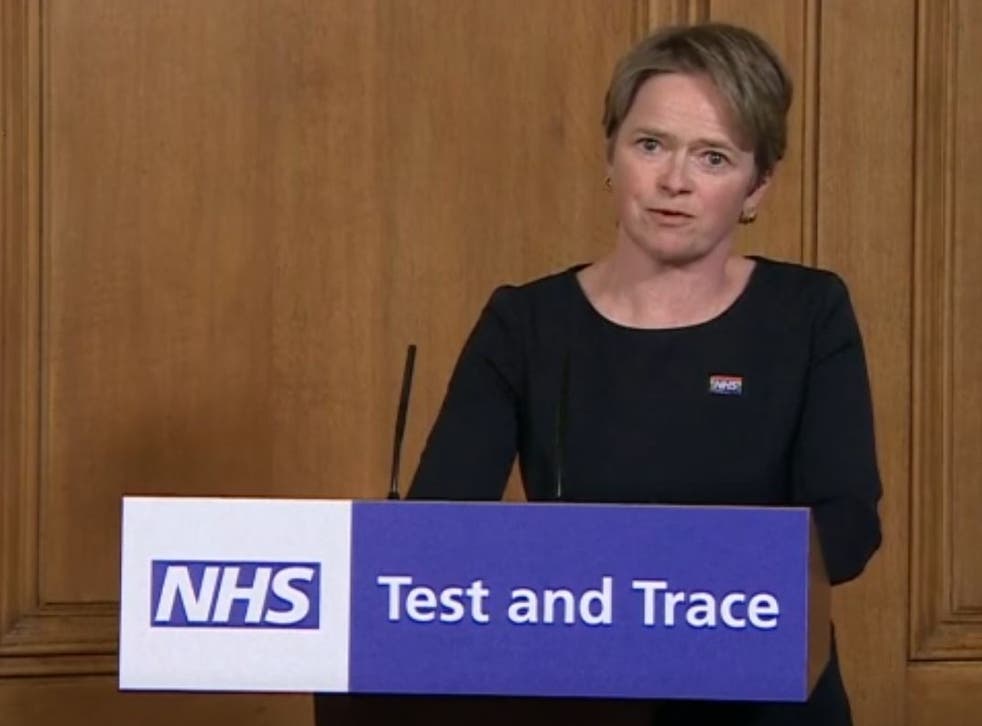 Frontline workers at England's beleaguered test and trace service have now complained about technical problems over the weekend potentially causing delays to contact tracing thousands of patients who have tested positive for the virus.
As the test and trace service battles a surge in daily positive test results, workers reported a system failure on Sunday which led to a problem with cases being put through for clinical assessment and contact tracing.
The problem started at around 10am on Sunday and was still being experienced by some staff on Monday.
The Independent spoke to contact tracers and also saw messages between workers on Sunday and Monday confirming the lack of cases coming on to the system which is provided by company Sitel.
One worker said: "I wondered why we were so quiet when we know there are about 20,000 positive cases every day at the moment.
"There was something wrong with the Sitel system and uploading the cases.
"It was dead, absolutely dead. Only the odd case came through compared to normal when there is one after another, it's never ending."
UK news in pictures

Show all 50
The Department of Health and Social Care told The Independent it had received no reports of any problems and claims of a system wide issue were untrue.
Another test and trace worker said the DHSC claim was: "A complete lie. Clinical workers sat for hours yesterday with no cases and when raised with clinical leads were told Sitel were aware of an ongoing issue with uploading cases onto the system and were trying to resolve it."
They said all cases stopped coming through on the system from around 10am on Sunday adding they were told by senior staff there was "an issue" with the system and uploading of cases by Sitel.
The said staff were told not to call Sitel on Monday adding it was "a shambles of an operation."
A third worker confirmed the same experience and a lack of cases coming through for contact tracing.
"It is worrying. This will definitely have created a delay. It can take an hour to contract trace one person from start to finish and with hundreds of clinical case workers we have lost a lot of time.
"Staff were told to refresh their screens and they were doing that but nothing was coming through."
"We were told there was something wrong with the Sitel platform and with the uploading of cases. The system didn't crash as such but it was very slow with nothing coming through."
Pressure on the test and trace service, which was launched under the leadership of Tory peer Baroness Dido Harding in May, has been growing with both Labour and Conservative MPs calling for Baroness Harding to resign.
Tory MP Sir Bernard Jenkin said a senior military commander should take charge instead while Labour's Dr Rosena Allin-Khan said her position was "untenable" adding the government had failed people.
In the latest weekly results for test and trace fewer than 60 per cent of contacts were reached by tracers with just 15 per cent of in-person testing sites were processing results within 24 hours.
The surge in coronavirus cases has led to the test and trace service being forced to bring in unqualified staff from Serco and Sitel to help carry out clinical assessments.
Leaked emails obtained by The Independent last week confirmed the move and said the increase in cases had led to "an immediate challenge to the capacity" of test and trace.
Responding to concerns about the IT system over the weekend the DHSC dismissed the claims of staff and the messages seen by The Independent saying: ""This is not true - we have had no system-wide technical issues or a backlog reported today or over the weekend relating to Sitel contact tracing systems."
Register for free to continue reading
Registration is a free and easy way to support our truly independent journalism
By registering, you will also enjoy limited access to Premium articles, exclusive newsletters, commenting, and virtual events with our leading journalists
Already have an account? sign in
Register for free to continue reading
Registration is a free and easy way to support our truly independent journalism
By registering, you will also enjoy limited access to Premium articles, exclusive newsletters, commenting, and virtual events with our leading journalists
Already have an account? sign in
Join our new commenting forum
Join thought-provoking conversations, follow other Independent readers and see their replies