Hadiza Bawa-Garba: Doctor struck off for mistakes leading to six-year-old's death granted appeal after nationwide backlash from NHS staff
Court of Appeal justice rejects argument that manslaughter conviction should automatically see doctor banned from medicine and grants second challenge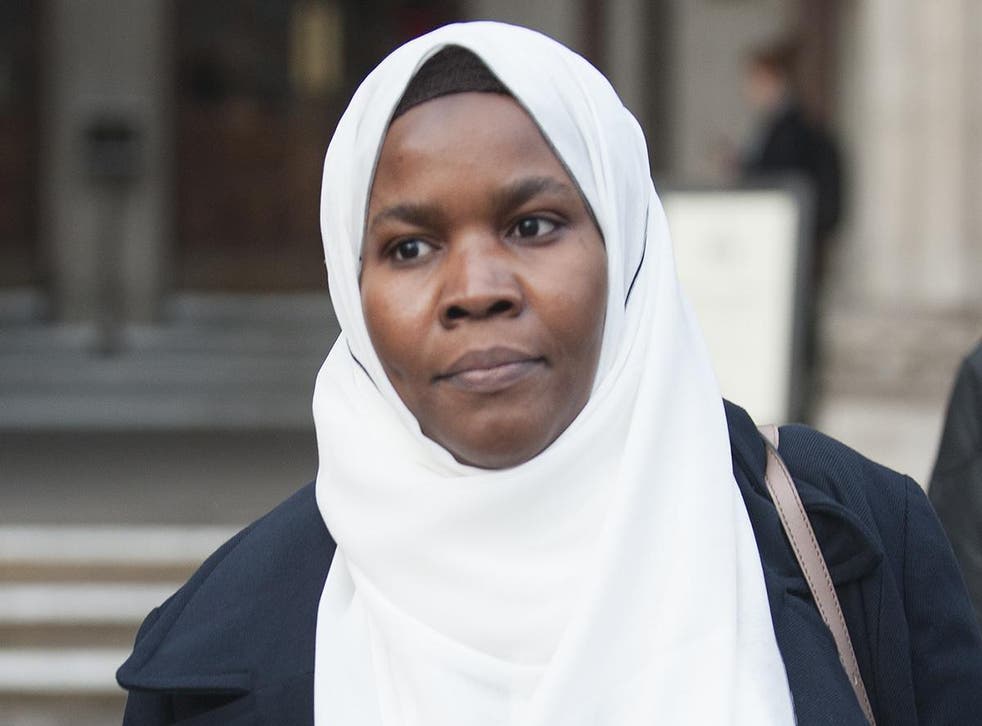 The junior doctor convicted of manslaughter by gross negligence, and subsequently stripped of her licence to practise by a High Court ruling earlier this year, has been granted an appeal against the ruling.
Dr Hadiza Bawa-Garba made national headlines in January after the General Medical Council (GMC) won a legal challenge to bar her from practising medicine after mistakes which led to the death of six-year-old Jack Adcock in 2011.
The ruling sparked an outcry from the medical profession and more than £366,000 was raised through a public appeal to fund a new legal team and Queen's Counsel to take Dr Bawa-Garba's case to the Court of Appeal and challenge the ruling.
UK news in pictures

Show all 50
A second appeal, only granted where the case raises an "important point or principle" and has a "real prospect" of succeeding, was granted by the Right Honourable Lord Justice Simon on 28 March,
In a summary, Lord Justice Simon said: "The grounds meet the second appeal test in all respects".
It also notes the court did not accept the argument of the GMC that the manslaughter by gross negligence sentence should mean automatic removal from the medical register, adding: "Having rejected the respondent's argument that a gross negligent manslaughter conviction should lead to erasure in the absence of (truly) exceptional circumstances, it is properly arguable that the Divisional Court applied an equivalent rest in allowing the respondent's appeal."
Dr Bawa-Garba, her legal team and supporters have argued the mistakes leading to Jack's death arose when she had been left unsupported by senior clinicians and working under extreme pressures, which have become increasingly apparent in the NHS.
There was also concern about the use of the doctor's personal development reflections which are used for annual appraisals, but were seen by expert witnesses giving opinion in the high court case.
A tweet by Dr Bawa-Garba's new solicitors, Tim Johnson Law, said the "tide may be turning" after the doctor's seven-year legal struggle
In the wake of the case, health and social care secretary Jeremy Hunt ordered a review into whether the manslaughter by gross negligence laws were fit for purpose in healthcare.
This is due to concerns that career-ending punishments will make NHS staff more likely to cover up mistakes, and the health service less able to learn from errors which could avert future deaths.
Jack had Down's Syndrome and a known heart condition and was admitted with diarrhoea, vomiting and difficulty breathing.
At the time, Dr Bawa-Garba was a specialist registrar in her sixth year of training to be a paediatric consultant, working at Leicester Royal Infirmary.
She had recently returned from maternity leave and because there was no senior consultant available she was solely in charge of the emergency department and acute children's assessment unit.
There was also an IT failure which led to delays in obtaining test results.
Dr Bawa-Garba did make mistakes, including failing to ask a consultant to review Jack's condition, failing to specify that Jack's current medication should be stopped, and confusing him with another patient and briefly stopping CPR (though this latter case was not deemed to have contributed to his death).
She was convicted of manslaughter by gross negligence charge in November 2015 at Nottingham Crown Court and given a two-year suspended sentence.
However the Medical Practitioners Tribunal Service did not order her removal from the medical register saying that when considering the mitigating and aggravating factors "erasure would be disproportionate".
This led the GMC to appeal its own tribunal's decision, arguing it had no choice as the decision and that confidence in the medical profession couldn't be maintained without removing her.
A GMC spokesperson said: "We have now received confirmation that Dr Bawa-Garba has been granted permission to appeal the judgment of the Divisional Court on 25 January 2018. A hearing date will be set in due course."
The fundraising effort well exceeded its target of £200,000 and in a message to her backers, on 26 February, Dr Bawa-Garba said: "I am truly humbled by the generous support, prayers and words of inspiration that we have received from around the world.
"Words alone cannot convey our gratitude."
Join our new commenting forum
Join thought-provoking conversations, follow other Independent readers and see their replies