Nurses sceptical of Jeremy Hunt's 'insulting' offer to discuss pay rise for NHS staff after seven years of cuts
'There shouldn't have to be these horrific events for us to be valued by the Government'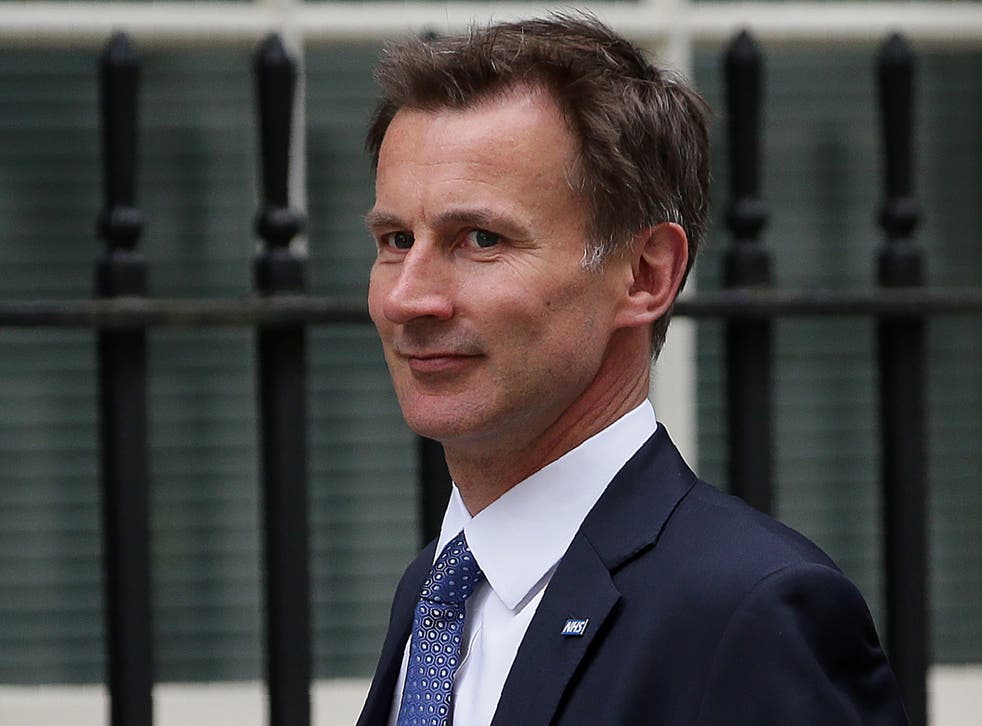 Nurses have said they are "not getting their hopes up" after Jeremy Hunt offered to discuss a pay rise for NHS staff – with one campaigner saying she is "furious" action is only being considered now after years of real-terms pay cuts.
The Health Secretary said he is "sympathetic" to the idea of raising NHS staff pay and would personally bring up the case with the Chancellor.
Nurses raised the possibility of striking for the first time in history last month over low pay, which has been cut by 14 per cent in real terms since 2010, according to the Royal College of Nursing (RCN).
Speaking at the NHS Confederation Conference in Liverpool, Mr Hunt appeared to indicate there could be a relaxing of the public sector pay freeze that has been in place for seven years, which has prevented nurses' and other staff pay from rising by more than one per cent.
"I have a great deal of sympathy for the case that nurses have made," Mr Hunt said, praising the way NHS staff and other emergency services have responded to three appalling tragedies in the last few weeks – the Manchester bombing, the London attacks and now the Grenfell Tower fire.
"We have a budget that we have to live within and public sector pay is a matter for the Chancellor," he said on the issue of pay.
"But I have had a constructive letter from Janet Davies [chief executive of the RCN] and I will meet with her and make sure that our conversation is reflected back to the Chancellor."
Nurse and campaigner Danielle Tiplady told The Independent there was "a lot of anger" towards the recently re-appointed Health Secretary's announcement among her colleagues.
"The most frequent response I've seen is: 'I'll believe it when I see it'," she said. "There shouldn't have to be these horrific events for us to be valued by the Government."
John Major: The NHS is about as safe with Tory Brexiteers as a hamster is with a phython
"It's quite insulting that it's taken a general election for them to lose their majority to speak to the RCN, when for seven years nurses have been telling them about hardship and the fact they've been going to food banks and using payday loans.
"Actually this is about self preservation. If they'd had a landslide majority, they'd have no intention of doing this. It's all well and good Jeremy Hunt saying he will speak to the Chancellor, but I'm not getting my hopes up at all."
The RCN said they welcomed Mr Hunt's comments and looked forward to meeting him to discuss the issue further.
"Pay packets have been cut by £3,000 and England's NHS is now more than 40,000 nurses short. The Government must begin to recognise the impact on patients and nurses themselves," said Ms Davies.
"Nurses should not have to fund the NHS deficit from their own pocket. This summer, the Government has one last chance to scrap its pay cap."
The RCN has said low levels of pay are responsible in part for tens of thousands of unfilled nursing posts. Last year there were more than 23,000 nursing vacancies across England, Wales and Northern Ireland – equivalent to nine per cent of the workforce.
And this week it was revealed that the number of European nurses registering to work in the UK has plummeted by 96 per cent since the EU referendum last June.
UK General Election 2017

Show all 47
Alan Taman, spokesperson for the campaign group Keep Our NHS Public, said if a pay rise is implemented, it alone "will not be enough" in the face of years of austerity.
"I'm sure Mr Hunt was moved on seeing how selfless, hard working and compassionate NHS staff are. Yes, that's the default position, when they aren't on their way to the food bank to feed themselves after a knackering 12-hour stint, some of it routinely unpaid. They deserve better pay," he said.
"But frankly with the way his government under-funded all of the NHS systematically for years – and shows no signs of stopping – while it hurries through massive changes forged in secret and largely kept from public scrutiny, this alone will not be enough.
"The NHS will still crumble through neglect, even with better paid nurses."
Before the election, Jeremy Corbyn said Labour would give "overworked and underpaid" NHS staff a pay rise.
During the election campaign, Theresa May's evaded a question about nurses using food banks and insisted "there's no magic money tree" when confronted about the issue by a nurse.
Last month more than 50,000 RCN members voted to consider strike action over low pay, but leadership decided not to issue a formal ballot on industrial action.
Join our new commenting forum
Join thought-provoking conversations, follow other Independent readers and see their replies