Almost 200,000 patients now waiting at least a year for routine NHS operations
'These figures are a stark reminder that the NHS is facing an exceptionally tough challenge' says NHS England boss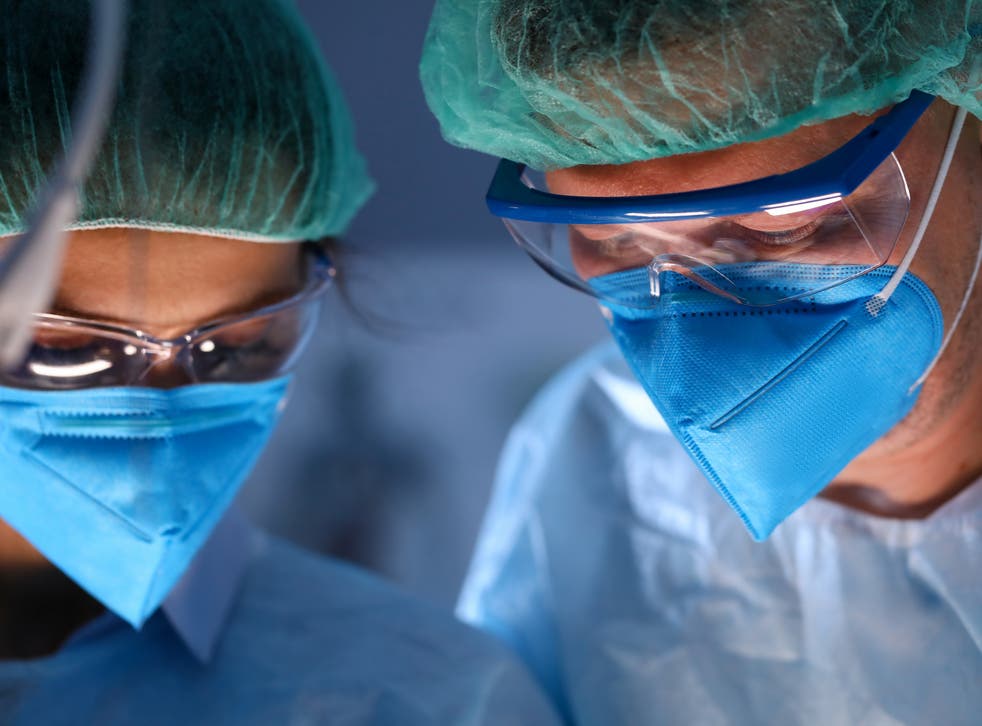 The coronavirus crisis overwhelming the NHS has caused waiting lists for routine treatment to surge to the highest levels ever recorded, figures released on Thursday showed.
More than 4.5 million people are currently on the health service waiting list, while almost 200,000 have been left waiting more than a year for treatment – a figure that stood at just 1,163 less than a year ago.
As hospitals are forced to free up intensive care beds for Covid-19 patients, hundreds of cancer operations have been cancelled across London with thousands waiting over the NHS target of 62 days for urgent treatment.
This week The Independent revealed life-saving organ transplants had also been cancelled across the country because of the pressure on intensive care beds.
Professor Neil Mortensen, president of the Royal College of Surgeons of England, said: "Today's figures show the calamitous impact of Covid-19 on wait times for operations.
"A huge, hidden waiting list is building up under lockdown. When we eventually emerge from this crisis, we will need sustained investment to treat all those who have been waiting patiently for treatment."
The number of long waiters will now likely be considerably higher than 200,000 as many hospitals have been hit hard by the virus since November.
Only 68 per cent of patients were waiting up to 18 weeks for treatment, meaning the NHS missed its target for 92 per cent of patients to be referred and treated within 18 weeks.
The total number of people admitted for routine treatment in hospitals in England was down 27 per cent in November, compared with the same month in 2019.
Some 222,810 patients were admitted for treatment during the month, down from 303,193 a year before.
The year-on-year decrease recorded in September and October was also 27 per cent, while in August the drop was 43 per cent.
Separately, NHS performance data shows more than 5,000 patients waited longer than an hour to be handed over from ambulance teams to A&E staff at hospitals in England in the week to 10 January.
There were a total of 5,513 delays of over 60 minutes recorded across all NHS hospital trusts, the highest weekly figure so far this winter.
University Hospitals Birmingham Trust reported the highest number for an individual trust in the week to 10 January, with 291 delays of more than 60 minutes, followed by Portsmouth Hospitals University Trust at 254 and the Royal Wolverhampton Trust with 180.
Danny Mortimer, chief executive of the NHS Confederation, said: "These figures lay bare the enormous, and increasingly untenable, pressure the NHS is under. Sadly, the numbers waiting for treatment will grow as a result of the rapid rise in Covid-19 infections since December.
"This demonstrates all too clearly the relentless backlog building up as a result of the Covid-19 emergency."
NHS England said half a million more people went to their local A&E in December compared with the first peak of the pandemic in April, with the overall median wait for operations falling to just over 10 weeks.
Professor Stephen Powis, NHS England medical director, said: "Despite 2020 being the year of Covid, nearly 20 million people received emergency care in England's A&Es, while in November alone as Covid-19 was spreading more rapidly, patients still benefited from four million important elective treatments and essential checks on the NHS.
"Hardworking staff have ensured that the waiting list is lower than it was at the same point last year with the average waiting time for treatment improving compared to the previous month."
He added: "These figures are a stark reminder that the NHS is facing an exceptionally tough challenge, and that while still millions of people are getting care for non-covid health problems in the NHS in England – indeed for every Covid patient in hospital, the NHS is treating three people for other conditions – there is no doubt that services will continue to be under additional pressure until and unless this virus is under control, which is why it's so important that everyone practises social distancing and follows national guidance."
Join our new commenting forum
Join thought-provoking conversations, follow other Independent readers and see their replies