Centrepoint thanks readers of The Independent, as Young and Homeless Helpline appeal surpasses £2 million
'Your support means that we are making progress towards our goal of ensuring that no young person will need to face homelessness alone'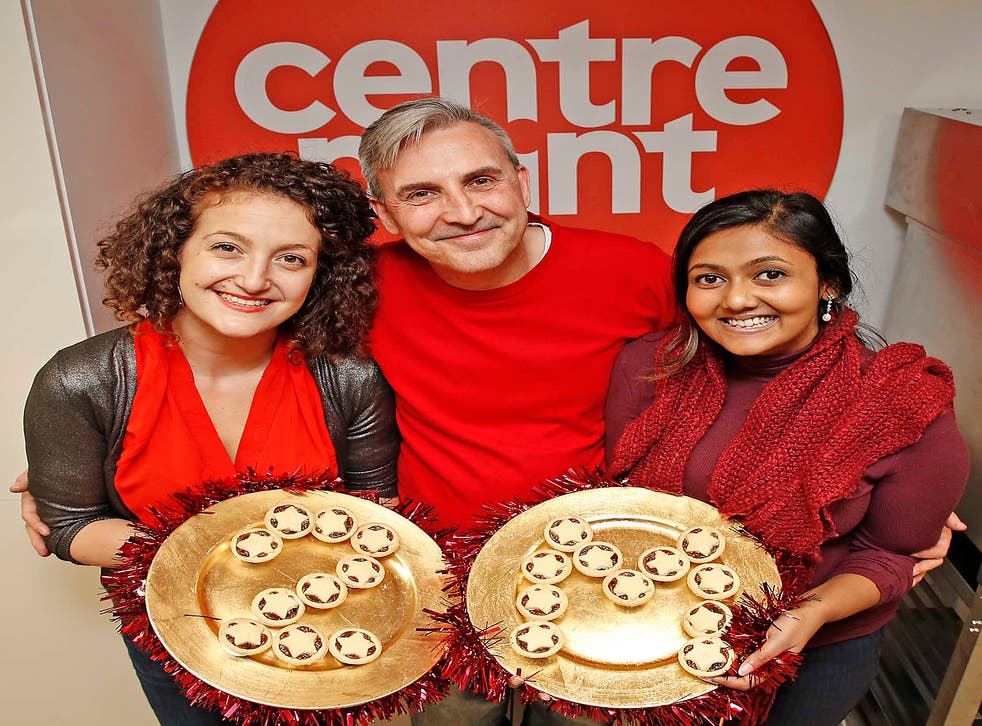 Youth homeless charity Centrepoint has thanked our readers for helping the Young and Homeless Helpline appeal pass £2m before Christmas.
The fundraising milestone comes just over a month after Prince William, the charity's patron, launched the appeal asking people to "save young lives" by donating to help them escape homelessness.
Centrepoint chief executive Seyi Obakin said everyone at the charity "had been touched by the scale of kindness from The Independent's readers".
He said: "We still have much work to do. 25,000 young people are at risk of homelessness this Christmas. There could be many thousands more across the country that don't ask for help and find themselves taking desperate measures to avoid a night on the streets.
"Your support means that we are making progress towards our goal of ensuring that no young person will need to face homelessness alone."
More than 150,000 vulnerable young people seek help for homelessness from local authorities each year – but up to a third are turned away with no help or advice.
The online, text and freephone helpline will be able to give young people aged between 16 and 25 facing homelessness or already sleeping rough expert advice and support to find safe shelter.
It will also refer them to services funded by the appeal dealing with wider issues including mental health, addiction and family breakdown.
The Independent's proprietor Evgeny Lebedev said: "It is incredible that such a large amount of money has been raised so fast. As a result, young people who may have fallen through the cracks will now receive the support they need when they need it. I can't thank everyone who has backed this appeal enough. This is an amazing achievement."
As well as the remarkable number of donations from The Independent's readers, the appeal has also been supported by a number of corporate backers and organisations.
The latest is the Asos Foundation, which has given an incredible £450,000 to help turn the helpline into a reality.
Sponsorship for the London Sleep Out – where celebrities including Downton Abbey actress Daisy Lewis and fashion designer Sadie Frost joined more than 1,000 fundraisers on the Greenwich Peninsula – raised an incredible £520,000.
Responses to the "Safe Christmas" advertising campaign that is further boosting the appeal total for Centrepoint has received a further £700,000.
Centrepoint's regional manager for central and west London Matt Carlisle said: "The generosity just totally totally blows me away – and everyone who has given should know it's going to help save lives.
"Young people who are homeless make a lot of rash and dangerous decisions because they don't have a choice – this helpline will give them swift and expert advice to help them make a better and a safer choice.
"The amount of money we have raised so quickly – it's like a Christmas miracle – I don't think any of us thought it would be so fast, so thank you so much everybody.
"It's vitally important we get support for other services too. The tighter economics are in the country the more we rely on the short of our donors."
What extra services could be funded
As well as funding the training and resources required to provide the Young and Homeless Helpline, money raised by the appeal will fund other vital Centrepoint services.
"Donations will not just support the launch of the Helpline," Centrepoint's chief executive Seyi Obakin told The Independent, "but will also help to fund essential Centrepoint services.
"From healthcare to skills and employability, we help young people to get back on their own two feet through numerous support activities."
Vital services supported by money raised in the appeal include:
Mental health
Centrepoint provides short and long-term counselling to the young people accessing services.
Following the trauma often experienced by young homeless people, residents are offered mental health assessments within the first month of their stay.
They have access to long-term counselling to help them learn "the tools they need to deal with the stresses and strains of homelessness".
One of the young people featured in our campaign, Brookemorgan Henry-Rennie, 18, was suffering from depression when she went to Centrepoint and was offered one-to-one counselling.
"I was in a dark place." she said. "When I came to Centrepoint I had depression; I was very angry and closed off from everyone.
"Young people are not educated properly on mental health so they don't know how to get help.
"Centrepoint offered me opportunities and support. I needed my own space and that is what I got here."
Healthy living
Centrepoint support workers provide education and workshops centred on healthy lifestyle choices.
The charity focusses on "empowering" the young people to take control of their wellbeing.
Residents have access to classes on nutrition and cookery to help build foundations for a balanced and healthy life.
Labour leader Jeremy Corbyn joined young people in one of the classes to make chickpea burgers as he backed our appeal.
Nadeen Haidar, healthy living advisor at Centrepoint, said: "As well as them learning to eat healthily, it teaches them budgeting and skills to live independently. Through the interaction with other residents, we also find it can help build their confidence in social situations."
Functional skills
Disruption to education and training is one of the biggest barriers to homeless young people. 40 per cent of the young people who come to Centrepoint have no qualifications when they arrive.
Centrepoint provides one-to-one sessions teaching basic maths and English skills to the level required by employers.
Journalist Poppy Noor, 26, was just 16 when she moved into a Centrepoint hostel.
With the support of the charity, she used the time to study for her A Levels and was accepted into Cambridge University.
"Had I not found the hostel, I'm sure I wouldn't have got the straight As that got me into Cambridge," she said.
"My friends did not all have the same opportunities as me."
Basic life skills
A lot of the young people Centrepoint works with missed out on childhood and teenage years most take for granted.
The charity runs a host of "life skills" lessons which include training sessions helping young people learn how to budget and pay bills on time.
For Andrea Brown, who was just 17 when she became homeless, these lessons were vital.
Born in Ivory Coast, she did not have permanent residency in the UK despite living here since the age of five.
Centrepoint helped her to go through the complicated process of applying for her residency – which was approved in September.
"I was frightened and didn't know who to turn to. I didn't give up but others might," she said.
"Centrepoint gave me so much support and advice. They have help for everything."
Work advice
The charity helps young people prepare for job interviews and applications when they prepare to enter the world of work.
Residents are encouraged to take part in work experience, often organised by Centrepoint, as well as workshops, talks and advice from professionals and experts.
The charity encourages young people to pursue career goals and recently hired ex-Centrepoint resident Samia Meah, 26, to photograph Prince William for the homeless helpline campaign.
After being homeless at 16, Samia went to live at a Centrepoint hostel before going to university to study photography.
Now she works for the charity as a project assistant and holds exhibitions of her photography work.
"It's hard to make it in London but I've always had help, especially from Centrepoint, and kept trying. It feels like it's coming together."
Additional reporting by Chloe Chaplain
Join our new commenting forum
Join thought-provoking conversations, follow other Independent readers and see their replies