'I was homeless - now I'm photographing Prince William at the palace'
Samia Meah tells of her extraordinary journey from becoming homeless at the age of 16 to photographing the Duke of Cambridge
Ed Cumming
Monday 12 December 2016 16:37 Comments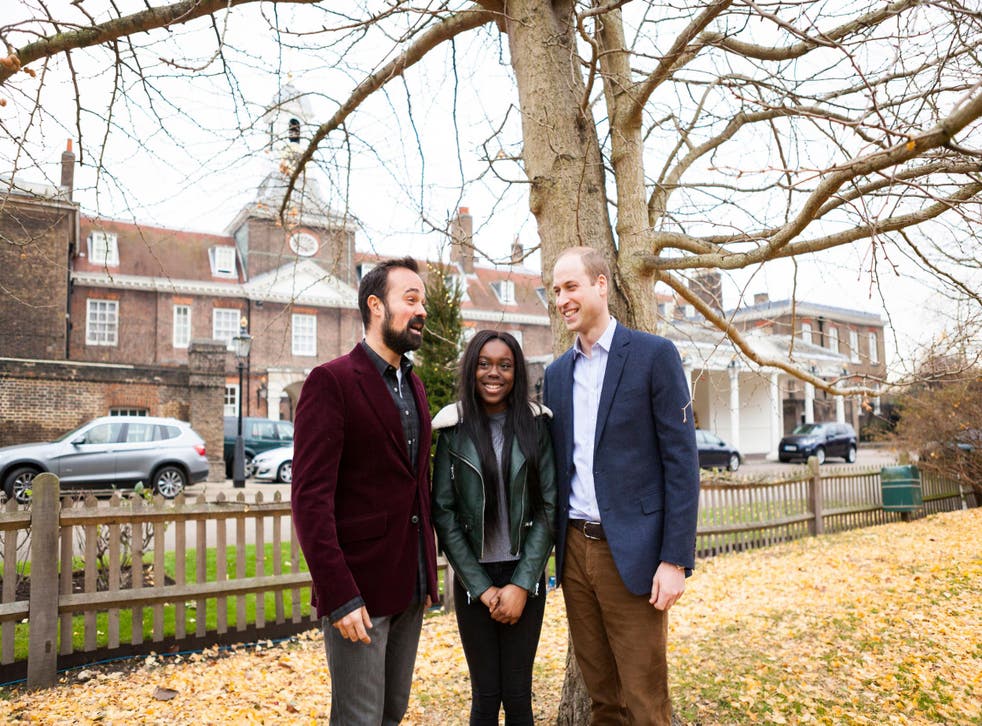 Shooting pictures of Prince William in his own front garden at Kensington Palace would be a dream commission for any photographer, let alone one just starting out.
For Samia Meah, 26, it is the latest step on an extraordinary journey from becoming homeless at the age of 16.
She was offered the opportunity to photograph the Duke, former Centrepoint resident Kumba Kpakima and The Independent proprietor Evgeny Lebedev to mark the Christmas Appeal for the charity's Young and Homeless Helpline passing £1million.
Her story is an example of the importance of funding the helpline and enabling more people like her to get the opportunities they deserve.
"My father died when I was five, so I grew up caring a lot for my mum, who didn't speak any English," she says.
Her mother had told her to become a lawyer or a doctor and that she would have an arranged marriage.
"My school knew I had a funny home life," she says. "I told them just before my GCSEs then they told social services – the council assessed me. We decided to hold on until I'd done my exams."
She moved from her home in north London to a Centrepoint hostel, where she learned she had passed all her GCSEs. "The Centrepoint staff gave me a card to say well done, which nobody had done before," she remembers.
After studying arts A-levels she moved out of Centrepoint accommodation to university halls in 2009 and settled on photography.
"I love how photography encapsulates graphic design, fashion – whatever you want, basically," she says.
The causes of homelessness

Show all 7
Samia, who now rents in London with her boyfriend, has just had her work exhibited as part of her masters degree, and has filmed documentaries about Bangladesh, where her parents are from, and the experience of millennials in Europe.
She has met the Duke several times since 2009, when she was invited to give a speech telling her story before he delivered one himself.
"Afterwards I was very emotional and had to sit down," she says. "He came and crouched beside me and told me my speech was much better than his.
"I had always been self-deprecating, but that experience helped. I realised I was worth it and that the playing field could be level if I fought for it. He talks to you like he's your neighbour."
This portrait is similar to her usual work, she says, albeit with a smarter setting – and more nerves.
"Most of my photography is documentary, like this shot – very candid and casual, with lots of natural light. The palace is a nicer backdrop than most of my shots: there was an autumnal tree with no leaves, and a Christmas tree in the background.
"Then on the left there is a bit of the palace itself – golden crowns and the top of a lamppost. I have anxiety and was very nervous before the shoot, but I told myself that I have been practising years for this 10 minutes."
Photography is part of Samia's job – having come full circle, she works for Centrepoint as a project assistant.
As the Duke told her, her story keeps getting better.
"Though I've always dreamt of a different life, I know there are no guarantees and I've kept my feet on the ground. It's hard to make it in London but I've always had help, especially from Centrepoint, and kept trying.
"It feels like it's coming together."
Register for free to continue reading
Registration is a free and easy way to support our truly independent journalism
By registering, you will also enjoy limited access to Premium articles, exclusive newsletters, commenting, and virtual events with our leading journalists
Already have an account? sign in
Join our new commenting forum
Join thought-provoking conversations, follow other Independent readers and see their replies