Inspiring home of the week: Norwegian home with hygge vibes
A home to truly hibernate in, this house by a lake embodies the hygge spirit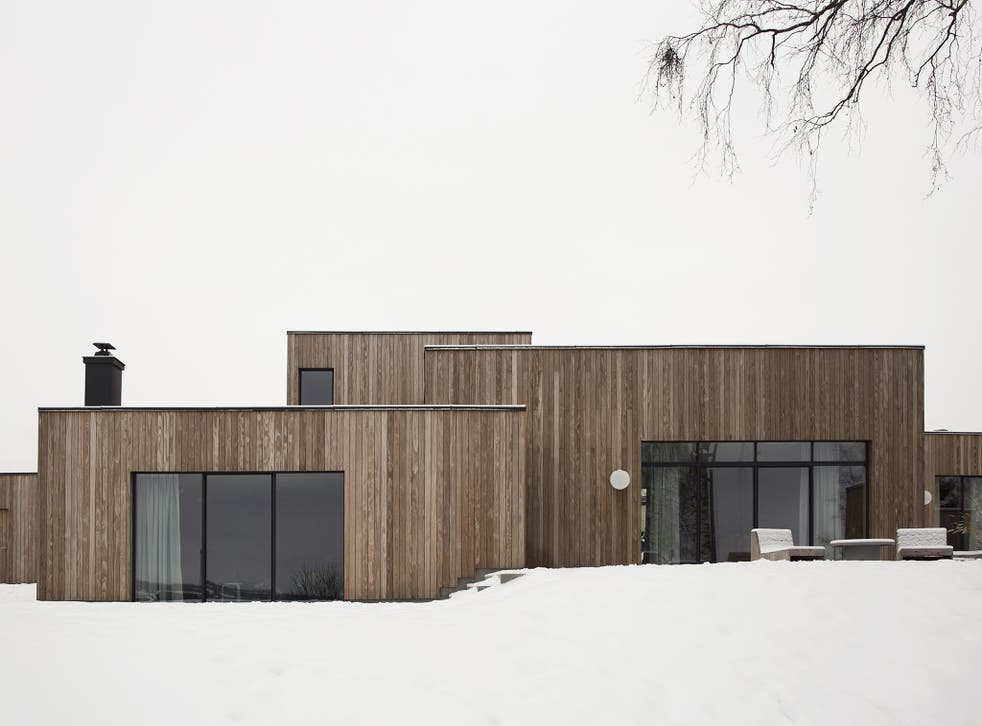 This modern-cluster home near Oslo is as cosy as it is practical, designed to both protect inhabitants from the harsh conditions of a Norwegian winter – and to produce a homely, relaxed shelter that doesn't take anything away from its beautiful lakeside setting.
The Gjøvik House, located on the side of Norway's Mjøsa lake, is the first house outside of Denmark for Copenhagen-based practice Norm Architects. Gracefully embracing the hillside terrain the dark, wood exterior naturally merges with its woodland surrounding in the warmer months, while appearing sturdy and safe in the winter.
Consisting of six cubes overlapping each other, the 155 square metre-house is a cosy universe of nooks and crannies; the flow bends around each room to create small, private pockets and places to curl up against the elements. Norm built the house following the hygge vision – a humble structure with cosy cubes, intentionally creating a feeling of warmth and security for those inside.
The intertwining is further underlined by the choice of materials. Floor becomes wall and wall becomes floor in an ever-changing world of concrete, wood and subtle, warm tones. Having the majority of all furniture built in adds to the soft, yet minimal expression in this unique family home.
Gjøvik House, Oslo

Show all 9
We talked to one third of Norm, Linda Korndal, about the difficulties of creating a home in the remote Norweigian countryside.
Please tell us a little about your practice
Norm architects was founded in 2008 by Kasper Rønn and Jonas Bjerre Poulsen. At the time it was a counter reaction to the very expressive architecture and design that happened around the period just before the financial crisis. It was for us a return to the classical architecture and attempt to create something that would have a longevity and a greater transcend through time. To return to the norm of things.
Today, we are a purposely small studio of 10 people working across disciplines from product, furniture, art direction and architecture. We hope that the interdisciplinary approach allows us to see the projects in various scales, which hopefully shows itself in our attention to detail in our architecture, and a sense of context in our furniture.
What is your practice known for?
As an internal guideline we work towards always finding the place where nothing can be added or taken away. In our heritage as Scandinavian designers, our aim is to create architecture that is minimal, yet soft and empathetic. Historically, modernism in our region of the world tends to have a warmer and more tactile expression, in comparison to the rest of Europe. Personally, I believe that is a counter reaction to our colder climate. Here you crave warmer environments to mentally feel protected from your immediate surroundings – and vice versa you see a tendency towards cooler and more sleek design in the warmer parts of Europe.
How would you sum up the project in five words?
Thoughtful, empathetic house inside out
What was the brief for this project?
We always create and programme our projects along with the clients. But it quite quickly became evident that this was a family who loved and wanted a great sense of togetherness. As the project evolved this created the core brief of the project. Because large open spaces do not necessarily create and evoke togetherness, it is our belief that actually being together creates a demand for being together, without being together. Existing separately within the same space. Therefore, we created a home where the family would be able to sense each other and share large parts of their lives, but also exist as individuals. Functionally, this meant creating nooks and crannies. Thresholds and small variations within the space.
Another important aspect of the project, was, of course, also to create a house that would respect and fit this beautiful hillside towards lake Mjøsa and outside Oslo. And where the cubes that allowed us to create the variety of space inside, they outside mimic and respect the descent towards the lake.
As the house is placed on the top of a hill it was also important to the family that they where not put on constant display to the neighbouring buildings and people, therefore the house frames certain views, but is also aware about when to close off. This leaves a continuous shift between views towards the spectacular horizon, but also allows for a feeling of being protected and private. For the client, it was very important knowing when to do what.
We where lucky to have an ambitious client, which gave us the opportunity to work with materials in new and interesting ways. We had a great liberty to create a warm and cosy environment, and we experimented with the materials throughout the house. So in an ever-changing environment floor becomes wall and wall becomes floor.
What did you hope to solve as you designed this home?
First and foremost, I hope we created a home that fits and underlines the life that is to be carried out here. But I also hope that we created a house that has a varied and rich narrative, and that the small and constant changes in height, materials and views provides a corner for every situation and mood.
What makes this space unique?
The view in itself makes this space unique, which to an architect is very humbling – if anything I hope it emanates empathy.
What was your inspiration for this project?
I was inspired by creating a modern, detail oriented and minimalistic approach to the Seventies' cluster houses. I have always been inspired by the life this building creates, but from a stylistic approach they tend to also be driven by a democratic and budget-friendly approach, which leaves the care for details and bespoke items to be sought-after.
What was the toughest issue you encountered when this building was being designed and built?
This was one of our first projects outside Denmark and I think we gained a lot of valuable lessons that we now apply to our projects abroad.
Today when we start projects in other parts of the world, we apply a research phase to the project, allowing us to find the right collaborators, learn about building codes and climate regulation. In this project we had some learning to do about what it requires to actually live in an environment with that amount of snow. Luckily, we had a very great client in this case, who really stood up for our ideas and who became an extended part of our team.
What do you wish you could change in hindsight?
That is a tough question. As an architect you tend only to see the things you want to change. At Norm we believe that the details are what actually create the overall harmony. There are details that I would have loved to have catered for even more.
Join our new commenting forum
Join thought-provoking conversations, follow other Independent readers and see their replies