The link is established between serial killers and animal cruelty
It's long been thought that serial killers started life abusing and killing animals but, reports Jane Dalton, new research into the psychological effect on children who witness violence is driving action to protect people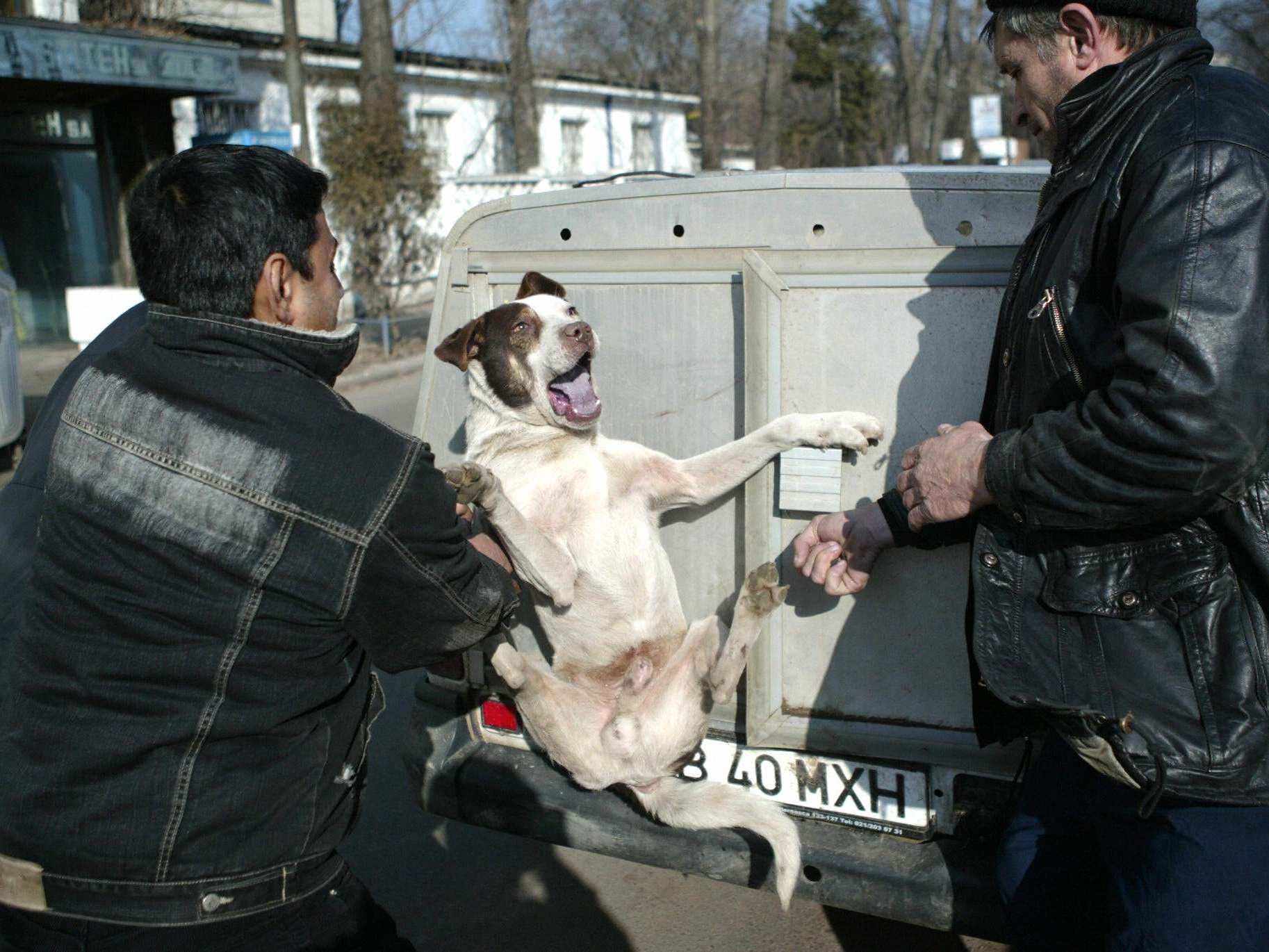 Jeffrey Dahmer, the "Milwaukee cannibal" who dismembered 17 people three decades ago had first practised his butchery by cutting up dogs and cats and impaling their heads on sticks. Ian Brady, the Moors murderer who tortured and killed five children in the 1960s, boasted of killing his first cat when he was just 10, and went on to burn another cat alive, stone dogs and cut off rabbits' heads before going on to target people. Robert Thompson and Jon Venables would shoot pigeons with air rifles and tie rabbits to railway lines to watch them be run over – until in 1993 they killed toddler James Bulger.
The links between early cruelty to animals and later violent and aggressive crime have been documented for decades, and suspected by some for even longer. But now academic research has uncovered wider chilling evidence of the psychological effect on children of witnessing cruelty to animals, and prompted widespread efforts to step in and halt those at risk of escalating the trauma by acting it out against both animals and people.
In the first university study of the subject, researchers from Teesside University talked to teenagers in Romania, finding that nearly nine in 10 – a staggering 86.3 per cent – thought it was "normal" to see homeless animals being abused or killed. The teenagers were also found to be more likely than youngsters in Germany, a control group, to later self-harm or have suicidal tendencies. As children, nearly all of those questioned had witnessed street animals being caught in a noose, poisoned or hanged.
Tens of thousands of dogs live on the streets in Romania, and the strays, classed as vermin, are routinely rounded up and killed under a government "law of slaughter" to control their numbers. Culturally, the attitude that domestic violence is normal has been shown to be prevalent in the country. In a 2010 Eurobarometer poll on violence against women, 36 per cent of Romanians said they thought domestic violence in their country was very common and 48 per cent fairly common, while 58 per cent agreed that "provocative behaviour" was a cause of violence against women.
In 2017 the European Court of Human Rights fined Romania after it failed to hold to account a man who attacked his wife eight times. And up to three in four parents in the country use corporal punishment. Levels of abuse and aggression in schools, by both teachers and other children – including sexual abuse – are high, according to research by children's charities Unicef and Save the Children.
The Most Notorious Serial Killers
Show all 20
Romania was a case study that demonstrated what is known as "the link", but the psychology of graduating from witnessing or suffering aggression to enacting it is a worldwide phenomenon. In the UK, Ministry of Justice figures last year showed that 13 convicted murderers, 22 child rapists and 99 people guilty of child cruelty had also been convicted or cautioned for animal cruelty offences over the previous decade. Hundreds of sex offenders and people convicted of violently attacking others were also found to be guilty of animal abuse.
And in 2002 an Australian study concluded: "Animal abuse was a better predictor of sex assault than previous convictions for murder, arson or firearms offences."
Malcolm Plant, the author of a peer-reviewed paper on the subject, Making the Link, says that put together, Romania's street dog culling, violence rates and the study's findings demonstrate a clear point: witnessing brutality to animals desensitises young people and makes them prone to aggression for life. "It's highly likely that an animal abuser will also be abusing humans. We found not only have most animal abusers been exposed to violence and abuse, but that this has resulted in reduced empathy and a normalisation of aggression," he says.
"So there is a high likelihood that this violence will be enacted against spouse, children and within society against people and property."
Such crime ranges from arson to abuse in care homes. Plant says his "groundbreaking" findings could revolutionise the way in which abuse behind closed doors is tackled worldwide, preventing tens of thousands of harrowing cases of domestic violence and murder each year, as well as abuse of children and the elderly. The researchers believe their work can even be adapted to prevent prisoners from carrying out other violent crimes.
In what's thought to be a world-first, his team has formed an alliance, the European Link Coalition, of 17 animal-welfare groups globally that are launching schemes to get authorities to intervene as soon as animal cruelty is detected – to prevent it escalating. And now, at last, authorities are starting to act on the fact that people who have inflicted cruelty on pets are proven to be much more likely to go on to abuse their partners and family members
Protecting children from seeing scenes of animal torture would form one strand of the approach advocated by the university team. The other is to set up rigorous systems to automatically trigger a police investigation when an animal abuser is identified, the key being to use rehabilitation techniques or the law to stop them.
Not everyone is a fan of such a system, however. Alistair Carmichael, the Lib Dems' former home affairs spokesperson, is concerned over privacy. "I would not be surprised if these links existed but I would need some persuading that this would be an appropriate use of police time and resources," he says.
"We have always required some evidence of a specific crime having been committed (ideally, but not exclusively, a complaint from a victim) before police mount an investigation. I do not think we should move away from that approach."
But Plant sees a virtuous circle in which animal abuse is prevented in the first place by the threat of more severe punishments, so pets and strays cease to be soft targets, and youngsters do not use them as a step on a path to crime.
"If you don't have sufficient severity of punishment, people perceive it as legitimising the violence and aggression. There are parallels in Britain – if people see cases of abuse and the punishment is minimal, it effectively legitimises that abuse."
And it seems clear that the absence of legal deterrents – as in Romania – reduces the social status of animals, giving children at risk no understanding of boundaries of criminal behaviour.
Numbers of strays in Romania have risen since the 1980s, when the communist dictator Nicolae Ceausescu ordered the mass demolition of houses to be replaced by apartment blocks. As families were forced to move into smaller flats, their pets were abandoned.
The animals were left to fend for themselves and now, tens of thousands are killed every year under the government's "catch and kill" policy.
This is despite the fact that the World Health Organisation and the World Organisation for Animal Health both say neutering schemes are the only effective way of controlling homeless animal numbers.
Children witnessing animal torture in Romania was linked to higher rates of violence in later years
Bucharest's policy also defies a Council of Europe convention on pets that insists on neutering in any attempt to reduce numbers of street animals.
"The government's illegal non-compliance with European conventions and categorisation of the strays as 'eradicable' diminishes their social status, and they are seen as a 'soft target' for those who want to exercise violence, which is then likely to be enacted against people and property," says Plant.
In Britain, where a new law to raise the maximum sentence for animal cruelty to five years is currently going through parliament, some action is being quietly taken behind the scenes.
Last year, the RSPCA launched a trial scheme aimed at rehabilitating people who have been prosecuted for animal cruelty. Magistrates may order offenders to attend courses run by the charity that teach offenders about animals' basic needs and feelings, how to be a responsible owner, and "strategies to make better choices and decisions".
David Allen, head of education at the RSPCA, said: "It may seem strange for the RSPCA to be helping people who have neglected and abused animals, but until now there hasn't been any opportunity to address the issues that might have led to that abuse happening. We really hope this programme will enable us to target that behaviour and stop those involved harming animals again."
The animal-welfare charity declined to take part in a pilot the Teesside team were hoping to launch, citing "confidentiality and data protection issues", but its officers will cooperate with their NSPCC counterparts in spotting indicators of abuse and sharing their concerns.
Between April 2017 and March 2018, the NSPCC received 58 referrals from the RSPCA, with neglect being the most prevalent form of abuse reported, and many cases were referred to local authorities.
"The information enabled further investigations to take place and safeguarding plans to be strengthened for children and families," the child-protection charity reports.
Professionals who work with children or animals may be reluctant to share information with other authorities, including police, on privacy grounds, but the children's welfare charity has guidance assuring them it is legal to do so if they have "serious concerns".
The RSPCA says its scheme with the NSPCC has been successful in helping families and children get the help they need. "Although it is rare, there are occasions when our inspectors come across troubling signs that suggest a child may be being neglected or abused, and our partnership with the NSPCC means those concerns are being passed on to the right people," a spokesperson said.
The fact that today's young people are growing up with technology fuels suspicion that the phenomenon of passing on abuse could be on the rise. Late last year, the RSPCA began campaigning for animal welfare to be on the national curriculum after a survey found a quarter of British children had seen animal abuse online.
"Young children are being exposed to horrific incidents of animal suffering online in ways previous generations have simply not experienced," the charity concluded, with nearly 5,000 incidents of cruelty and neglect reported on social media each year.
Its Generation Kind campaign includes a project aimed at children from deprived areas and troubled families, letting them interact with animals, and in the process learning to develop compassion for them.
Meanwhile, the Links Group – which is separate from European Link Coalition and encompasses organisations from the Blue Cross and PDSA to the Association of Chief Police Officers – promotes training days for vets on spotting the abuse of pets that might be signs of wider aggression.
Worldwide, authorities in countries from the Netherlands and Italy to Ukraine and the Palestinian territory are also exploring intervention schemes, prompted by the findings and work of the European Link Coalition.
And Teesside University has just signed an agreement to work with the Federation of Indian Animal Protection Organisations and with Humane Society International (India) on schemes helping people to spot warning signs of hidden dangers.
Back in Romania, Plant has asked the country's arm of Unicef to collaborate in gathering evidence from children who have witnessed animal cruelty or killings on the psychological impact of it, so that they can together advise ministers in Bucharest on policymaking.
Unicef had previously announced a partnership with Romania's government on a scheme taking account generally of children's concerns about their lives when creating new policies, but has refused Plant's offer of collaboration, saying "the subject matter is not a field we engage in". Unicef did not respond to The Independent when approached.
Along with French animal-rights group One Voice, the European Link Coalition is also planning legal action against the Romanian government based on the UN Convention on the Rights of the Child, arguing that witnessing the killings violates children's rights. Plant's vision for the potential of his team's work knows no bounds. "If we can challenge Unicef to do what they claim they will do – listen to the children – and with the Romanian government using these children's voices to influence policy, the horrors could end," he says.

The researchers' approach would even include re-evaluating the social effects of certain "traditions". Fox-hunting and bullfighting, Plant believes, are tantamount to child abuse. "No child allowed to see fox-hunting or bullfighting breaks the cycles," he says. Last year the UN called on Spain to ban children from attending bullfights or bullfighting schools, arguing that exposure to the violent practice has "damaging effects".
"If all our protocols are enacted, it would also act as a sentinel to other countries on how to reveal hidden abuse," Plant says. "The potential is enormous, because this is no longer only about animals but has the potential to help untold numbers of individuals and families silently suffering hidden abuse. Introducing practical applications of the 'link' concept can potentially turn the light on to reveal hidden abuse and rescue untold numbers of people from lives of misery or pain."
Support free-thinking journalism and attend Independent events
Join our commenting forum
Join thought-provoking conversations, follow other Independent readers and see their replies