Misleading Mila Kunis Rodial body cream advert is banned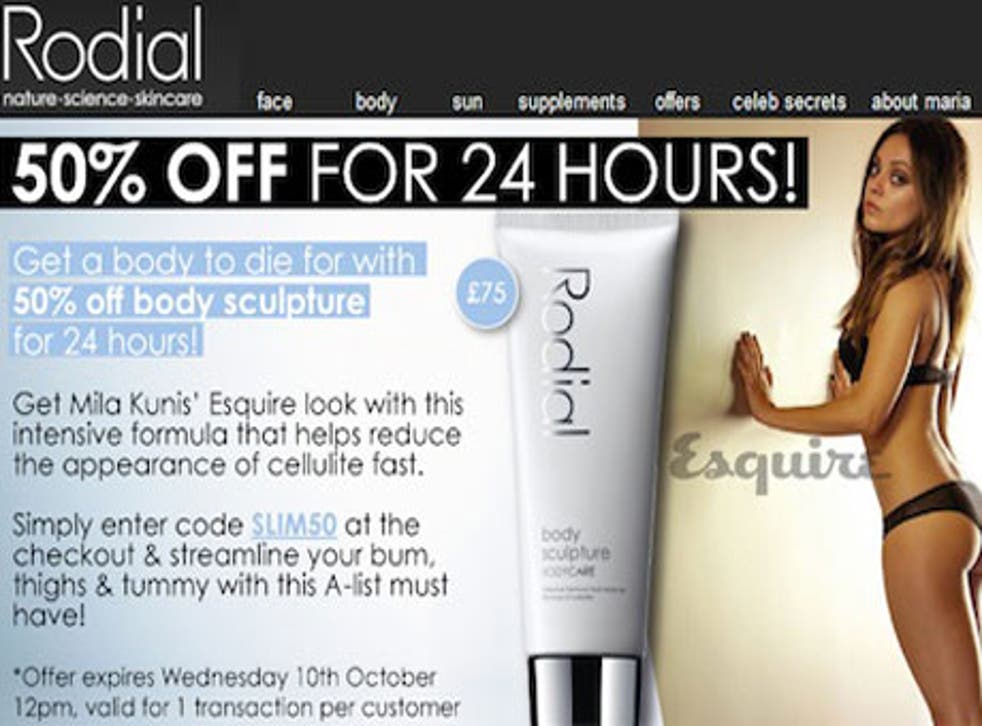 An email for a body cream that suggested actress Mila Kunis had used it to achieve her figure has been banned for misleading consumers.
The ad for Rodial was headlined "Get a body to die for with 50% off body sculpture for 24 hours" with an accompanying image showing Kunis in her underwear.
Further text read: "Get Mila Kunis' Esquire look with this intensive formula that helps reduce the appearance of cellulite fast.. streamline your bum, thighs and tummy with this A-list must have."
One person challenged whether the ad exaggerated the results that were likely to be achieved from using the product.
Responding to the complaint, Rodial provided the Advertising Standards Authority (ASA) with information on two of the active ingredients in the product which it believed substantiated the efficacy claims.
The ASA said the ad implied that consumers who used the product would be able to reduce the appearance of cellulite and tighten and smooth their bottom, thighs and tummy.
But it concluded: "Because robust evidence was not presented to demonstrate the implied efficacy claims for the product or that Mila Kunis had achieved the look featured in the photo as a result of using the product, we concluded that the ad was misleading."
It ruled that the ad should not appear again in its current form, adding: "We told Rodial not to make efficacy claims without holding robust evidence."
PA
Register for free to continue reading
Registration is a free and easy way to support our truly independent journalism
By registering, you will also enjoy limited access to Premium articles, exclusive newsletters, commenting, and virtual events with our leading journalists
Already have an account? sign in
Register for free to continue reading
Registration is a free and easy way to support our truly independent journalism
By registering, you will also enjoy limited access to Premium articles, exclusive newsletters, commenting, and virtual events with our leading journalists
Already have an account? sign in
Join our new commenting forum
Join thought-provoking conversations, follow other Independent readers and see their replies