Charlie Hebdo: Magazine condemned for parodying Meghan Markle's racism concerns and George Floyd murder
Cartoon of Duchess saying she 'can't breathe' comes as Floyd's family receive £19m payout for his death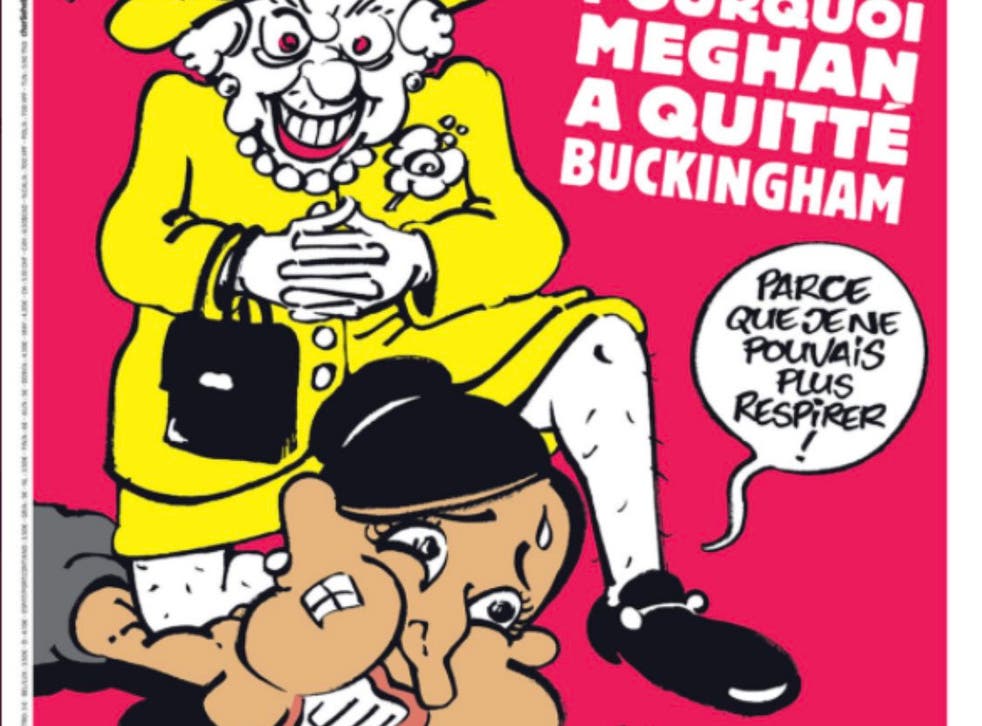 Leer en Español
French magazine Charlie Hebdo is facing widespread criticism for its most recent front cover, which shows a cartoon of the Queen kneeling on Meghan Markle's neck in what appears to be a recreation of George Floyd's death.
Alongside the caricature, a headline reads, "Why Meghan left Buckingham", with the Duchess of Sussex replying – from underneath the Queen's knee – "because I couldn't breathe anymore".
Floyd, a black man, died last year after a white police officer knelt on his neck for almost nine minutes, sparking a wave of Black Lives Matter protests around the world.
Meanwhile, Meghan, who is married to Prince Harry, recently sat down with former chat show host Oprah Winfrey to give an explosive interview about her time as a working member of the royal family. It aired in the US on Sunday and in the UK the following day.
Read more: Clip from Princess Diana Panorama interview sparks comparisons to Meghan Markle
During the two-hour conversation, both Meghan and Harry alleged that an unnamed member of the family had expressed concerns over "how dark skinned" the couple's son, Archie, would be when he was born.
The Duchess also revealed that she became suicidal during her time in the UK, as a result of her treatment by the press and the royal family – or what she called "the firm".
Her interview prompted a worldwide discussion about institutional racism, as well as the relevancy of the monarchy in Britain, resulting in Buckingham Palace issuing a statement that said the claims made by the Sussexes were "concerning" and would be investigated "privately".
The Charlie Hebdo cover has been condemned as "abhorrent" and "worrying" on social media, with some Twitter users claiming the magazine's satire has become "plain racist".
Dr Halima Begum, CEO of race equality think tank Runnymede Trust, said the image "demeaned" Floyd's death and "caused offence" in the process.
She wrote: "#CharlieHebdo, this is wrong on every level. The Queen as #GeorgeFloyd's murderer crushing Meghan's neck? #Meghan saying she's unable to breathe? This doesn't push boundaries, make anyone laugh or challenge #racism. It demeans the issues & causes offence, across the board."
"Satire is when you're mocking the oppressors, not the oppressed and already marginalised. Charlie Hebdo has always been disgusting," one user wrote.
"What they've done is disgusting and hopefully people are now able to understand that 'freedom of speech' shouldn't involve hate against belief or colour," another added.
The magazine is yet to respond to the criticism, though it has a history of causing offence.
In 2015, two French brothers, Said and Cherif Kouachi, forced their way into Charlie Hebdo's offices and killed 12 people.
The attack came after multiple front covers depicted the Islamic prophet Muhammad, which Muslim people said was an attempt by the magazine to use blasphemy to stir up hatred against their religion around the world.
The new cover, which depicts the Queen as Derek Chauvin, the police officer who knelt on Floyd's neck, comes as it was revealed his family would receive a $27m (£19m) payout from Minneapolis City Council.
The settlement is the largest in the country's history.
"If I could get him back, I would give all of this back," Philonise Floyd, Floyd's brother, said at a press conference on Friday. "I know that he's with us, standing up right now, knowing we have the opportunity to be able to fund low-income African American communities."
He also thanked the millions of protesters across the world, who rallied after Floyd's death, for coming together to challenge systemic racism and hold police officers and other authoritative figures to account for their actions.
Register for free to continue reading
Registration is a free and easy way to support our truly independent journalism
By registering, you will also enjoy limited access to Premium articles, exclusive newsletters, commenting, and virtual events with our leading journalists
Already have an account? sign in
Register for free to continue reading
Registration is a free and easy way to support our truly independent journalism
By registering, you will also enjoy limited access to Premium articles, exclusive newsletters, commenting, and virtual events with our leading journalists
Already have an account? sign in
Join our new commenting forum
Join thought-provoking conversations, follow other Independent readers and see their replies