Fidel Castro photo handouts from Cuban government 'manipulated to remove hearing aid'
The Associated Press said photos of the former leader had been manipulated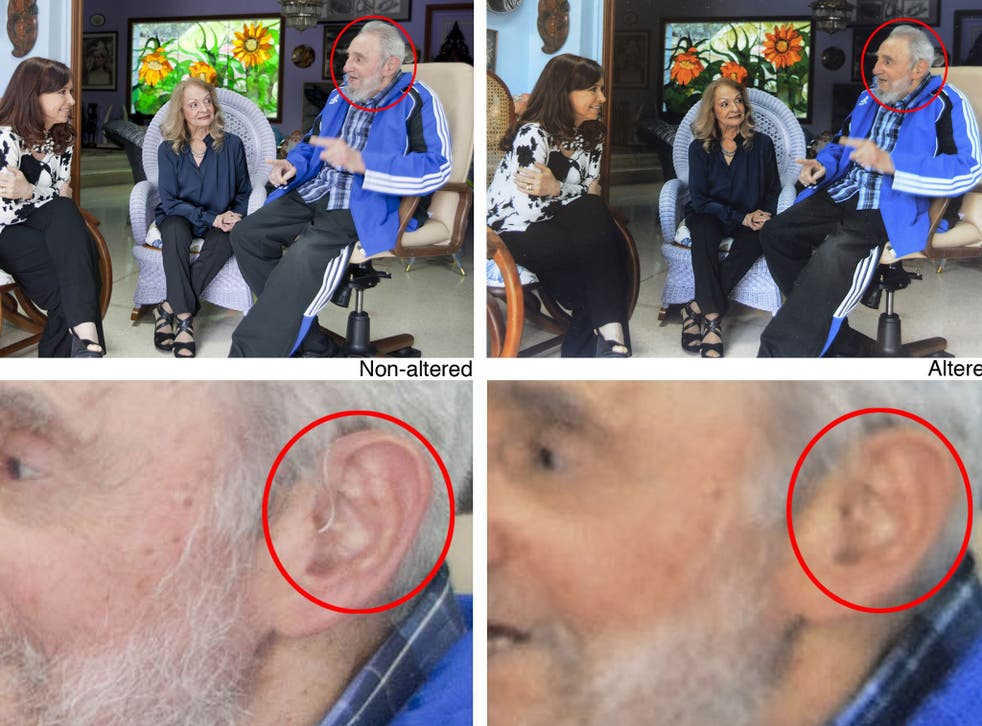 Seven photos of Fidel Castro handed out by the Cuban government have apparently been doctored to remove what appears to be a hearing aid from his ear, The Associated Press has reported.
The news agency has removed the images from their archive, it said, after determining they were digitally altered. The pictures were submitted to AP through the government-run Estudios Revolucion, which distributes photos of Cuba's leaders.
Upon closer inspection, AP said it noticed the images of Castro meeting with Ecuadorean President Rafael Correa and Cristina Fernandez, the Argentinian president showed the former leader without a hearing aid.
AP acquired the original, images from the photographer, Alex Castro, the former leader's son. It said the images clearly showed a thin wire snaking into Fidel Castro's ear that was missing from the altered photo released through Estudios Revolucion.
His pictures were first submitted to Estudios Revolucion, then redistributed through other official Cuban news outlets.
The redistributed pictures showed Castro without a hearing aid.
"We have concluded that a number of official photographs of Fidel Castro were manipulated. Removing elements from a photograph is entirely unacceptable and is in clear violation of AP's standards," Santiago Lyon, AP vice president and director of photography said.
The Cuban government has not yet commented on AP's claims.
In December North Korea digitally removed Jang Song Thaek's image from official photographs and videos, after the uncle of Kim Jong-un was executed as part of a bloody purge.
In another Photoshop mishap, the local government in Anhui province, China, were left red-faced by a picture featuring a legless vice-mayor hovering ominously over a shrunken pensioner.
Join our new commenting forum
Join thought-provoking conversations, follow other Independent readers and see their replies