Another Jimmy Savile could 'be lurking in the BBC', says leaked report
Leaked review identified more than 100 BBC employees who had 'heard about Savile's sexual conduct'
Ian Burrell
Media Editor
Thursday 21 January 2016 14:23 GMT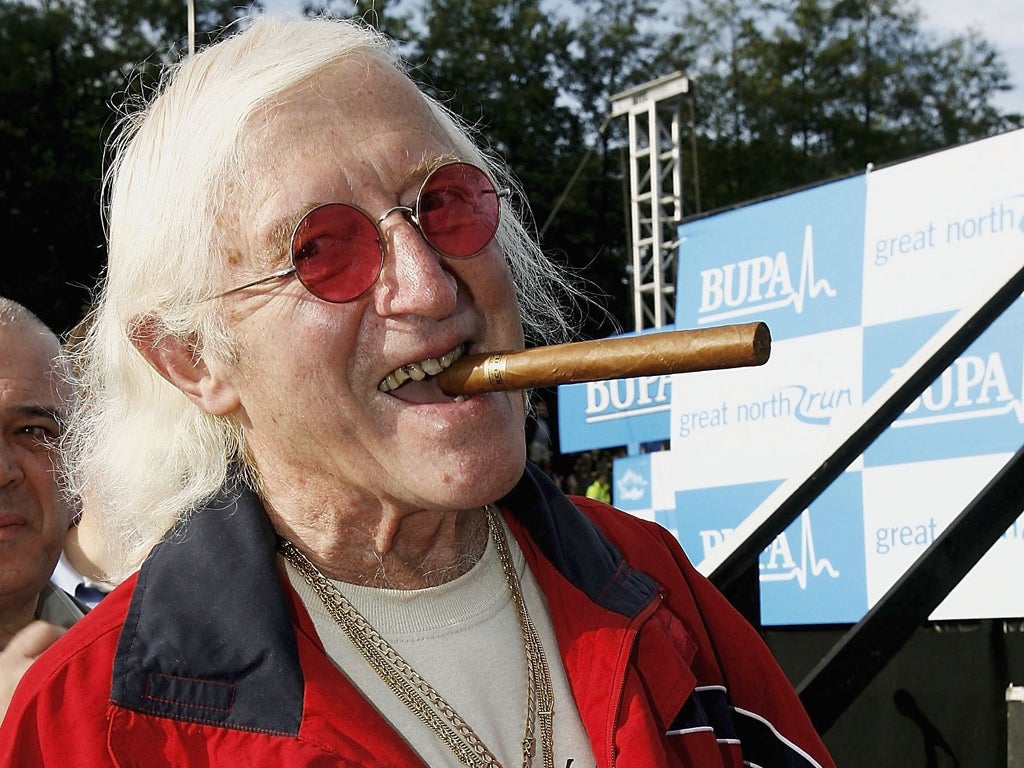 The BBC has an "ingrained" culture of quashing dissent, serving staff have warned, as a leaked draft of an official report expressed concerns that "a predatory child abuser could be lurking undiscovered in the BBC even today".
A draft of the Dame Janet Smith review of practices at the BBC found that the fear of whistleblowing at the organisation was "even worse" in the current era than at the time Jimmy Savile was abusing children while working for the broadcaster.
The review, leaked to online news site Exaro, identified more than 100 BBC employees who had "heard about Savile's sexual conduct" and said the former presenter's abuse of children took place at numerous BBC buildings. Three of Savile's victims were nine years old, it said.
The report made damning criticism of the BBC's efforts to reform its policies on whistleblowing, saying: "It is clear ... there is still a widespread reluctance to complain about anything or even for it to be known that one has complained to a third party."
BBC insiders told The Independent that, with an "ingrained culture of patronage" at the top of the organisation, even household names were fearful of speaking out. "Prominent national journalists are genuinely afraid of going to meetings and telling the truth because if you say something wrong it goes against you," said a BBC newsroom source.
The findings of an enduring culture of cover-ups come two and a half years after barrister Dinah Rose published a Respect at Work review at the BBC (also prompted by the Savile scandal) and identified a "very troubling" undercurrent of fear, 37 cases of sexual harassment and the existence of "known bullies".
The BBC promised reform; it set up confidential counselling services for victims. But staff were unhappy that executives facing multiple bullying allegations were given written warnings and new jobs. Said one journalist: "Short of murder it's hard to know what's enough for the BBC to call time on [some] managers."
Freedom of Information requests have shown that the BBC has spent over £200,000 on private detectives since the Savile scandal; it has monitored 81 staff email accounts and staged 14 inquiries into information leaks since 2012. It is understood former Special Branch officers have been brought in to hunt for moles.
The two BBC journalists who tried to expose Savile's activities believe they were victimised. Meirion Jones, who worked on a quashed Newsnight investigation into the paedophile, complained of being "forced out of the BBC". Liz MacKean, who also worked on the investigation, decided her future lay outside the corporation and left in 2014.
Reform has also been undermined by instability at the BBC. Lucy Adams, Director of People at the time of the Rose review in May 2013, was heavily criticised by MPs a few months later over executive pay-offs, and resigned. Lord Patten, chair of the governing BBC Trust, retired due to ill health soon afterwards.
Dame Janet, a retired judge, said in her draft report that many witnesses demanded anonymity. "These people were, and still are, afraid for their positions," she said. "It was explained to me that ... the position is even worse today ... [as] so many people are now employed on short-term contracts or on a freelance basis, with little or no job security."
Having condemned its complaints procedures in the Savile era and today, Dame Janet asked herself if a similar abuser could still be at large at the BBC. "The answer is," she wrote, "I think it is possible."
A review of the BBC's whistleblowing policies by GoodCorporation last year ranked it 12th of the 40 organisations surveyed.
Key findings
More than 100 BBC employees said they had heard of Savile's sexual activities. Some 18 per cent of these believed his interest to be in girls under 13. Savile's first victim was a 15-year-old girl who had gone to the BBC for work experience but was invited for a "cup of tea" by the presenter, taken to a flat and raped. Savile habitually invited a group of young girls – his "Team" - to watch him present Top of the Pops and then chose one for sex. Savile also abused at least six boys under 16 on BBC premises. Roger Ordish, the long-running producer of Jim'll Fix It, admitted hearing Savile shout "Legal! Legal!" when told a child was aged 16. Derek Chinnery, former controller of Radio1, thought Savile an "amusing fellow". Dame Janet said that a major article in The Sun in 1983, headlined "Girls Galore", in which Savile "boasts about how many girls he has sex with on a casual basis" was "scarcely noticed by the BBC". Dame Janet's office has said its report will be published within six weeks and "significant changes" had been made to the content since the writing of the leaked draft.