Recently Read on The Independent
A new social reading experience powered by Facebook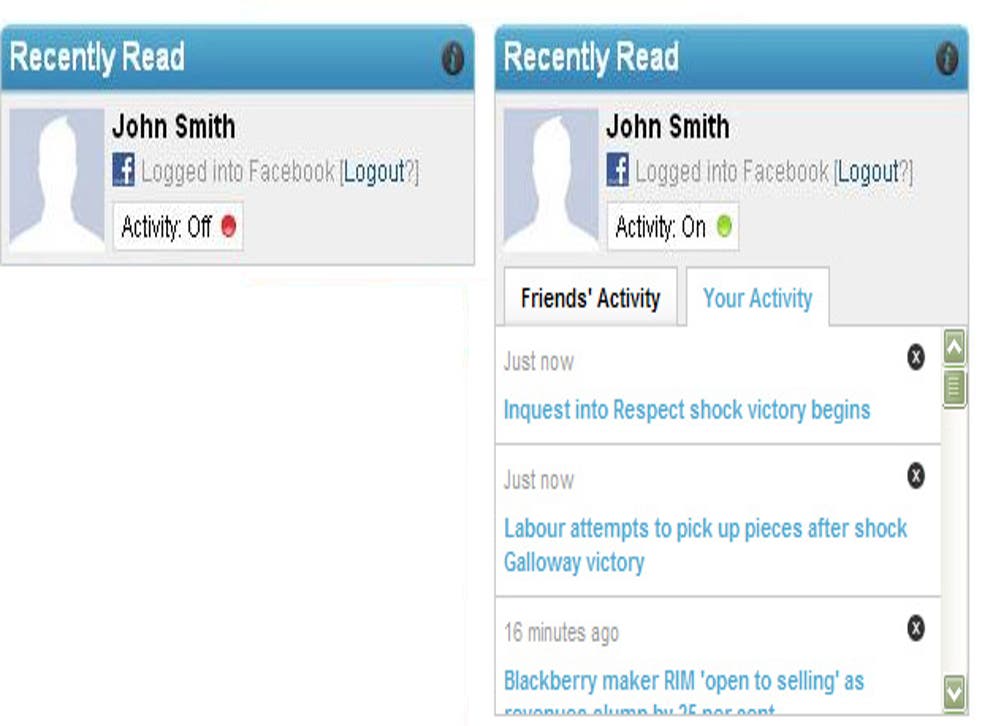 Recently Read is a new social reading experience on The Independent that is part of a new class of apps that help people express who they are on Facebook.
The experience is based on you and your friends' activity on Independent.co.uk. After opting in, the articles you read on Independent.co.uk will be added to your profile on Facebook, and on both the Independent site and on Facebook you and your friends will be able to discover recently read Independent articles.
Try Recently Read by clicking Log In on the unit to the right.
Read more:
The Independent announces its new social reading experience
Jack Riley: Introducing Recently Read
Recently Read's page on Facebook
FAQs
How does it work?
By opting into the Recently Read Facebook app in the unit to the right and on any article page on The Independent site, you'll begin posting articles you've read on Independent.co.uk to Facebook for your friends to see and interact with. The "Friends' Activity" tab on the Recently Read unit on the Independent site shows you the articles your friends have read also, aggregated by Facebook according to recentness and popularity; so if one article has been especially widely read amongst your friends, you'll see it there. In the absence of friends' reading activity, that tab will show shared and popular articles from across the site.
Users of older browsers such as Internet Explorer 7 and Firefox 2 may find that the unit does not load for them. For the best experience, we recommend using Google Chrome.
How can I control what's shared and with whom?
You can control what activity is added to your profile from within the Recently Read unit; click "Activity" to turn sharing off and click it again to turn sharing back on. A red or green light next to "Activity" will show whether sharing is on or off. This setting will be maintained as you browse around the site, but if you move to a different browser or computer it may default back to sharing being in the on mode.
The unit isn't placed on the Health section of the site, so articles in that section will not be shared back to Facebook.
You can also remove individual articles from your archive of read articles. To do this, go to the "Your Activity" tab and hover over the article you want to remove, and click the cross that appears on the right side (as in the left example image below). Your reading activity is not stored by The Independent.
Remember, you can always check and edit your privacy settings on Facebook here.
How do I opt out?
If you wish to opt out of the experience at any time, click visit your application privacy settings on Facebook. You can reauthorise the app at any time to return to the social reading experience.
Join our new commenting forum
Join thought-provoking conversations, follow other Independent readers and see their replies