Angry Murdoch used Harry photos to defy Leveson
The owner of 'The Sun' intervened personally to run the pictures of the naked prince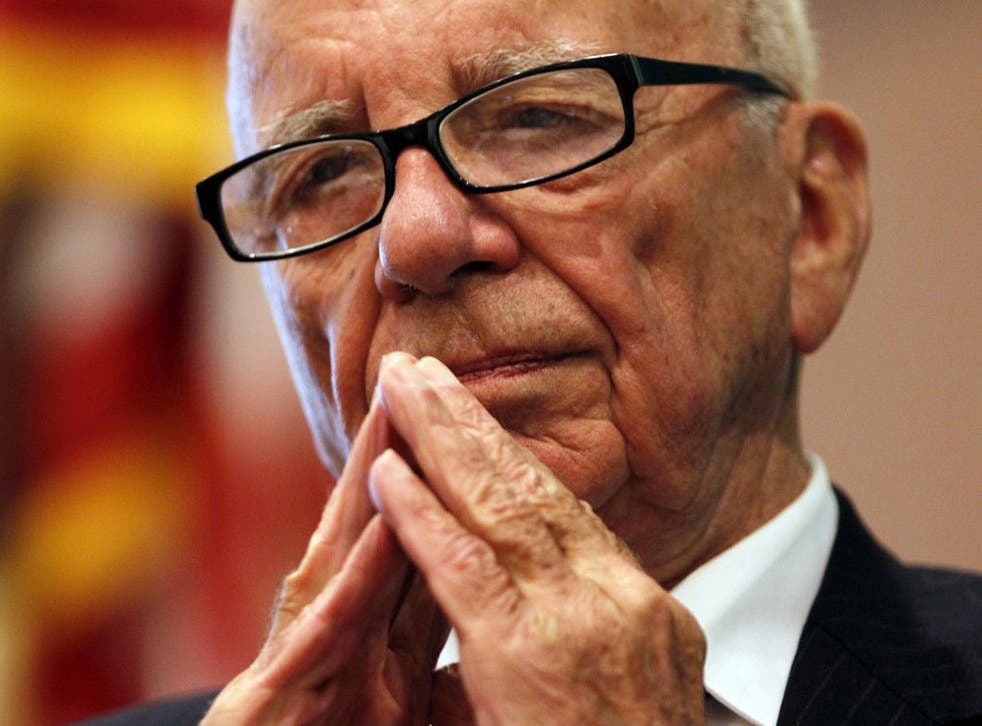 An angry Rupert Murdoch ordered The Sun to publish pictures of a naked Prince Harry against the wishes of the Royal Family because he wanted to send a warning shot to Lord Justice Leveson, sources said yesterday.
The owner of the red-top phoned the News International chief executive Tom Mockridge from New York on Thursday amid suggestions that The Sun and other papers did not carry the photos for fear of recriminations in the Leveson report.
When the images emerged on Wednesday, St James's Palace asked the Press Complaints Commission to tell editors it did not want them published, and all British papers abided by the request on Thursday. But on Friday, The Sun carried a picture of a naked Prince Harry, taken during a game of strip pool in his hotel suite in Las Vegas last weekend, raising questions over why the paper changed its stance.
News International has refused to comment on speculation that Mr Murdoch intervened. But according to a well-placed source, Mr Murdoch told Mr Mockridge in his transatlantic phone call on Thursday: "There is a principle here. I know this is about Leveson but this is humiliating. We can't carry on like this. We should run them, do it and say to Leveson, we are doing it for press freedom."
The Sun's decision to publish the pictures sparked both criticism and praise from MPs, peers and commentators, as well as more than 850 complaints from members of the public to the PCC. St James's Palace so far has not lodged a formal complaint of breach of privacy on behalf of Prince Harry with the PCC.
It has also triggered a debate about what constitutes the public interest, given that Prince Harry, an officer in the Army, was in his hotel room, despite partying with several strangers. Lord Justice Leveson is preparing to publish his report into the practices and ethics of the press this autumn, and is expected to recommend tougher independent regulation. There are fears that The Sun's actions may force Lord Justice Leveson to come down harder on newspapers.
Neil Wallis, a former executive editor of the News of the World, said: "This was a decision taken by Rupert. Rupert cares passionately about newspapers. He thinks this stuff is important. This is the only good thing that has happened at News International for a year. Once they knew they were going to do it, there was just a magnificent morale boost. They have stood up and looked the rest of the media in the eye, Parliament in the eye, and looked Leveson in the eye. Rupert has done an enormous amount for the morale of his own newspaper. And also, I know, journalists from other companies, although they can't publicly say so."
But Max Mosley, who successfully sued the News of the World for breach of privacy, told The Independent on Sunday that publishing the Prince Harry photographs was "100 per cent not in the public interest. It is theft. It's his privacy … and they've stolen something from him. If they were an honest newspaper, they wouldn't have published them".
A spokesman for the Leveson inquiry declined to comment. A spokeswoman for News International said: "We haven't commented at all on who was involved or not involved in the decision process."
According to reports, Prince Harry, 27, the third in line to the throne, was being summoned for "crisis talks" with his father, Prince Charles. There is also pressure on St James's Palace and Buckingham Palace to review royal protection procedures.
Harriet Harman, Labour deputy leader and the shadow Culture Secretary, cast doubt yesterday on Elisabeth Murdoch's MacTaggart lecture last week in which she distanced herself from her father and brother James. Speaking at the Edinburgh International Television Festival, Ms Harman said: "It was exquisite torture for me that you wait 17 years for a woman to give the MacTaggart lecture and it's a Murdoch. It's a bit like waiting for a woman to be Prime Minister and finding it's Margaret Thatcher. Of course it was important for her to be saying profit should be the servant, not the master, but we didn't hear how that was going to happen."
Ms Harman criticised the "dysfunctionality" in the Murdoch empire and added: "What the Murdochs mean for many people is concentration of power or abuse of power."
Join our new commenting forum
Join thought-provoking conversations, follow other Independent readers and see their replies