Chinese newspaper that dared to speak out in front-page appeal for reporter's release
Journalist queried business dealings of state-run company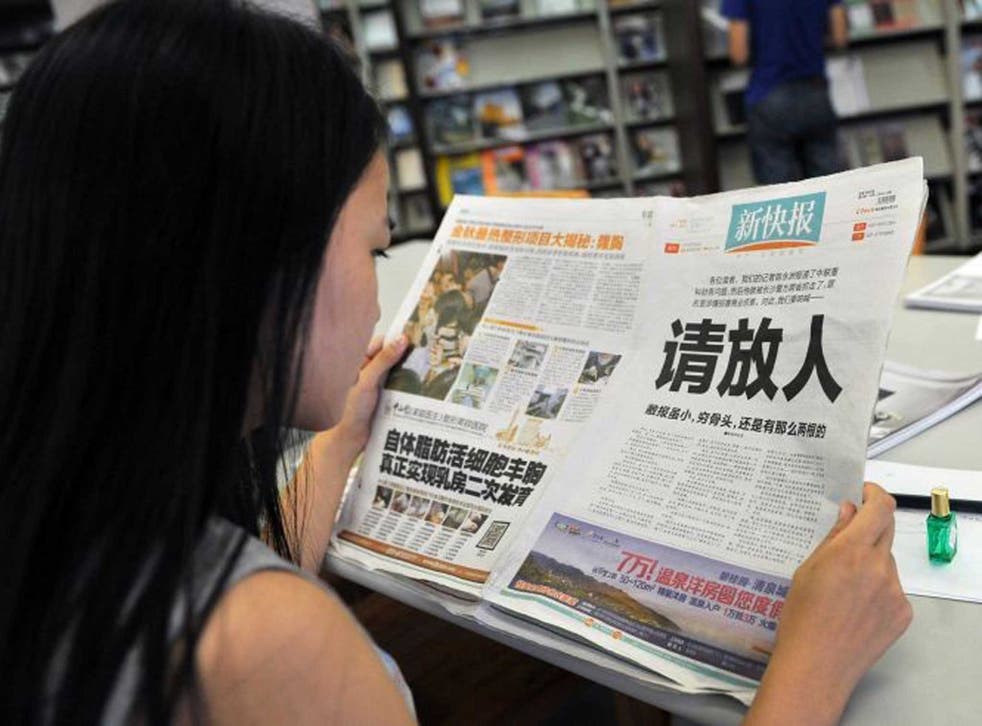 A Chinese newspaper has made an unprecedented front-page appeal for the release of one of its journalists, as the government continues a crackdown on press freedom.
The state-run New Express tabloid ran a three-character headline on its front page saying "Please release him" and called on police in Changsha to set free reporter Chen Yongzhou.
Mr Chen was detained after writing a series of stories questioning the financial dealings of a major state-owned construction equipment maker, Zoomlion Heavy Industry Science and Technology.
The journalist was held for "damage to business reputation".
China regularly targets journalists and bloggers for criticising the government. Rights group Reporters Without Borders recently added President Xi Jinping to a list of 39 leaders and groups identified as Predators of Freedom of Information in 2013.
New Express is one of China's fiestier papers. It offers cash to readers who come up with stories and its aggression has been noted over the years.
An editorial to accompany the front-page piece said the newspaper had believed there would be no problem as long as it reported responsibly. "But the fact is, we are too naive. Chen Yongzhou had spent three days and three nights in jail before he saw a lawyer," it added.The story was carried on Weibo, the Chinese version of Twitter, and also ran in Chinese mainstream media, without any obvious censorship.
"Even though Zoomlion is very strong and has paid a lot of taxes in Changsha, we are still class brethren, and there are contradictions here," the commentary said. "We beg the police, our brothers, please let Chen Yongzhou go."
Zoomlion said it had complained to the Changsha police about Mr Chen following his stories. "The reason we did it was to safeguard the legitimate rights of the company," Zoomlion vice-president Sun Changjun told Reuters.
The newspaper said it had not made a statement about Mr Chen's detention, which happened on 19 October, because they were worried he might be mistreated. "We are a small newspaper, but we have the backbone no matter how poor we are," the New Express said.
Changsha's Public Security Bureau said Chen was detained on suspicion of "damaging business reputation."
The Chinese media is predominantly owned by the government and is kept on a tight leash, but the south of the country tends to be more ambitious in terms of calling for press freedom and Guangzhou, the capital of Guangdong province, has been more daring than others; the province adjoins Hong Kong, where media freedom is guaranteed.
In January, journalists at Southern Weekend, based in Guangzhou, protested after a propaganda official rewrote an editorial on political reform. The row sparked small protests from other media outlets.
It is possible that the criticism has been tolerated because it focuses on a regional, not a central, government organisation.
Join our new commenting forum
Join thought-provoking conversations, follow other Independent readers and see their replies