EU referendum: Could the UK media swing it one way or another?
The big EU questions: With a month to go before the potentially epoch-making vote on British membership of the EU, the debate so far has been characterised by bias, distortion and exaggeration. So from now until the referendum we will be running a series of question and answer features that will explain the most important issues involved in a detailed, dispassionate way to help inform your decision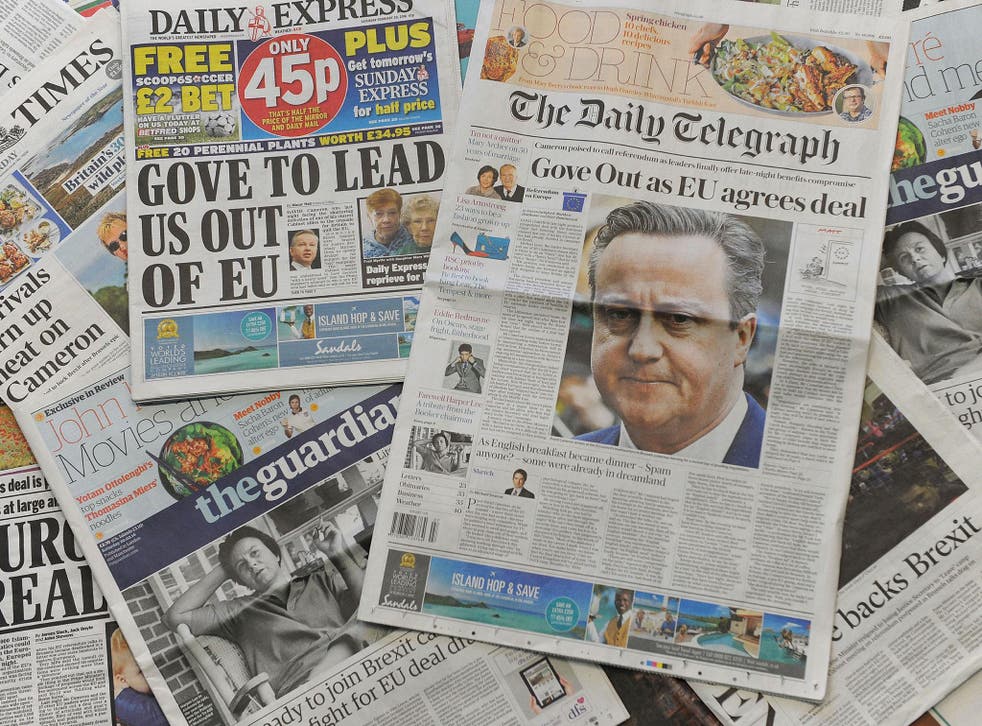 With this weekend's poll showing a sudden swing towards Brexit, strategists from both sides – but especially the Remain campaign – know that winning the "air war" in the media could mean the difference between winning and losing. But experts are divided on how important the media has been and will be in determining how people will eventually vote.
So what is the media?
This is not as stupid a question as it might seem. At the time of the last EU referendum in 1975 it was far less complicated: There were newspapers (national and regional); there were three television stations (BBC1, BBC2 and ITV); and there was radio (BBC or commercial).
But today things are far less straightforward. Newspapers sales have slumped: in 1975, total circulation was 15 million copies; last year the total figure was just under seven million. In broadcasting you now have a plethora of new outlets – and two UK domestic rolling news channels to boot. And then there is online: broadcasters and newspapers have a significant presence here, but there are also new players such as Buzzfeed and the Huffington Post, which are providing significant amounts of political content.
And let's not forget social media: Facebook and Twitter may not be providing original contents per se, but they are content platforms, and this new content comes not just from traditional sources but from friends, politicians, pundits and celebrities. All of this is "media" and all of it will have some sort of influence on how people will vote on 23 June.
So let's take newspapers first. Where do they stand on the referendum and how important are they these days?
It is a common parlour game amongst politicos in Westminster to guess which newspaper editors will exhort their readers to vote remain and which will call for Brexit. Some are easier to guess than others. The Daily Express will call for a vote to leave while the The Guardian, Financial Times and Mirror, as well as your humble Independent, will all call for a vote to stay. Other newspaper groups could split. In the Murdoch stable, it is likely that The Sun will call for a vote to leave while The Times will reluctantly back a Remain vote. The Mail on Sunday also looks set to back Remain while most people expect its daily stablemate to back a Leave vote. The Daily Telegraph is also leaning towards Out – but much will depend on the views (and possibly the business interests) of its proprietors. The i is expected to remain neutral.
But in some way newspaper endorsements are less important than the general tenor of their coverage, which influences readers over a longer period of time. In this regard, the press has been broadly anti-EU. Indeed, the total circulation of daily Eurosceptic newspaper is around 4.6 million compared with less than two million for Remain. However, fewer people read newspapers now than they did in the past, so it stands to reason that their influence is small too but with one caveat: newspapers often set the agenda for broadcasters.
Where do broadcasters stand on the referendum and how important are they?
A recent report by the media regulator Ofcom found that 75 per cent of UK adults say they use television as a source of news – far higher than any other medium. Of this, the BBC is the behemoth, with a 43 per cent share of news consumption, followed by Sky on 15 per cent and ITN on 12 per cent.
What to believe about the EU referendum
Clearly, therefore, television – and the way in which it reports the referendum – is likely to have a significant baring on the overall result. But again there is a caveat. Unlike in the US, television and radio in the UK have an obligation to be impartial and not come down for one side or the other and must give both campaigns equal coverage – and that undoubtedly blunts their influence.
However, broadcasters can and do still frame the debate: the stories they choose to lead on are the stories that people remember. That is why both referendum campaigns are putting so much energy into persuading, cajoling (and in some cases bullying) broadcasters to reflect the debate as they see it.
And what about social media?
This is by far the hardest part of media influence to quantify because it is so diverse. But it social media is undoubtedly a growing force to be reckoned with.
Take, for example, voter registration. On Friday last week, Facebook began encouraging its users to register to vote by displaying a reminder at the top of their newsfeeds. That day, around 186,000 people filed voter-registration forms online – more than double the number submitted in the days before. Nearly 120,000 of these were aged 34 or younger. Given that younger voters are thought more likely to vote for Britain staying in the EU, that could clearly have an influence on the result if the vote is tight.
What has the EU ever done for us?

Show all 7
But more broadly it is harder to quantify its impact because platforms such as Facebook and Twitter are basically content distributors rather than content creators. And the content they are distributing includes both newspaper and television output.
There is also an argument that people consume news and views online that reinforce their existing beliefs – rather than challenging their pre-conceived views. Facebook uses algorithms based on our past behaviour to promote or downgrade the content it delivers to us. So if we've liked, commented or shared one piece of content, will ensure it gives us more of the same. Thus those who read anti-EU stories online are likely to see more of them.
Twitter has similar problems. We choose who we follow and we're more likely to follow those whom we agree with or who expound a view that we already hold. These factors have the potential to blunt social media's impact on how people are likely to vote.
The EU referendum debate has so far been characterised by bias, distortion and exaggeration. So until 23 June we we're running a series of question and answer features that explain the most important issues in a detailed, dispassionate way to help inform your decision.
What is Brexit and why are we having an EU referendum?
Will we gain or lose rights by leaving the European Union?
What will happen to immigration if there's Brexit?
Will Brexit make the UK more or less safe?
Will the UK benefit from being released from EU laws?
Will leaving the EU save taxpayers money and mean more money for the NHS?
What will Brexit do to UK trade?
How Brexit will affect British tourism
What will Brexit mean for British tourists booking holidays in the EU?
Will Brexit help or damage the environment?
Will Brexit mean that Europeans have to leave the UK?
Join our new commenting forum
Join thought-provoking conversations, follow other Independent readers and see their replies