'A hypocrite! He lives in the fifties!' A tale of two feuding press barons
Express owner objects to Mail boss who 'wants to kill me' sitting in judgement on him on his media peers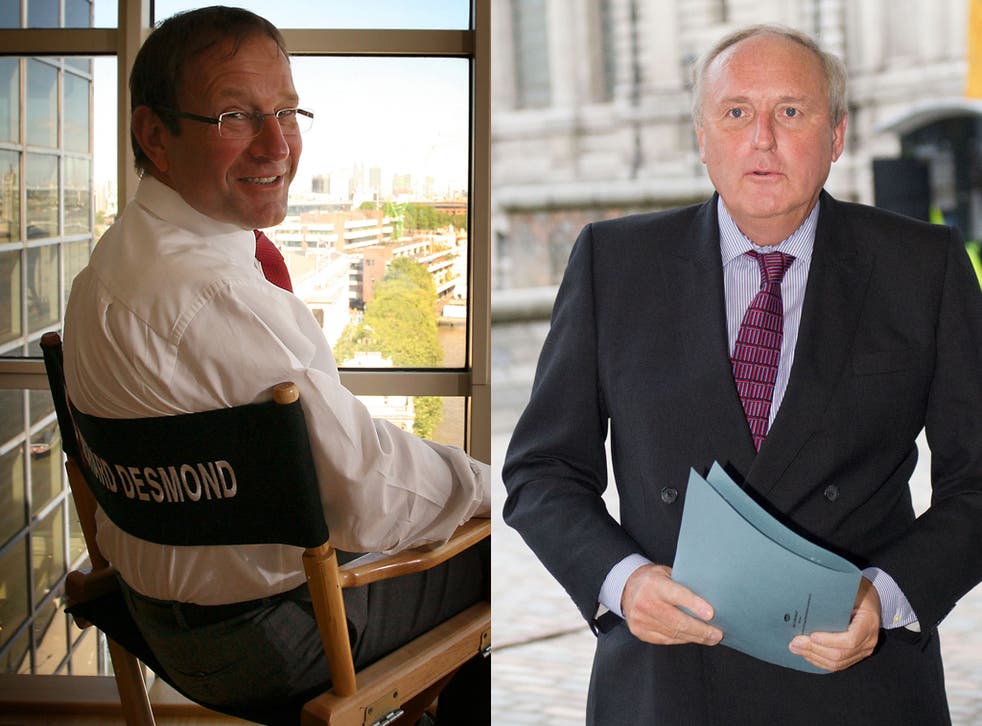 The newspaper proprietor Richard Desmond has stoked his feud with the editor-in-chief of the Daily Mail, calling Paul Dacre a "hypocrite" who "lives in 1955".
During an appearance before a parliamentary committee, Mr Desmond, owner of the Express and Star newspapers, said he hoped his publications would rejoin the Press Complaints Commission under its new chairman, Lord Hunt of Wirral. But he said he would not accept judgement from a panel of editors, such as Mr Dacre, who were out to "maim and kill me".
The chairman of Northern & Shell gave evidence before a joint committee of MPs and peers examining whether there shouldbe a change in the law relating to privacy injunctions.
The Express paid substantial damages to Chris Jefferies, the landlord caught up in the Joanna Yeates murder investigation, and in 2008 paid the family of Madeleine McCann £550,000 in damages over libels published in 100 stories. Mr Desmond pulled his papers from the PCC in January, complaining they had been singled out for vilification. He told the committee: "The PCC is an old boys' club and it's certainly been very ineffective. I'm very pleased we pulled out. I found some members of the PCC very hypocritical over the McCann case. All the time other papers were running many articles of a similar nature. The editor of the Daily Mail was very hypocritical."
Continuing his attack on Mr Dacre, Desmond said: "He's living in 1955. He sells his paper on giving away a free coupon with a Marks & Spencer voucher and for two coupons you get 10 vouchers. He sells his paper by putting a £50 note in the paper and by buying a dream cottage. That's how he sell his paper. He's living in the past. He's just fooling himself."
Asked about phone hacking, Mr Desmond accused other newspaper groups of involvement, an allegation they have denied. He said: "I found it very hypocritical that certain people were on the [PCC] board who it's well known that their papers were hacking. I don't want to sound like Hugh Grant, but we'd heard internally about hacking at The Mail on Sunday, we'd always heard about hacking at the Mirror and the People. And these are the very people sitting there hanging us out to dry."
The Express group papers' exile from the PCC could soon end, Mr Desmond hinted. "We had a good meeting with Lord Hunt two weeks ago. He is a very sensible fellow and I'm sure with a chairman like that we can be working together again," he said.
Mr Desmond, who also owns Channel 5, advocated a system of press regulation more similar to the Ofcom broadcasting regime. He said: "It's not got people sitting there that want to kill you. ITV and the BBC aren't trying to kill me. We can sit together to enhance the broadcasting industry.
"It would be my pleasure to work with professional people who are not out to vilify you, to kill you, to maim you or discredit you or my editors. Self-regulation is the right way to go forward with Lord Hunt, a professional guy who is not out to score points. Taking it out of editors' hands, that's the right way to go forward – and also Dacre doesn't like it."
Mr Desmond also accused the Daily Mail of trying to undermine his new Health Lottery, by running a front-page story which suggested that a child cancer sufferer might die due to vital funds being diverted towards his competition.
The committee will deliver legislative recommendations next February.
Join our new commenting forum
Join thought-provoking conversations, follow other Independent readers and see their replies