Media Column: The man appointed to turn around ailing Trinity Mirror is making headway and has ambitious digital plans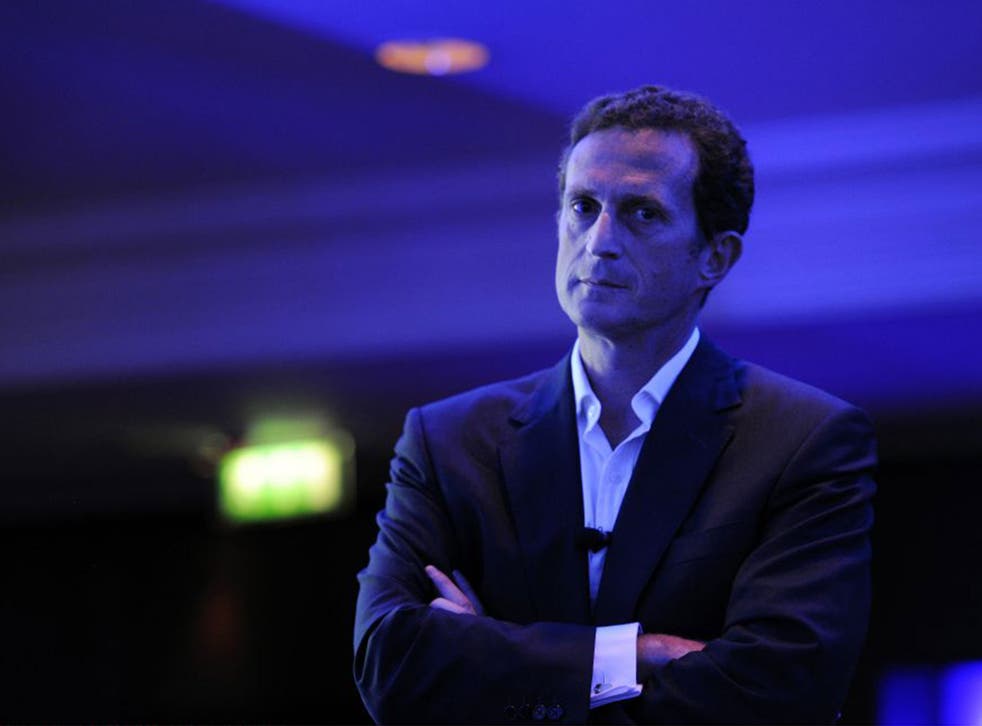 Simon Fox looks out from his 20th-storey window at the Credit Suisse tower and the rest of the Canary Wharf skyline and wishes he was somewhere else.
"A nice, trendy warehouse in Shoreditch [east London] would be good," he says, musing on Trinity Mirror life beyond the location it has occupied for more than 20 years. Fox, the publisher's chief executive, is a reformer.
In his short time at Trinity Mirror, he has undoubtedly changed the fortunes of a company that seemed to be in free fall under his predecessor, Sly Bailey, a relentless cost-cutter.
Fox wants to make a break with the high-rise banking quarter which seems out of kilter with a company that has such deep Labour roots and working-class traditions, embodied for the past 57 years by the paper's cartoon character Andy Capp.
"We are spread across multiple floors in a high-cost City banking location – there are any number of better places for us," Fox complains. The Daily Mirror and its sister titles once shared the One Canada Square building with other newspapers, including The Independent and The Daily Telegraph. "It's not a media hub any more, it's a financial services hub. It's not what the brand stands for."
The move – linked to the end of a lease in 2018 – echoes the imminent departure of The Sun's publisher from its east London base later this summer. Both companies are looking for a clean break and, like News UK, Trinity Mirror is under investigation by Scotland Yard. Four of its serving and former journalists have been arrested and last week it emerged that the company was facing at least 16 civil claims in relation to alleged phone hacking.
"It's certainly very difficult for those of our journalists that were arrested well over a year ago," says Fox. "We have to await the end of this particular [Old Bailey phone-hacking] trial and then, no doubt, the police will determine how to proceed."
He claimed the "extremely long" investigation "hasn't affected the performance" of the company's papers. "It must be very much in the minds of those who have been arrested but, certainly, it has been an incredibly strong year for The People," he says, praising editor James Scott, who is on police bail, and his team for a year in which they have won plaudits for a campaign on the bedroom tax and an old-school tabloid scoop of pictures showing Charles Saatchi with his hands on the throat of his then wife, Nigella Lawson.
But these are legacy issues for Fox that pre-date his arrival at Trinity Mirror from the stricken retailer HMV in 2012. Many expected him to fail. "In the last year or so, HMV was very difficult," he says. "It had very high levels of debt, so we were spending our life running to the banks' tune." The other great difference between that job and his current role, he says, is that "at Trinity Mirror, we own content, and it's clear that, as a content owner, you have a role to play in a digital age".
For the past two years, he has been building a digital strategy, which was badly neglected by Bailey. His innovative approach is epitomised by "Us Vs Th3m", a quirky spin-off website that attracted nine million unique users in April (in addition to the Mirror's own 48 million online audience).
The site's success has been in building online games that go viral on Facebook, such as the "Northometer", a guide to "how Northern" you are, and a Eurovision game which allows users to devise and dress their own virtual band. The idea was monetised with sponsorship from Blinkbox Music. Another game, a quick-fire spelling contest, was backed by price comparison site Confused.com.
Although the wider public may not immediately realise Us Vs Th3m is a Trinity Mirror operation, Fox believes the site helps the company recruit the digitally minded. "I think people look at things like Us Vs Th3m and think, 'Wow, a traditional media organisation can do that, that's quite cool." His dream move to Shoreditch is informed by similar thinking.
Football is a big part of the Fox strategy and, even if News UK has the rights to Premier League video, The Sun's paywall offers the Mirror a big opportunity. Last Thursday, it launched Match Centre, initially to offer blanket coverage of the World Cup but with the long-term ambition of becoming the dominant online service for British football. He is monetising this via stronger ties with the gambling industry and "in-game real-time bets" on "the next goal, corner, red card, whatever it may be". Other revenue streams – bingo, dating, travel partnerships – are being developed across the Mirror site.
Financially, the company looks much healthier under Fox's stewardship. Pre-tax profits grew by £2.6m to £101.3m last year and, although revenues were down 6 per cent, the chief executive says "the trends are encouraging" and the figure is down to 2 per cent for March and April.
Although Fox decided to abruptly shut down the People's stand-alone website – "it didn't reach its audience targets" – he has achieved greater success with Ampp3d, a data journalism site that is being incorporated into the Mirror's main offering. Ampp3d recently produced school league tables that drew on 11 data sources (including truancy records) instead of the usual exam metric.
Another site, Scotland Now, is a smart idea from the company that publishes the Glasgow-based Daily Record and Sunday Mail for engaging with Scotland's diaspora of 50 million, and includes an online shop flogging smoked salmon and tartan. It is "absolutely not taking any side" in the referendum, says Fox, who has built bridges between Trinity Mirror's big city regionals and the national titles.
But the Labour-supporting stable apparently doesn't impress Ed Miliband, who claimed recently that he doesn't read papers. "That was very disappointing," says the chief executive. "We would have thought that reading the papers would have been a good way for him to stay in touch." A couple of days later, Miliband infuriated Labour supporters in Liverpool (where Trinity Mirror publishes the Liverpool Echo) – and further afield – by posing with a special edition of The Sun.
The Mirror is getting its confidence back. Ed might not have noticed, but others have.
UK's ad market a World Cup winner
Whatever the progress of Roy Hodgson's team in the World Cup, the tournament will deliver a major lift to the UK advertising market – which is already the fastest-growing in Western Europe.
Media agency ZenithOptimedia has today revised its April forecast of 5.8 per cent growth this year to 7.4 per cent. This follows 5.1 per cent growth in 2013, when ad spend in Western Europe shrank by 0.6 per cent. Zenith predicts the World Cup will help the global ad market expand by 5.4 per cent (compared with 3.9 per cent in 2013), a boost of almost £1bn.
None of which explains why the licence-fee-funded BBC has 272 people in Brazil, more than double ITV's 123, which will cover 34 live games compared with the BBC's 31.
New armed forces TV service falls in
Forces TV is the new broadcasting service for the British military and their families.
It launched last week from studios in Chalfont St Peter, Buckinghamshire – a long way from the front line. But then the new channel (on Sky, Virgin and FreeSat) begins at a time when British forces are flocking home.
"There were 130 bases in Afghanistan a few years ago and now there's just Camp Bastion," said Nick Pollard, the former Sky News boss and chief executive of SSVC, the charity behind the venture.
The channel's main presenter is the one-time BBC Watchdog host Kate Gerbeau, the other half of Pierre-Yves Gerbeau, former boss of the Millennium Dome.
Forces TV – once the BFBS (British Forces Broadcasting Service) – has 70 years of broadcasting roots, but a 24-hour channel is a step up. To man it, Pollard has a 70-strong news team and total staff of 240.
I hope that, along with human-interest stories of military life, the channel can give the media's defence editors a run for their money with some well-sourced scoops that keep the top brass on their toes.
"We are covering the announcement of the fourth tranche of redundancies from the Army. We don't shy away from any difficult stories," said Pollard.
Join our new commenting forum
Join thought-provoking conversations, follow other Independent readers and see their replies