'A breath of fresh air': Staff recall working on the launch of The Independent on Sunday, 26 years ago
From gentlemen's clubs to carjackings via the editor's champagne trolley, nine of the staff who launched the Sindy in 1990 recall good memories – and bad timing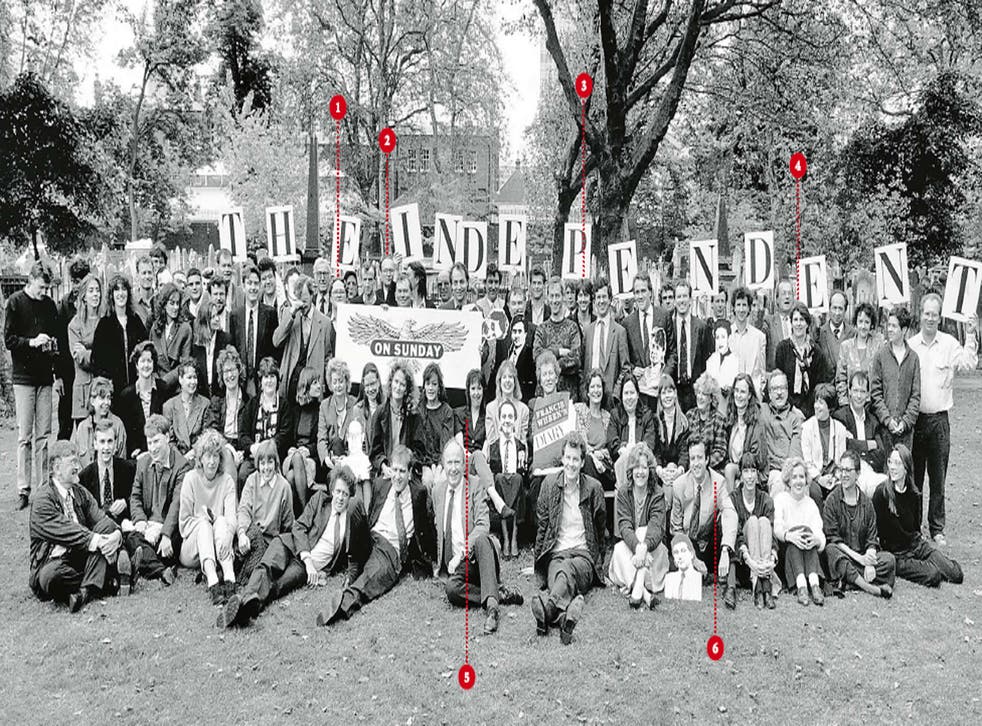 Paul Dunn (1)
Assistant home news editor (all jobs refer to roles at launch)
An abiding memory of the Sindy's early days was that when we first started the dummy editions on Saturdays, no one had told the staff canteen to be open. The upshot was a reporter struggling back from the fish- and-chip shop in Whitecross Street, behind the old City Road offices, with an enormous takeaway order. That fish shop became the regular Friday-lunch venue for Peter Wilby (then home editor), Ian Jack and me, sustaining ourselves for the long night ahead.
Looking back, I wonder how we kept track of our reporters in the days before email and mobile phones. The reality is, we didn't always. I remember one reporter being sent to Calais to cover a blockade (some stories never go away) and never quite returning. He had met his wife-to-be and now works in Paris for another national paper.
Simon O'Hagan (2)
Deputy sports editor
I had joined the paper from a title that was much more rigid, and the IoS was a breath of fresh air. The atmosphere was both collegiate and creative. We did things with style. The format of The Sunday Review had never been seen before. An early memory is of Sebastian Faulks producing – at barely three hours' notice – a most beautiful, authoritative 1,500-word profile of the Liverpool footballer Graeme Souness.
I was deputy to Richard Williams, who, more than anyone I've worked with, made you feel that journalism could be a noble calling. The early IoS was a place of high ideals, and it stayed that way.
Steve Connor (3)
Science correspondent
The Sunday Review was a class act, which someone described as looking like a high-grade menu for seriously tasty reading. In my case, I was put in charge of one of the culinary specialities – a weekly science section printed in colour.
I had free rein to write and commission whatever took my fancy. It was a smorgasbord of scientific delights, and several readership surveys showed it to be one of the most popular sections of an incredibly popular review supplement.
Barbara Gunnell (4)
Sub-editor
I could not believe my good fortune when I was hired to work on dummy issues of The Independent on Sunday. I was there before the beginning and stayed seven years. I'd happily repeat them all.
Such erudition! My yellowed copy of the first Sunday Review has pieces by André Brink, Alan Bennett, Martin Amis, Sebastian Faulks… not many women, so thank goodness for Lynn Barber, also in the launch issue, and in subsequent weeks Hilary Mantel, Lynne Truss, Claire Tomalin and a host of about-to-become-well-known women journalists. Soon after launch, a TV news team turned up to film an editorial conference. Suddenly, an urgent call went out: "A woman, a woman, we need a woman…" and a suitable woman was found.
On Saturdays, for the one o'clock news conference, a trolley of champagne and sandwiches would be wheeled in to the editor's office. We sat outside watching the cocktail party.
The accountants soon called a halt to this gentlemen's club. Within a decade there had even been two women editors. A third now puts to bed this final print edition with a staff about the size of that first subs' desk. It is a sad moment in newspaper history, but it is a triumph for all who worked there to have maintained such quality for 26 years.
The best IoS and The Sunday Review front covers

Show all 21
Sue Matthias (5)
Assistant features editor, 'The Sunday Review'
I think I may have been the first woman hired on the launch team, as assistant editor for features on what was to become The Sunday Review. I will never forget the first meeting in [the editor] Stephen Glover's office: 10 men sitting round the room, and I was given a squashy doughnut-like thing to perch on in the middle. Yes, the lady chair.
Fortunately, more women soon arrived, including, to name just a few, Lynn Barber, Allison Pearson, Jan Dalley, Barbara Gunnell, Zoë Heller, Fiammetta Rocco, Jo Dale, Lindy Sharp…
Working on that launch with such an extraordinary bunch of people was the most exciting time of my career. It's probably also the thing I am proudest of. We knew we were creating something special, that was also – genuinely – independent. It felt like a rare thing then. After today, it will be sadly even rarer.
Tim de Lisle (6)
Cricket correspondent
As a rock critic and arts editor, I was not the obvious choice to be the Sindy's first cricket correspondent. But I found, as many others would, that this paper was willing to take a chance on you.
The week of the launch, I flew to Barbados to cover an England tour. I'd been handed a sheaf of tickets to get round the Caribbean, and told that expenses were £86 a day. I struggled to spend half.
Sitting on a jetty at the Grand Barbados Resort, I wrote my first real column after weeks of dummies. When England won the first Test, I had to fill that page with 2,000 words explaining how David had felled Goliath, which felt like a great honour.
Months later, back in London, I discovered how good The Sunday Review was. By then, I couldn't imagine ever wanting to work anywhere else.
Ian Jack (not pictured)
Deputy editor and launch editor, 'The Sunday Review'
The Independent on Sunday was launched into an overcrowded newspaper market at the wrong time. There were already four "quality" Sunday nationals, and the economic recession of the early 1990s was gathering just over the horizon. The paper had two things going for it: the fine reputation that the daily Independent had built up in the previous four years, and the skills of the writers and editors it had been wise or lucky enough to recruit. What it needed was a USP – because, by then, British Sunday qualities had settled into predictable formula: two or three (or more) broadsheet sections, out of which dropped a shiny general-interest magazine.
The Independent's technical director, the American Steve Conaway, showed the IoS's first editor, Stephen Glover, a copy of a motorbike magazine that had been printed on newsprint using a hot-press technique that made the images just as sharp as shiny, coated paper could achieve.
This was a eureka moment – perhaps also a Farrow & Ball moment. The matt finish gave the words a workaday dignity that gloss paper couldn't match. We would produce what I described at the time, pretentiously but sincerely, as "a kind of New York Review of Books with pictures". Sebastian Faulks and I worked with the designer Michael McGuiness on the dummies, and it was clear from the start that The Sunday Review would be the paper's chief source of interest and delight. Many writers and editors made it so: Lynn Barber, Zoë Heller, Anthony Lane, Blake Morrison, Tim de Lisle, Ian Parker, Richard Williams and Liz Jobey will do for starters. But, in the beginning, was a new printing technique.
John Lichfield (not pictured)
US correspondent
I was the paper's first US correspondent, from 1990 to 1992. I have many exciting memories. I visited all 50 American states, mostly for the IoS. I met Bill Clinton twice and interviewed an unknown would-be Vermont congressman called Bernie Sanders.
During the 1992 LA riots, I had a gun pointed at me by a teenage boy; I was at the wheel of a hire car, stopped by a red traffic light. Supermarkets and filling station were burning, but the traffic was moving normally and obeying the lights. Bizarre. In a moment of panic or inspiration, I drove my car into the one in front, just like dodgems. The line of cars parted, as if by magic, and I sped away.
I would like to thank that boy – now aged circa 39 – for not shooting me in the head.
David Connett (not pictured)
News reporter
As a "grunt", or general reporter, The Independent on Sunday didn't exactly make you feel loved. Those with the gift of crafting finely woven tapestries of words were given star billing. In the newsroom, Lynn Barber, Cal McCrystal, James Dalrymple – to name but a few – left me breathless with admiration at their copy.
I was no star writer, but I wasn't bad at persuading people to tell me things, and I got stories published. Not enough, though. We had launched in a recession and our debut sales were dropping. The editor, Stephen Glover, was unhappy. I found myself summoned. An analysis of staff performances had revealed me to have among the fewest column inches published. I was put on a six-week probation. A frank conversation followed, which ended with Glover stating that I was a very aggressive young man. For the next six weeks I sweated every contact for stories, tips, anything to increase my column inches. One week, I got eight stories published in a single edition – still a record.
The dismissal threat went away and the editor ended up leaving the paper before I did. After he had gone, he sent me an incredibly gracious letter. It was the letter of a man committed and emotionally invested in the newspaper, like the vast majority of its staff who have come and gone since.
Join our new commenting forum
Join thought-provoking conversations, follow other Independent readers and see their replies