You've read the magazine, now learn to cook at the Good Housekeeping Institute in Soho
After Vogue and Monocle, Good Housekeeping becomes the latest title to jump from the page to bricks and mortar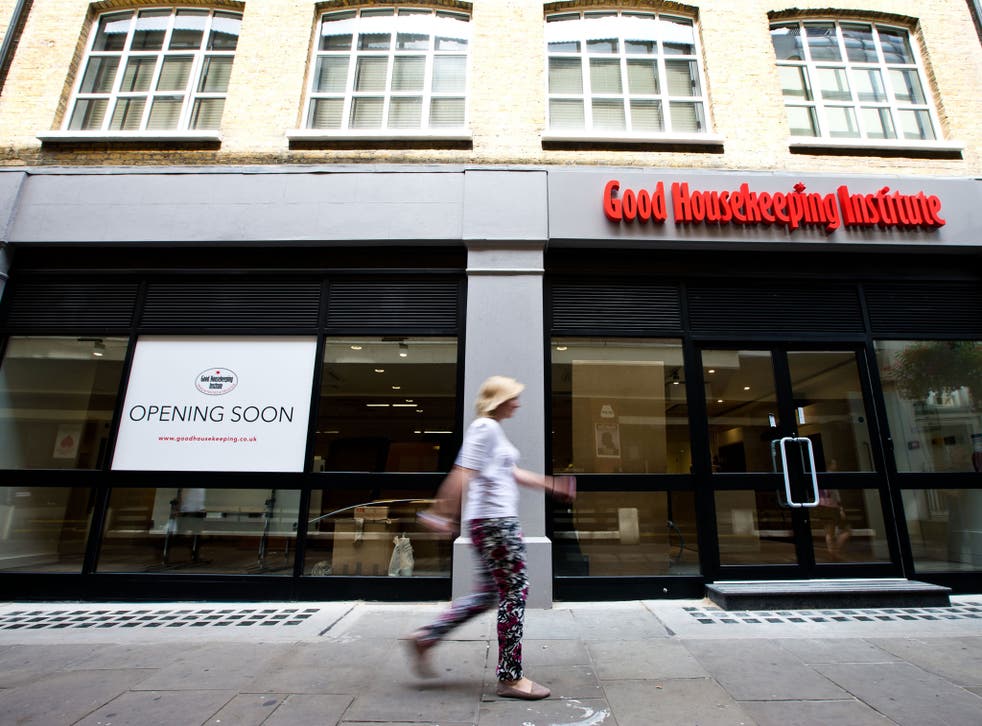 An Aga cooker and a wetroom with sprinklers may not be textbook tools of internet-era publishing but they are central to a ground-breaking project aimed at freeing magazines from the financial shackles of the news-stand.
The Good Housekeeping Institute, which opens on Monday in Soho, London, has been designed by the magazine publisher Hearst as a "state-of-the-art" symbol of modern living which will ensure the future of a 92-year-old print brand.
The Aga, along with 10 shiny Miele cooking stations, will form part of the magazine's cookery school while the wetroom will be used to test the waterproof qualities of umbrellas and Wellington boots for articles in print and online.
Elsewhere at the institute, the magazine's "Tried, Tested, Trusted" team will be evaluating beauty and tech products or road-testing children's buggies over the nursery equivalent of a Top Gear circuit.
The facility, to which readers will be invited as paying customers from October, is the latest attempt by the magazine industry to make money beyond the traditional vehicles of cover price and advertising.
Vogue has its own fashion courses at the Condé Nast College of Fashion & Design, also in Soho, as well as a chain of upmarket cafés and lounges. Tatler has a Russian private members' club, and Monocle has a string of boutique shops.
Good Housekeeping's editorial director, Lindsay Nicholson, said the institute idea – where readers pay to attend workshops and classes – could be extended to other brands in the Hearst portfolio. "The idea of moving away from the two-revenue-stream model of advertising and circulation and looking at ways of interacting with readers beyond the print model is under consideration all the time," she explained.
Guy Woodward, chairman of the British Society of Magazine Editors, said: "The whole idea of having physical premises is an interesting one. It makes sense for Good Housekeeping: you only have to look at the success of food programmes on TV to see there's an obvious adjunct."
He predicted that the pattern would spread steadily through specialist magazines, suggesting sports titles would be hosting expert clinics for readers to brush up their skills. "It seems a natural progression for every specialist brand with an activity attached," he said.
Susie Forbes, principal of the Condé Nast College, said the building was a "no-brainer" for the publisher. "We are interested in new young talent and so is the fashion industry."
Some of the 300 students who have passed through its doors since it opened in April 2013 have gone on to jobs at Vogue House. Others who have found work in the wider fashion industry take with them a special bond with the Condé Nast titles. Vogue editor Alexandra Shulman and GQ editor Dylan Jones have participated in teaching at the college. "It's a different starting point for people wanting to work in the fashion industry," Ms Forbes said.
Ten Good Housekeeping staff will start work on Monday at the institute, which is on the lower two floors of a hotel building, with more arriving in coming weeks. Ms Nicholson said the institute's 5,000sq ft of space allowed the magazine to interact with readers in a way that was not possible in its "rabbit warren" editorial offices.
But IPC Media, which operates from the modern Blue Fin Building in south London, is happy to use its own premises as a showcase. Women's Weekly offers readers the chance to come in for fiction writing, knitting and crochet tutorials. The design magazine Wallpaper* has its own bespoke interior design service, Wallpaper* Composed, which offers consultancy and access to outstanding architects.
Tom Bureau, the chief executive of Immediate Media, publisher of Radio Times and BBC Top Gear magazine, has encouraged staff to "think like a retailer". Radio Times now has a travel service which has sold 2,000 holidays by marketing destinations against TV programmes – such as Dorset (Broadchurch) and Belfast (Game of Thrones).
Join our new commenting forum
Join thought-provoking conversations, follow other Independent readers and see their replies