Rupert Murdoch: Fleet Street journalists say media mogul has 'some nerve' celebrating wedding on street he 'destroyed'
'It's like Dracula getting married in a blood bank'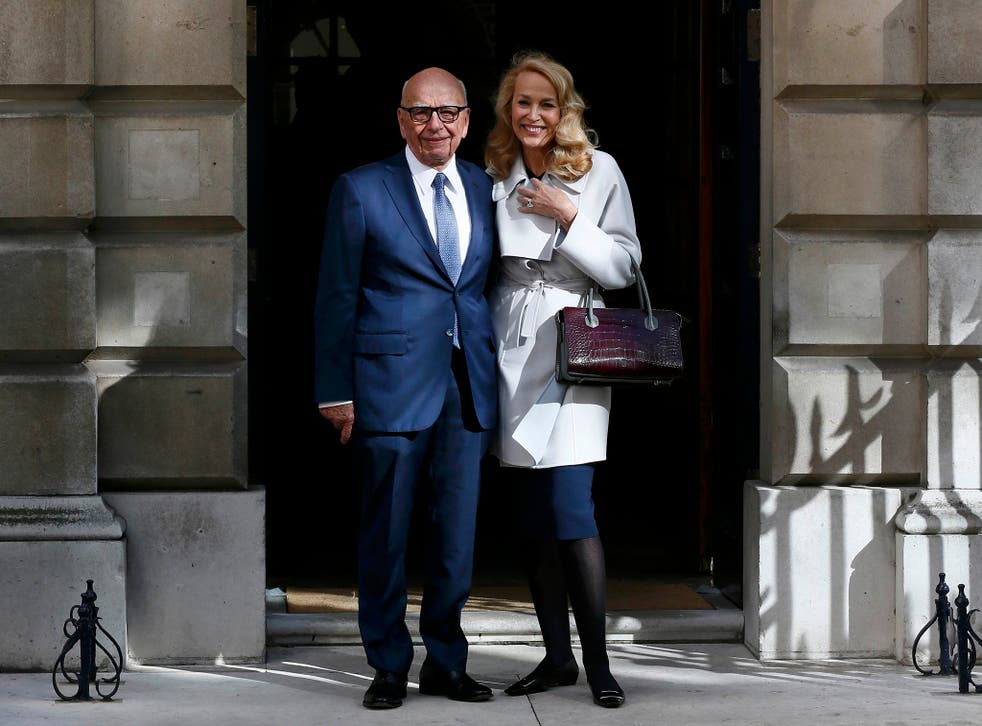 Exactly 30 years after he sacked 6,000 striking print workers, fired scores of journalists, relocated his print empire behind a barbed-wire fortress at Wapping, and sparked Britain's dirtiest industrial relations conflict, Rupert Murdoch will today return to the street he effectively destroyed to ask for its blessing.
When the media boss of News Corp, aged 84, enters St Bride's church just off Fleet Street, his new wife, Jerry Hall, 59, former long-time partner of Rolling Stone Mick jagger, will already be wearing the wedding ring from their private service on 4 March. The blessing at the "parish church of journalism" will essentially be, as one of his advisers noted, " a spiritual add-on in an important place for Mr Murdoch."
That's not how everyone sees it. John Edwards made his living selling newspapers in Fleet Street for 20 years, and felt a part, however small, of a half-a-millennium history that stretched back to Caxton's apprentice, Wynkyn de Worde, and the street's first printing press. "Murdoch f***** the street over and then moved on to rule the world. He shouldn't be asking for this special church to bless him."
Dave Nellist, a firebrand MP on Labour's hard-left during the early Wapping years, said: "Rupert Murdoch has some nerve getting married in St Bride's, given his pivotal role, particularly in the 1980s, in destroying journalism. It's like Dracula getting married in a blood bank."
The view of former print union members, and those part of the 5,000-strong army of protestors who serially battled with police outside the News International plant in Docklands throughout 1986, echo similar angry sentiments, most of them unprintable.
Others, like the former Sunday Times editor, Andrew Neil, regard the Australia-born mogul, who started his global empire with the purchase of the Sun and the News of the World in 1968 and 1969, as the "saviour" of the British newspaper industry, who smashed the unions and ended the destructive and expensive "Spanish practices" that were keeping new computer technology out of Fleet St, much as monks had kept the technique of the quill pen hidden from the uneducated.
Nellist, now chair of the Trade Unionist and Socialist Coalition, disagrees with Neil, and claims many journalists will be enraged at Murdoch being "blessed" inside "the Cathedral of Journalism". "Papers he bought, like the Sunday Times, had their previous record on investigative journalism destroyed. Wapping and the defeat of the print unions just removed the final obstacle to the total rule of media corporations."
Who is right? In the bars and ornate watering holes once regarded as near second-homes for the scribes and hacks of the "street of shame", nobody much cares or remembers the lost industry or the Murdoch legacy.
Mark Fuller, the general manager at El Vino, part of Fleet Street's mainstream bacchanalian culture for over a 100 years, said: "It's mostly barristers, judges these days. We don't get journalists any more. The odd booking for a group celebrating the old days, that's about it."
Down the street at the Punch Tavern, the signs were similar. On tables in one corner, cards read : "This area reserved for Buck Consulting @ 18.00pm." The barmaid said "It's finance and consultants, you know, whatstheirname, Goldman, them people. Lawyers from Baker McKenzie across the road. We're packed between 6 and 8pm 'specially Thursdays and Fridays. Then its dead. In the old Fleet Street, journalists never went home I'm told."
In the first quarter of the 18th century, 31 newspapers were hawked on t London's streets. Circulation was low - 100,000 combined over a week. But being read and talked about in Fleet Street's taverns and coffee houses was the equivalent of Facebook or Twitter.
By the 19th century, Fleet Street was the centre of a mass circulation industry. Cobbett's Political Register was joined by The Times, The Daily Telegraph, The Evening Standard. Northcliffe's Daily Mail arrived late in 1896. Regional papers like Manchester's Guardian had offices in the street. All joined a culture, both low and high, that included at one time or other, Johnson, Boswell, Defoe, Milton, Dryden, Hogarth and of course Pepys. And beyond the mere intellectuals, came the 20th century power barons: Northcliffe, Kemsley, Beaverbrook, Astor and Rothermere.
Murdoch and his initiated revolution may have emptied the street, but that hasn't meant journalists abandoning all association with the old "parish" and the Christopher Wren church at its heart.
Alison Joyce became rector of St Brides in July 2014 and admits she initially doubted its credentials as "The Journalists' Church". "I wondered if it was desperately trying to cling on to an identity that really belonged to its past rather than building for its future?"
That concern has evaporated. "Our regular congregation contains a good percentage of those in the newspaper and media industries. Journalists, photographers, editors, executives - alongside others who worked in Fleet Street during its heyday."
Why the connection? Cannon Joyce says: "When newspapers departed and dispersed - the diaspora factor - there was no obvious successor to the role played by St Bride's."
She insists the historical, spiritual and psychological roots connecting her church and the industry "are not easily severed."
The constant round of "media-related" services includes carols at Christmas and journalists wanting to be married in St Bride's. But she adds: "It's the memorial services that really bring home to me what an important ministry we have."
Last year she took the memorial service for two gifted Reuters journalists who worked as bureau chief in Afghanistan and Pakistan. One was Maria Golovnina, 34, was found dead in Islamabad in unclear circumstances. She described the service as "a tough and emotionally highly-charged event. "I was struck by the number of young journalists, who worked in dangerous places themselves, who told me afterwards that although they were not at all religious, they were grateful "that St Bride's is always here for us."
When the Iraqi journalist Ammar al Shahbander, a Muslim, was killed by an Isis car bomb last year, his wife, also a Muslim, told Cannon Joyce she was "absolutely clear" that St Bride's was the place where she and her four young children wanted his life commemorated.
Other stories about St Bride's as a spiritual home, are remarkable, moving - and global in scope. The tidy, small "Journalists Altar" to the left of the main altar is covered in notices remembering the dead and requests for prayers. Cannon Joyce says : "We need journalists, we are dependent on them, they provide us with our window on the world, and I think it's incredibly important they knows St Bride's is always here to support in any way we can."
One former Times journalist, a Wapping "refusenik" who specifically asked not to be named, said he "understood" why Murdoch wanted St Bride's blessing. "Rupert's never seen himself as sinner or saint. He'll just look around Fleet Street, see all the plaques and statues to the famous and think 'One day I'll have one too'. So maybe it's a good thing he won't be around to see the furore that will happen when they try to mark his life with anything permanent in this particular street. Best leave that to Australia. "
Read all about it! The Murdoch wedding
Rupert Murdoch said he is the "luckiest and happiest man in the world" after tying the knot with Jerry Hall at an aristocratic palace in London yesterday, prior to his celebratory service at St Bride's on Fleet Street on 5 March.
The wedding was held at Spencer House, a venue described on its website as "one of the most sumptuous private residences ever built" in the capital.
Mr Murdoch appeared after the ceremony smiling for photographers next to the former supermodel. Ms Hall, 59, wore her trademark blonde hair in waves, and had a smart handbag slung over her arm. She wore a trench coat, a knee-length navy skirt and flat shoes.
The 84-year-old tweeted: "No more tweets for ten days or ever! Feel like the luckiest AND happiest man in world."
Mr Murdoch was previously married to Wendi Deng, mother to two of his children, but they split in June 2013. He reportedly paid out $1.7bn (£1.2bn) in a divorce settlement to his second wife, Anna Murdoch, after his first marriage to Patricia Booker.
Spencer House was built between 1756-1766 for John, 1st Earl Spencer, an ancestor of Diana, Princess of Wales, whose father was the 8th Earl, and is said to be London's finest surviving 18th-century town house. Its website says the "elegant" venue is available for "intimate" weddings.
Join our new commenting forum
Join thought-provoking conversations, follow other Independent readers and see their replies