Telegraph puts HSBC scandal story on homepage morning after Peter Oborne accusations
Reuters story was also disseminated on social media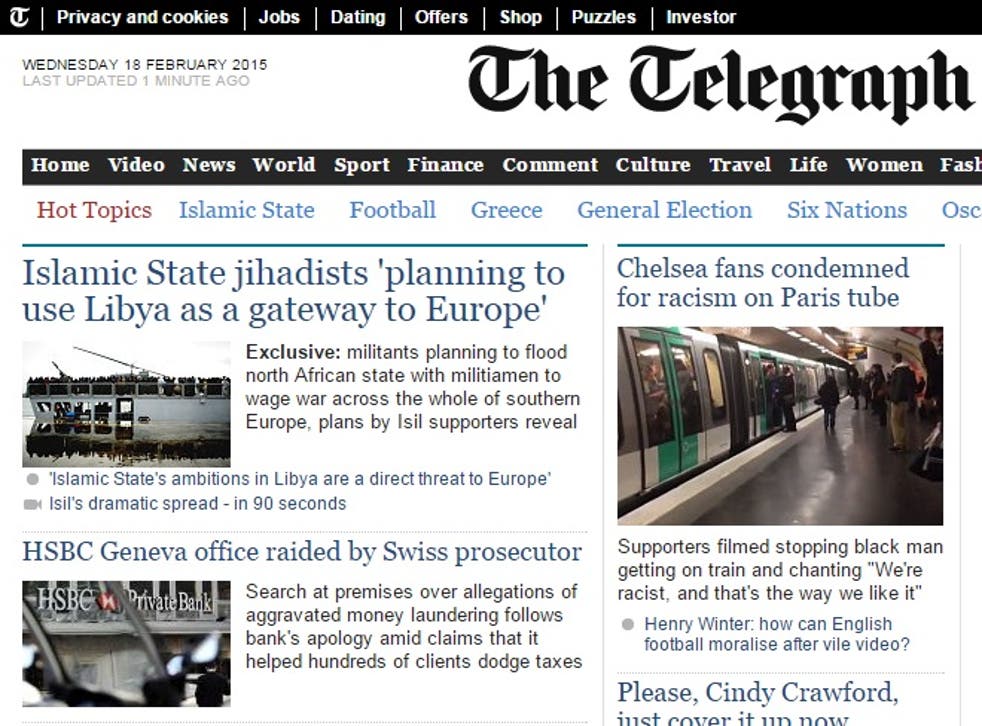 The Telegraph's chief political commentator Peter Oborne announced his resignation in an Open Democracy blog yesterday, condemning his former employer for committing "a fraud on its readers" by allowing lucrative advertiser HSBC to influence its content and play down any negative press associated with it. This morning, a story headlined 'HSBC Genva office raided by Swiss prosecutor' was placed near the top of its homepage and tweeted out.
Inevitably, commenters were more inclined to discuss the symbolism of the story than its content.
"Yes, we note that the large photograph and article about the silly military pretentious town crier (obviously news of national import) has been replaced by a flaccid news flash about HSBC. A small step in the right direction I suppose. What has happened to this once sound newspaper?" NamibFox wrote.
"Finally. The shortest possible piece and it's been supplied by Reuters. Compare it to the in depth, informative, coverage in the other serious news outlets," Avonduke added, referencing the mere 200 words of wire copy that comprised the story.
Over on Twitter there was similar snark, with David Henry writing: "That's the end of that advertising then?" as Django Rocks lamented: "Written by Reuters. Quelle Surprise."
Oborne accused his former bosses of appeasing Chinese interests yesterday, claiming that they removed critical pieces on China.
He also alleged that as a result of a 2012 investigation into accounts held by HSBC in Jersey, reporters were "ordered to destroy all emails, reports and documents related to the HSBC investigation".
A Telegraph spokesperson responded: "Like any other business, we never comment on individual commercial relationships, but our policy is absolutely clear.
"We aim to provide all our commercial partners with a range of advertising solutions, but the distinction between advertising and our award-winning editorial operation has always been fundamental to our business.
"We utterly refute any allegation to the contrary. It is a matter of huge regret that Peter Oborne, for nearly five years a contributor to the Telegraph, should have launched such an astonishing and unfounded attack, full of inaccuracy and innuendo, on his own paper."
Join our new commenting forum
Join thought-provoking conversations, follow other Independent readers and see their replies