Theresa May's depiction as Cruella De Vil in Scottish newspaper sparks outrage
'Criticising a woman based upon her looks is a cheap and tawdry editorial strategy… embarrassing'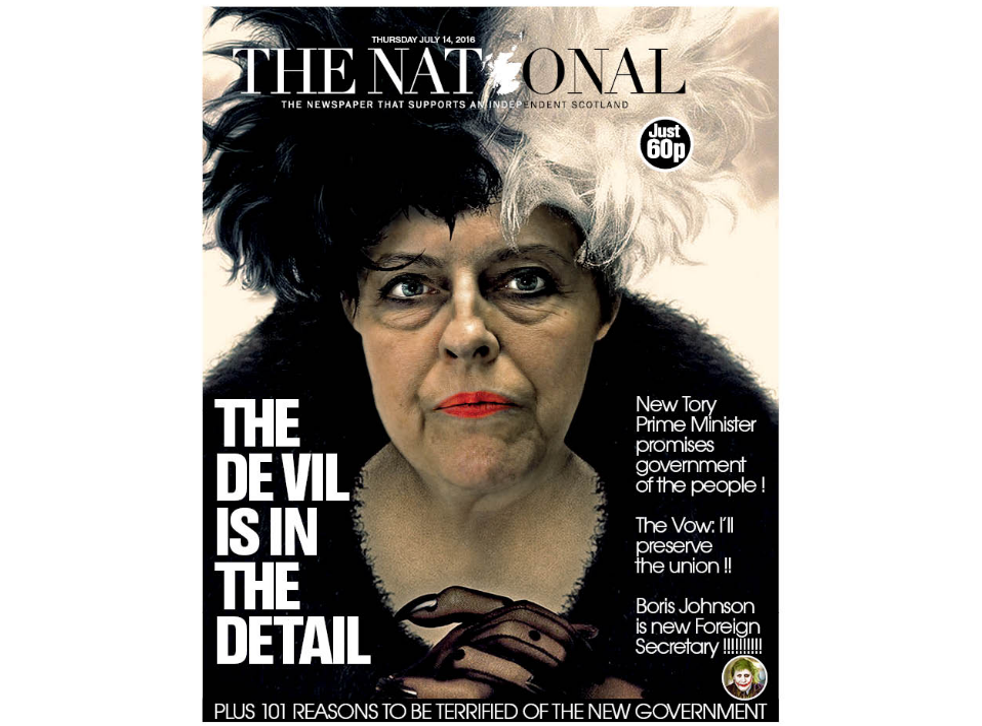 The front cover of a Scottish newspaper has attracted criticism for its portrayal of new Prime Minister Theresa May as fictional villain Cruella De Vil on its front page.
Pro-independence paper the National, which was established in 2014 following the Scottish referendum, has an estimated daily circulation of 15,000.
Alongside a mock-up of Ms May's face as dalmation kidnapper De Vil, the newspaper ran a feature titled "101 reasons to be terrified of the new government."
The National shared its 14 July front page in a tweet, which was shared by politicians such as Scottish National Party MP Margaret Ferrier.
However, not everyone reacted positively to the front cover. "Bloody hell. Misogyny is alive and well in separatist Scotland. Obscene," wrote Chris Deerin, a columnist for the Scottish Daily Mail.
"We buy the National, but this is puerile and stupid," wrote Michael Marten.
And a twitter user called 'rebel angels fall' wrote: "criticising a woman based upon her looks is a cheap and tawdry Editorial Strategy… #embarrassing"
In Westminster today, Philip Hammond, who has replaced George Osborne in Ms May's new Cabinet, said Scotland should not have a different relationship with the EU as the UK implements Brexit.
The vote to leave the European Union was a "democratic decision" made by the United Kingdom as a whole, Mr Hammond told BBC Radio Scotland.
Theresa May's Cabinet: Who's in – and who's out?

Show all 27
Mr Hammond's comments are a blow to Scottish First Minister Nicola Sturgeon, who has said it would be "democratically unacceptable" to take Scotland out of the EU against its will.
According to Ms Sturgeon, a second independence referendum is "highly likely" after a majority of voters north of the border opted for Remain.
But Mr Hammond said the best future for Scotland was to remain "inside the United Kingdom economy".
The Independent has contacted the National for comment.
Join our new commenting forum
Join thought-provoking conversations, follow other Independent readers and see their replies