BBC's flagship news programmes hit as journalists strike over compulsory redundancies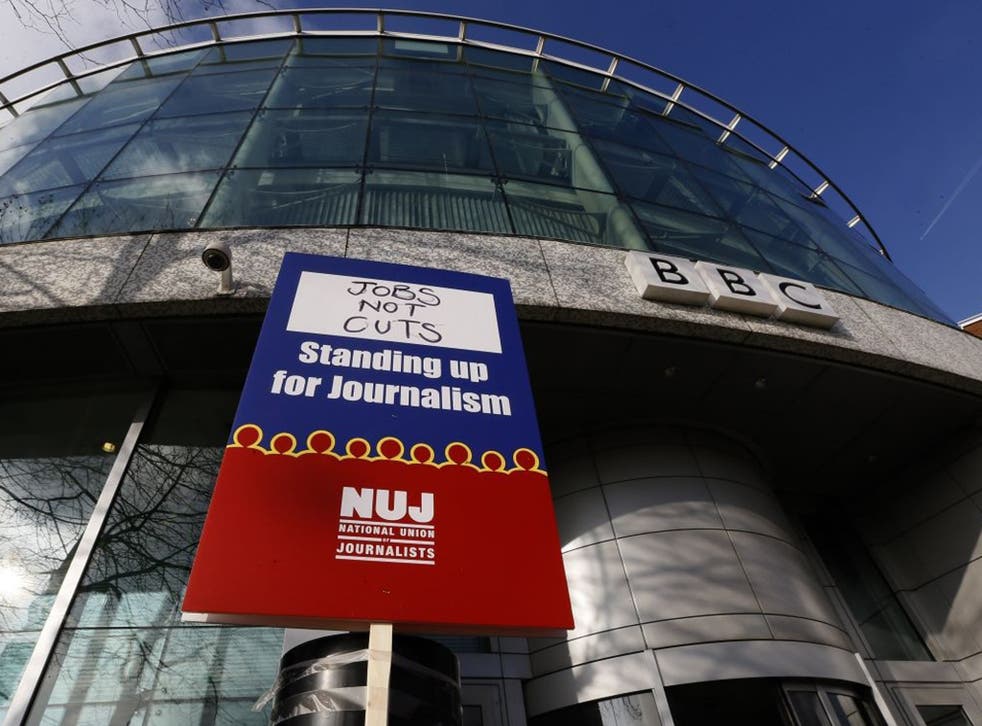 BBC staff staged a one-day strike across Britain today in protest at plans for compulsory redundancies at the troubled broadcaster.
The industrial action comes weeks before the new BBC Director General Tony Hall is due to start work, following his appointment in the wake of the Jimmy Savile and Lord McAlpine scandals.
The BBC Breakfast programme, one of the flagship shows made from the organisation's new facilities at Salford, was this morning hosted by a single presenter in London and supplemented by pre-recorded shows such as Escape to the Country.
Instead of hearing the familiar tones of John Humphrys grilling a politician, confused regular listeners to the Radio 4 Today programme heard an array of recorded programmes, including Paul Gambaccini discussing the dramatization of the life of Mozart. Later editions of Radio 4 news programmes The World At One, The World Tonight and PM will be replaced by repeats of documentaries and Loose Ends.
Staff in BBC offices and studios throughout Britain supported the action, which is in response to a programme of 2,000 job losses under the BBC's Delivering Quality First plan. The immediate trigger for the dispute is 30 compulsory redundancies which are being challenged by trade unions. They include posts on 5 Live, the Asian Network, the World Service and at BBC Scotland.
Picket lines were reported this morning in London, Liverpool, Manchester, Salford, Nottingham, Derby, Brighton, Southampton, Reading, Coventry, Birmingham, Belfast, Cumbria and Suffolk.
Trade unions claim BBC managers are spending money on making staff redundant while making external appointments for other jobs. Michelle Stanistreet, general secretary of the National Union of Journalists, said: "Instead of making sure that the redeployment process works properly in all areas of the BBC, managers are prepared to waste public money on needless redundancies and sacrifice the livelihoods of experienced and talented journalists, at the same time as advertising other jobs externally."
The strike, due to end at 11.59pm this evening, is part of what is likely to be a difficult week for BBC management, which is also bracing itself for publication of the evidence of the Pollard Review into the organisation's handling of its investigation into Savile. The evidence is understood to include candid comments from high-profile figures such as Jeremy Paxman, criticising the behaviour of BBC senior executives.
The BBC said today that the strike action would not change the fact that cuts would have to be made, following a de facto cut in the organisation's budgets following the freezing of the licence fee.
"We are disappointed that the NUJ has gone ahead with today's strike and apologise to our audience for the disruption to services," it said in a statement.
"Unfortunately industrial action does not alter the fact that the BBC has significant savings targets and as a consequence may have to make a number of compulsory redundancies. We have made considerable progress in reducing the need for compulsory redundancies through volunteers, redeployment and cancelling vacant positions and we will continue with these efforts."
Join our new commenting forum
Join thought-provoking conversations, follow other Independent readers and see their replies