Blue Planet II accused of misleading viewers by planting hundreds of plastic ducks in sea
Programme-makers were 'well aware of the ironies of putting plastic ducks in the sea,' Big Blue produce John Ruthven writes in a blog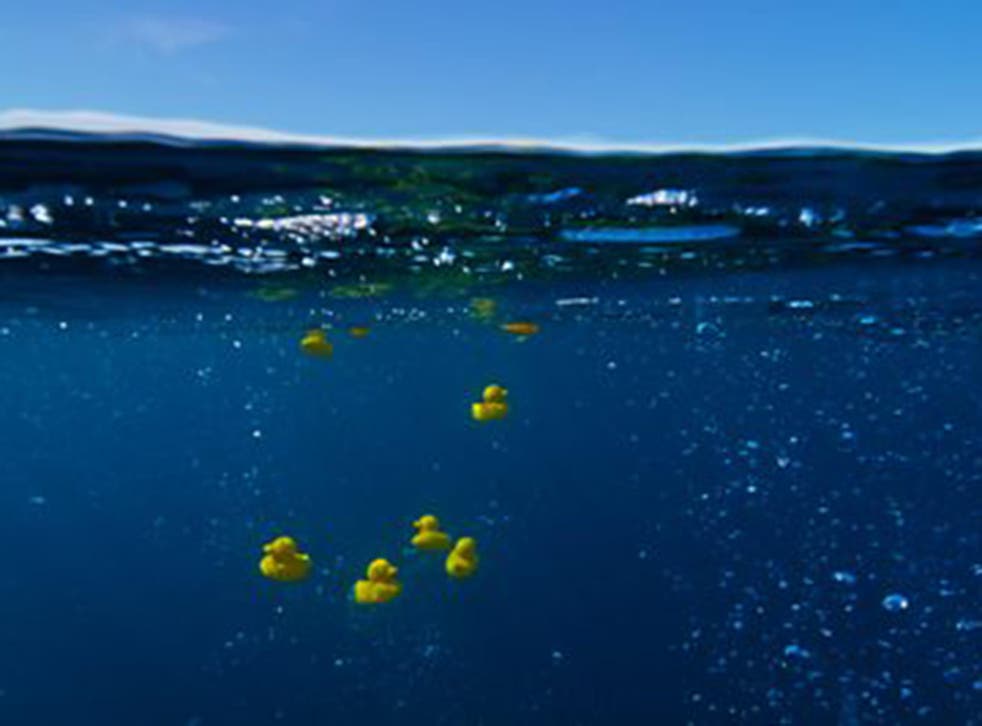 The producers of Blue Planet 2 have been accused of misleading viewers by planting hundreds of rubber ducks in the sea for a segment on marine pollution.
An episode of the popular wildlife show featured the plastic ducks bobbing the Pacific near Costa Rica.
The footage was supposed to illustrate how 7,000 plastic bath ducks that were accidentally dumped into the Arctic Ocean after a shipping container fell off a freighter ship in 1992 are still being found across the world's oceans.
However, it was not made clear during the programme that the ducks had been planted in the ocean for effect.
Critics were quick to accuse producers of the BBC show of misleading viewers, with many demanding to know whether filming crews had retrieved all the plastic ducks after planting them in the ocean.
"Did your crew throw a load of plastic ducks into the ocean earlier in the programme to demonstrate current events?" One viewer asked. "Were they all recovered?"
"I'm imagining all the #BluePlanet2 teams taking plastic ducks with them in their luggage when filming to film this, surely they can't be the original ducks?" Another viewer questioned.
BBC Earth was quick to respond, writing on Twitter: "They were brought along and collected up afterwards."
Ms Butler said the crew had "lots of snorkellers with us to collect them" and count them "carefully".
BBC producer Rachel Butler also tweeted a picture of the ducks being rounded up, writing: "The glamour of filming for #BluePlanet2 ... we collected every one."
She also added that the yellow ducks have found a new home in the Blue Planet 2 team's office.
"We've been very open online about the fact these scenes were filmed to illustrate a point," a BBC source told The Sun.
Big Blue producer John Ruthven explained how the footage had been taken in a a blog posted by the corporation.
"The ducks story led to a greater understanding of how all our seas are connected and seemed, to the Blue Planet 2 team, an inspiring story to retell," he wrote. "What all this tells us is that all the world's oceans are really one big connected system and that plastic persists for a very long time (some people estimate at least 500 years)."
He added: "Reconstructing the release of these ducks presented the team with a fresh challenge. While we wanted to tell their story, the team was also well aware of the ironies of putting plastic ducks in the sea.
UK news in pictures

Show all 50
"We were used to removing plastic from the ocean, and if we were to introduce any ourself, we'd need to be very careful to make sure every single one was collected again afterwards."
Mr Ruthven said the team released 250 ducks into the sea, but made sure to carefully collect each duck after shooting the footage.
"We were always vigilant to collect every single duck. We counted them out and we counted them all back in again, returning to the UK with all 250 – well, except the few the Costa Rican team wanted to keep as souvenirs of a very unique part of the shoot!"
Join our new commenting forum
Join thought-provoking conversations, follow other Independent readers and see their replies