Countdown to Downton: Your essential guide to the TV event of the year
Downton's back for a second series... and this time it's war. Veronica Lee gets the Abbey habit
Sunday 04 September 2011 00:00 Comments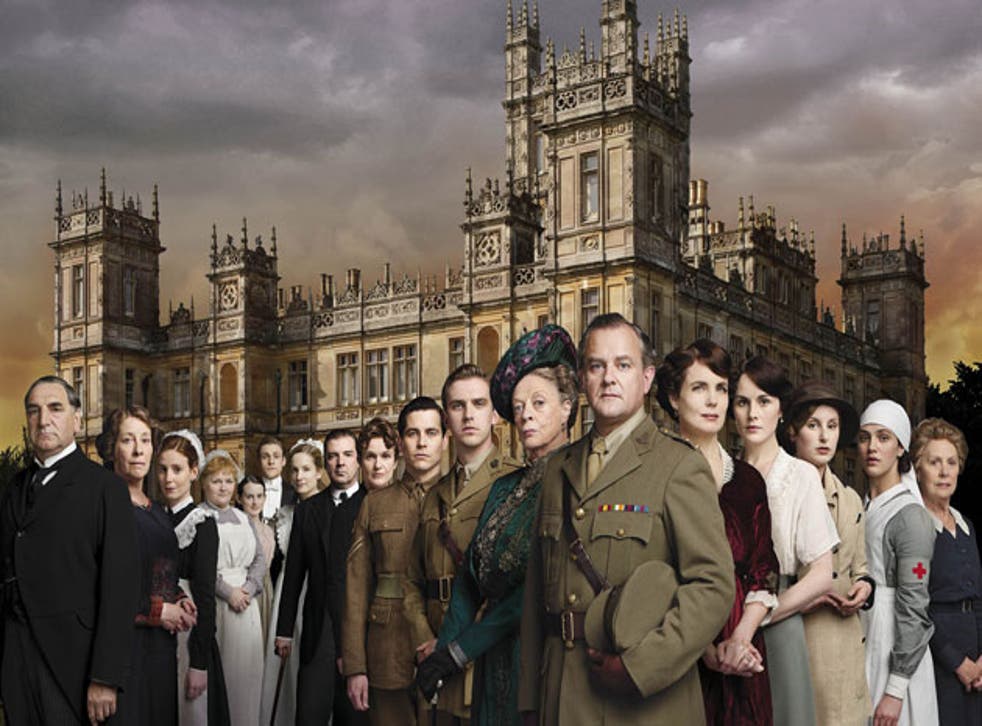 Highclere Castle in Berkshire is probably now as familiar a sight as Buckingham Palace. The grand but surprisingly small building, completed in 1842 and designed by Sir Charles Barry, is where Downton Abbey was filmed. The first series was a surprise television success in 2010 – with an average Sunday-night audience of 9.26 million – It was sold to 100 countries and returns for a hotly anticipated second series later this month.
As I motor up the unfeasibly long drive to Highclere (the grounds are not surprisingly small), home to Lord and Lady Carnarvon, I spot several familiar faces. There's the Earl of Grantham – or rather, actor Hugh Bonneville – crossing the courtyard looking vair dashing in his military uniform. Over there is Mr Carson (Jim Carter), impeccable in the summer heat in his butler's starched shirt and tails. And through a window I spot Daisy, the maid (Sophie McShera), as ever carrying something larger and heavier than she is.
Downton Abbey, created and written by Julian Fellowes (who wrote the 2001 film Gosford Park), won two Baftas and was nominated for an astonishing 12 Emmys for its first series. The seven episodes in series one cost £7m; the forthcoming series has a budget of £12m for eight episodes and a Christmas special (which, considering the anachronisms that so enraged the linguists and historians, might mean the production has been able to stump up for an extra script editor or two). Suffice to say, the BBC's competition, the revamped Upstairs, Downstairs, was struggling to keep up even before Eileen Atkins recently announced she was pulling out of forthcoming new series because she was unhappy with the scripts.
The new Downton starts in the hell of the French trenches, two years on from where the first left off – at a garden party on a beautiful English summer's day in 1914 when war was announced. These extensive war scenes were not filmed on the Highclere estate, which I'm sure has a few ha-has that could serve muster, but in a farmer's field just outside Ipswich, where a chap called Taff Gillingham has built perfectly detailed British and German trenches, complete with a no-man's land between them.
Back at Highclere, the actors are under strict instructions, alas, not to reveal any storylines of the second series – indeed, keen Twitter fans Bonneville and Dan Stevens (who plays his cousin, Matthew Crawley) have been banned from tweeting on set – but one person I talk to lets slip that there's an illegitimate pregnancy in this series and another hints that the Lady Mary-Matthew failed romance has not yet run its course.
Another says that two love triangles – one upstairs, one downstairs – are cleverly dovetailed throughout the series. And you will no doubt be delighted to learn that the entail – the legal settlement that ensured Downton Abbey remains within the family – is crucial to the plot in series two.
What is obvious from the metal beds and bloody bandages around me is that Downton has been turned into a convalescent home for wounded soldiers, and that the absence of men not only marks the beginning of the end of the "big house" at the centre of upper-class life, but also the starting point for female liberation. As the series producer, Liz Trubridge, puts it: "Estates like these were decimated by the loss of a generation of a young men, and women's status and roles changed profoundly after the war."
Trubridge is, like everyone else I ask, at a loss to explain the reason for Downton Abbey's unexpected success, although she'd "like to bottle it and become a millionaire". Bonneville's hunch is that "the time it covers is quite close to us – only two or three generations away for most people who would have had a family member alive at the time. And the writing, the production values, the casting, the social breadth of the stories – it just clicked."
A large part of the show's success must lie in the British obsession with class – despite Margaret Thatcher, John Major and Tony Blair's best efforts to turn the UK into a merit-ocracy – and nostalgia for a bygone era.
As Julian Fellowes tells me: "I think, in difficult and rude-mannered times, it is comforting for people to see a story about a period of British history when everybody had a station in life, whether it was as a footman or an earl. I'm not saying that's necessarily right, but everybody has a role to play in keeping this huge operation going, upstairs and downstairs, and for the most part they got along. And what lies underneath is a seething maelstrom of human stories."
'Downton Abbey' is on ITV1 from 18 September
Who's who at Downton Abbey...
Robert Crawley, Earl of Grantham
Played by Hugh Bonneville
Robert, the pater familias and local squire, now finds both roles under threat as the First World War comes to Downton. He expects to rejoin his old regiment, with which he fought bravely in the Boer War, but finds he's too old for active service. The women take on more responsibilities, the house is requisitioned as a convalesence unit, and Robert spends this series adjusting to a new world order.
Sir Richard Carlisle
Iain Glen
The rich but frightfully nouveau newspaper proprietor is an amalgam of newspaper barons of the time, and is here to provide the third, sharp point of the triangle involving Lady Mary and cousin Matthew. He knows a lot about the Crawley family's first-series secrets – so they really ought not patronise him and his new money...
Ethel Parks
Amy Nuttall
The new downstairs maid has, everybody at Downton Abbey quickly thinks, ideas above her station. The servant believes she will move up in the world – and if that involves flirting with the officers who are billeted at Downton, then all the better. Rumour has it there's an illegitimate pregnancy in this series, and my money's on it being Ethel's.
Mr Carson
Jim Carter
The real man of the house at Downton Abbey. The firm but fair butler always makes everything run like clockwork for the Granthams. But the Great War means that, with the men away, a – horrors! – maid may have to serve at the dinner table. And now that the Army is moving in, "his" house is no longer under his command, and he's not happy.
Cora, Countess of Grantham
Elizabeth McGovern
The American heiress has had to contend with losing her home and inheritance to cousin Matthew in the first series; now she must engage with his busybody mother, Isobel Crawley, who takes over the running of the medical unit. Let the battle commence!
Thomas Barrow
Rob James-Collier
The ambitious, scheming, blackmailing footman thought he was clever to join up for the "soft" option of the Medical Corps at the end of the first series. But he's in the thick of it at the front and finds an ingenious way to gain a passage back to Downton, where he is no longer a servant, but becomes a linchpin of the new medical set-up there.
Violet, Dowager Countess of Grantham
Maggie Smith
Dame Maggie's role in the first series was never to drive the story but to deliver Julian Fellowes's funnies in her very best Lady Bracknell-esque tones – "A weekend? What is a weekend?" Continues with vim in the second.
Matthew Crawley
Dan Stevens
His "will they? won't they?" dalliance with Lady Mary kept us hooked last time round. In this series Matthew is engaged to a real beauty, Lavinia Swire (Zoe Boyle) and is being heroic as an officer in the trenches in France. But might injurious circumstances take him back to the convalescent unit at Downton, where the fragrant Lady Mary is tending to the brave boys? By Jove! Yes it might.
Lady Mary Crawley
Michelle Dockery
The character you most wanted to shout at in the first series, when she broke lovely cousin Matthew's heart. She played with the passions of a few suitors as each got hooked in her entail (as it were). In the second series, she's the character who grows the most. She determines not to be such a silly young "gel" any more and to do her bit for the war effort.
Vera Bates
Maria Doyle Kennedy
The estranged wife of Bates, the Earl's stoic valet, proves herself to be difficult to get rid of now that he may be coming into an inheritance. Will she force him to leave his sweetheart, the lovely maid Anna (Joanne Froggatt)? Will misunderstanding now be heaped upon emotional turmoil, a flouncing-off, and manly men not saying what they really feel? All of the above as this storyline runs through the second series.
Register for free to continue reading
Registration is a free and easy way to support our truly independent journalism
By registering, you will also enjoy limited access to Premium articles, exclusive newsletters, commenting, and virtual events with our leading journalists
Already have an account? sign in
Join our new commenting forum
Join thought-provoking conversations, follow other Independent readers and see their replies