Let me be the People's Director-General, says Quentin Letts
I'd drop lefties, bureaucrats ... and Clarkson, says waspish political columnist as he applies for BBC's top job. Matthew Bell reports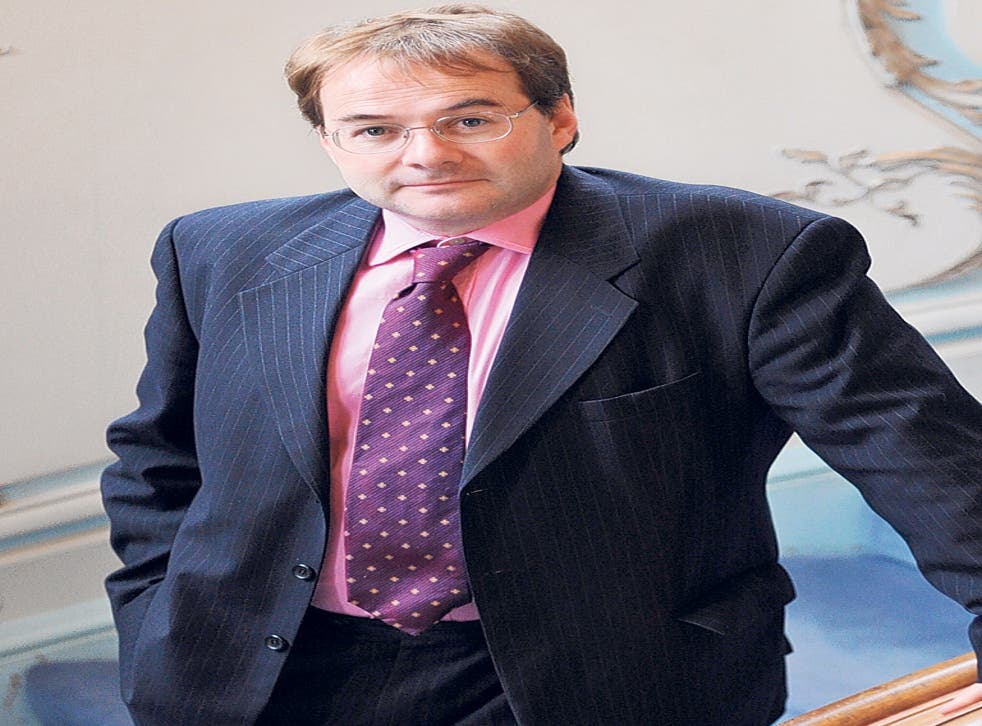 He is Fleet Street's most gleeful troublemaker, a master of the well-aimed custard pie. Now, Quentin Letts is preparing to put down his pea-shooter and join the executive ranks, by applying to be director-general of the BBC.
The 48-year-old journalist has signalled his intention to throw his hat in the ring, after reports that Mark Thompson is preparing to cede the £779,000-a-year post at the end of the year. He says he would do the job for "no more than the salary of a back-bench MP" ( £65,738) and would offer a "centre-right-wing perspective" to an establishment long perceived as dominated by the left. His manifesto would include "severe cutbacks" and the "sacking of Jeremy Clarkson".
Mr Letts is a freelance journalist writing mainly for the Daily Mail, as its parliamentary sketchwriter and theatre critic, having formerly worked for The Telegraph and The Times. A long-standing critic of the BBC, he named Greg Dyke, a former BBC director-general, and Jay Hunt, ex-controller of BBC1, in his book 50 People who Buggered Up Britain.
Mr Letts says he decided to apply after seeing the list of favourites for the top job, dismayed that "all had the same uniform background and attitude: Establishment left, TV insiders, all part of the schmoozebelt".
Speaking from his home in Herefordshire yesterday, he said: "They think they own the BBC. Well, the BBC doesn't belong to them. It belongs to everyone."
It was reported last week that Lord Patten, chairman of the BBC Trust, had appointed the international head-hunting firm, Egon Zehnder, to find a successor to Mr Thompson, who has been in the top post for eight years. Mr Letts fears the firm may overlook him.
"I offer something different," he says. "A centre-right-wing perspective, a belief in a small state, yet a published (in my book Bog-Standard Britain) defence of Reithian values and of the BBC's "top end" – views echoed only last week by Lord Patten, when he told the Beeb not to be ashamed of high culture. The BBC is our most influential institution. It is highly politicised and it would be wrong if no right-wing, non-television people were interviewed for the job."
Mr Letts's "manifesto" would include: "the sale of Radios 1 and 5 Live; closure of the Asian Network; a cut to the BBC website by half; trimming Newsnight by 20 minutes, starting Today 30 minutes later (Sarah Montague sounds as if she needs more sleep); sacking Jeremy Clarkson (or at least a sale of Top Gear); doubling the World Service budget; dumping much of daytime TV; ending all-night telly; closure of Salford; and the restoration of Play for Today." He would also screen cricket again, and replace darts and snooker with hockey and netball.
"My first act would be to announce that the BBC is to forgo populism and inspire listeners and viewers. BBC2 would return to being highbrow, and show roughly what you get on BBC4 now. I would keep Strictly, but a Saturday night on BBC1 would have either a drama serial, or some form of family entertainment."
Mr Letts is married, with three children. He read medieval literature at Cambridge and became a gossip columnist. He lists his hobbies as "gossip" and "character defenestration". Asked what he thought his chances were, he was realistic: "I haven't got a hope."
Schedule highlights: How Saturday nights might look on BBC Letts
4pm Jackanory - Betty Boothroyd reads Five Go Whelking, Again
5pm Choral evensong – like every day, but with extra hymn practice
6pm Dixon of Dock Green – Episode 361: Mrs Snout's washing is stolen, but the villain gets his comeuppance
7pm Kenneth Clark's Civilisation – art in the West before the rot set in
8pm Strictly Come Dancing – a waltzing special (white tie), with Air Chief Marshal Sir Jock Stirrup
9pm News, weather and cricket
10pm Close, and early to Bedfordshire
Join our new commenting forum
Join thought-provoking conversations, follow other Independent readers and see their replies