Radio on the TV: Radio 1 comes to iPlayer for the first time in 47 years of being audio-only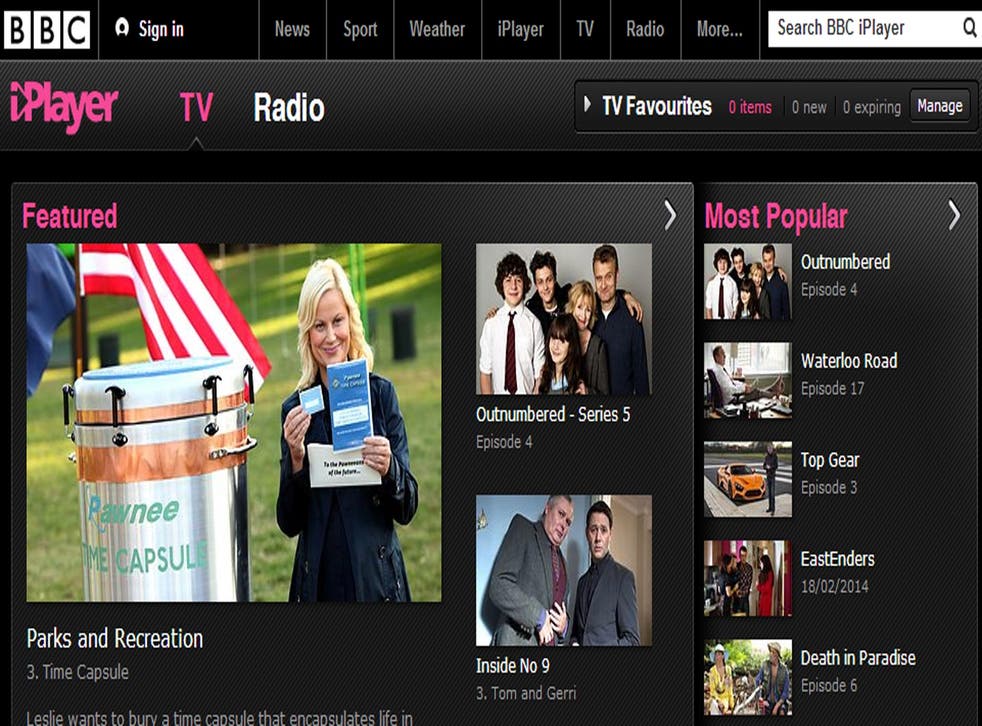 After 47 years as an audio network, Radio 1 will begin a new life as a televisual medium in May when it moves on to the BBC's iPlayer.
Ben Cooper, the Radio 1 Controller, described the moment as "historic" and said the transition was essential if the station was to remain relevant to coming generations.
He admitted that, two years into his tenure as Controller, the average age of the Radio 1 listener remains static at 32 (outside its 15-29 year old remit) despite drastic changes to the station's presenting line up and music policy.
Cooper, 44, said that average listening hours per week of a Radio 1 listener had fallen from 10 hours 30 minutes to six hours 20 minutes in the past decade as the Internet has placed new demands on the attention of young people.
The move to iPlayer, in addition to Radio 1's more traditional service, will coincide with the station's Big Weekend festival in Glasgow. Further Radio 1 iPlayer content will be broadcast around its annual Ibiza Weekend in July, with a full launch of the video service in September.
"That will be a truly historic moment in the timeline of Radio 1," Cooper said. "It will be the moment when Radio 1 stops just being a radio station and becomes an audio and visual brand."
He was speaking in one of Radio 1's plush new studios on the eighth and top floor of the refurbished Broadcasting House in London. Outside, an engineer dressed like a nineteenth century miner in helmet and lamp, was trialling the wearable technology that will become increasingly prominent in Radio 1 this year. In the engineer's backpack was a transmitter and a power source, while attached to his helmet were two cameras (one on his face and one facing forwards). "It's a bit like Ghostbusters," says Cooper.
It is, he says, crucial that Radio 1 has an open dialogue with its young audience. "In the past, [presenters] have broadcast from their ivory towers to people but if you are a young person and you text your friend and they don't text you back they are rude. We have to make sure going forward that Radio 1 is very open to our audience and has a constant two-way process."
The move to iPlayer has been inspired by Radio 1's success in creating its own channel on YouTube, where it is the first radio network in the world to reach 1m subscribers (of which only one third are in the UK). The YouTube platform has hosted interviews with music stars such as Kanye West (boasting about his invention of leather jogging trousers) and Jay-Z, as well as intimate gigs from the Radio 1Live Lounge, and humorous stunts from the station's presenters – notably Greg James interpretation of Miley Cyrus' notorious Wrecking Ball video, naked and in make-up.
This will be the formula for the iPlayer offering: "We are not making programmes that are an hour long. We are making short form video content that is as long as it is good," says the controller.
Within the BBC, Cooper has been a trailblazer in using technology to follow the young audience. He has realised that simply installing a camera in the studio is not enough and Radio 1 needs packaged short-form films that are easily watched on a smartphone. "We will chop up the best bits for you and provide them on a screen," he says.
Although Radio 1's YouTube success has brought international media executives flocking to his door and invitations to address conferences overseas, the fact that the strategy has not reduced Radio 1's average age is a big worry.
When he says "it's still 32", he laughs out the number with more than a hint of frustration. "It's the thing that keeps me up at night, it really is." The BBC Trust has demanded a younger listenership and Cooper has said it will be the metric that defines his success. But, like a maths teacher, he talks of mean, median and mode, and says 18 has recently been the most common age of a Radio 1 listener. He knows the demographics of an ageing UK population are against him but says the Trust understands his situation. "I talk to them formally and informally and they know the difficulty."
He has tried everything. Breakfast show host Chris Moyles, cornerstone of the station's ratings, was moved on in place of the younger Nick Grimshaw. "I'm really pleased with the way Grimmy does it - to have that attitude and humour but also that love of music."
Cooper admits he has given up on the idea that there is a way to make young people spend longer listening to radios. "In a modern digital age it would be a kind of King Canute [situation]. The idea of listening to your radio for three hours every night in your bedroom has probably gone and there's no point trying to get it back," he says. "To a lot of young people the idea of buying a radio set is alien – it hasn't got a screen and it's not connected to the Internet."
Alongside the iPlayer launch, Cooper wants closer links with the BBC's youth television brands BBC3 and CBBC. "The BBC has been dominated by platform thinking – we are radio, we are TV, we are online – when we need to start thinking about our audiences." Radio 1's Teen Awards were broadcast at 6.30pm on CBBC, which has an age span of six to 13 – "the next generation of listeners".
Although it sounds like Cooper is expanding, he is conscious that by 2016 he will have lost one third of his budget to BBC efficiency cuts. He has £12m to spend and is reducing outside broadcasts to four key annual events (Big Weekend, Ibiza Weekend, Teen Awards and 1Xtra Live).
As chairman of the Radio Academy, he is happy to share Radio 1's "best practice" in using technology with Britain's commercial broadcasters and says the British music industry is grateful for his station's "soft power" in promoting home-grown sounds to the world.
Things would be fine if older people would only stop inflating his age statistics. "When I was growing up, grandparents looked the same, parents were boring and your teenage years defined you," he muses. "Now you have grannies surfing and parents who take their kids to festivals. Society has changed dramatically. Radio 1 is more about an attitude of feeling young. It would be fascinating if we could get to a stage where we defined radio stations by attitude rather than average age. I don't define myself by how old I am – I'm still 28 in my head." And therein is his problem.
Join our new commenting forum
Join thought-provoking conversations, follow other Independent readers and see their replies