The Media Column: A new world where words and influence can be more powerful than weapons
Reporting is a key strategic battleground for governments around the world
Ian Burrell
Sunday 30 August 2015 17:43 Comments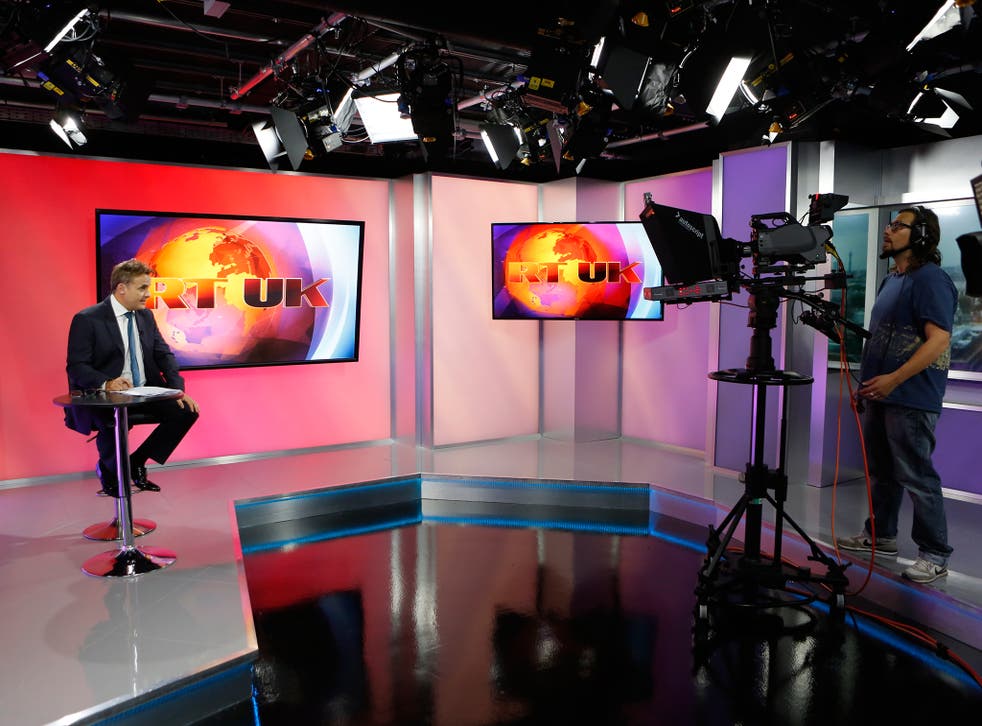 According to one expert on Fox News, Birmingham is a "totally Muslim" city where non-Muslims fear to tread. The Russian news broadcaster RT characterised the Maidan Square uprising in Ukraine as a "putsch" led by "neo-Nazis", while the Chinese state broadcaster, CCTV, played down the crisis in the local economy and framed last year's student protests in Hong Kong as an illegal act that was harmful to schoolchildren and ambulance patients.
All these broadcasters now operate in the UK and are part of the fast-growing industry that has turned the reporting and misreporting of international news into a key strategic battleground for governments around the world.
China and Russia are throwing money at this. Turkey, currently at the apex of so many news stories, became the latest entrant to the field with the launch of national broadcaster TRT's English-language service, TRT World. Many networks, such as the Emir of Qatar's Al Jazeera, have enormous financial resources. In such a climate, it is becoming harder to hear the voices of networks committed to public service – from Canada's CBC, to France 24, and the BBC.
Bias and offensive content can have serious consequences for broadcasters operating in the UK. Ofcom is about to rule on six investigations into due impartiality, misleadingness, harm and offence, and fairness, all relating to complaints against RT. The subjects of the broadcasts range from the UK's treatment of immigrant detainees to the conflicts in Syria and Ukraine. The regulator has already put RT on notice – pending possible statutory sanctions including fines or even a revoking of its licence – after finding last November that four reports breached the code on due impartiality, with one analyst talking of "Nazis in Ukraine with nuclear ambitions".
Ofcom found CCTV culpable of four counts of due impartiality in February after probing its Hong Kong protest coverage and finding that the voice of the demonstrators was ignored. It will shortly rule on Fox News's depiction of Birmingham, for which terrorism expert Steve Emerson has already apologised.
Some British viewers might not take this seriously; Fox's report in January, in which host and former Republican politician Jeanine Pirro compared Birmingham to a "caliphate", was mercilessly lampooned on Twitter.
But if broadcasters allow false claims to go out in a well-regulated market like the UK, what kind of messages are they sending out as news elsewhere in the world?
RT cheekily told Ofcom it shares the "chutzpah of Channel 4", with a similar aim of "challenging established views so as to support and stimulate well-informed debate". It also acknowledged its mission to "acquaint international audience[s] with the Russian viewpoint". I wonder if all its UK viewers appreciate that.
RT, which is unafraid to give oxygen to conspiracists, adopts a counter-cultural stance which appeals to some on the left in Britain and America. It wasn't a surprise that, when Jeremy Corbyn's opponents seized on an old interview where he likened American air strikes to Isis atrocities, the clip carried RT's green logo. RT is extremely effective at packaging content into lively and internet-friendly video clips and its global influence is growing.
The same cannot be said for the BBC in Russia, where the Russian language service that the World Service once offered on FM is long gone. Russians can access BBC World News, but only if they understand English. A BBC 10-minute daily bulletin carried by Russian broadcast partner Dodzh has faced criticism from Russian politicians who claim it is British Government propaganda.
Such accusations have been levelled at the BBC since it came up with the concept of "nation shall speak peace unto nation" more than 80 years ago.
The Foreign Office no longer pays for BBC global output, which is funded by the public and advertising. That might help the BBC convince new audiences of its impartiality. But its editorial values and rigorous balance represent a challenge when younger international audiences, raised on a culture of blogs and social media, feel comfortable with the opinion-heavy content of rivals.
In Africa, where the population is younger, the BBC is at risk of being seen as a medium of an older generation and product of a former colonial power. CCTV, by contrast, can surf the goodwill generated by massive Chinese investment in African infrastructure and the idea that it represents the future. Recognising this, it pours in resources, with 100 staff in its CCTV Africa head bureau in Nairobi and expanding services in Swahili.
Back in China, the approach is different. During the Hong Kong protests, BBC World News "went to black", as reports were jammed. The BBC's Chinese language website is still blocked. The BBC operates an English learning course for Chinese students, which has no journalistic value beyond attracting potential readers for the English news site, which suffers only sporadic Chinese censorship.
In the Middle East, inevitably, the picture is complex. Foreign Secretary Philip Hammond was last week in Iran, where the banned BBC Persian TV service continues to attract an audience of 12 million, tuning in via illicit satellite equipment. There is hope for a thawing of BBC relations with the Iranian government and the recent nuclear deal coincided with the rare granting of a visa to BBC journalist Kim Ghattas, who submitted several reports from Iran this month.
The BBC recently lost its FM stations in Dubai and Abu Dhabi, where radio spectrum is prohibitively expensive. In Egypt, draconian new counter-terrorist laws make it an offence to contravene the government's official version of alleged terror incidents. We only need to look at the appalling three-year jailing of two Al Jazeera journalists on Saturday to gauge the threat to news organisations. Al Jazeera, meanwhile, won plaudits for its reporting of the Arab Spring but now finds itself dogged by its Qatari connections amid heightened tension between Sunnis and Shias.
The BBC is not without its own problems and accusations of bias over its coverage of issues including the Scottish independence referendum and the Gaza crisis can have damaging consequences for its reputation worldwide. But if we believe in its independence then it needs to compete with outlets which are promoting the agendas of the regimes that pay them. This is the new Great Game, where words and influence can be more powerful than even modern weaponry.
All last week at Edinburgh Television Festival, the talk was of the BBC and which services might be cut following recent changes to its funding. When judging the value of the licence fee there's a tendency, as with other financial transactions, to consider what we personally enjoy in return for our outlay. But in the case of the BBC's output overseas there's a value in broadcasting that we never get to see, in languages we don't understand. And there's a case for the BBC having more money to spend on it, not less.
Print media presses the issue of breaking news
The use of newspaper stories as raw material for television and radio programmes is a long tradition and a contentious one.
From the Sky News Paper Review, on which the Daily Mail's Andrew Pierce and the Mirror's Kevin Maguire have a left-right double act, through to Radio 4's What The Papers Say, press stories are a source of fascination to broadcasters.
Scottish First Minister Nicola Sturgeon last week accused the BBC in Scotland of being so in awe of the press that it took its lead from "what was in the morning papers".
The London-based press don't always agree with Sturgeon, but they like to think their reporting does the donkey work in setting the agenda for TV news. It's the theme of a huge advertising campaign by the press industry starting on Wednesday across 17 national titles. "The front page news on TV every night? Ours." That's the strap line above a picture of two TV presenters leaning on a pile of papers.
Newspapers are claiming to have the "undivided attention" of their combined 36 million monthly readers, in contrast to the "surfing, scrolling and skipping" of the digital audience. This seems to ignore the fact that papers are migrating online.
The BBC, routinely excoriated by most of the print media, will be bemused, given that it might argue that its paper reviews give the press generous helpings of free publicity.
Iannucci 'exposes' the BBC's enemies
Armando Iannucci produced the funniest MacTaggart Lecture seen at the Edinburgh Television Festival in recent times.
The co-creator of Alan Partridge even scripted a mini-drama in which the BBC was killed off by a vengeful Jeremy Clarkson, who chased Professor Brian Cox into the canteen, punched him in the face and laughed at "the irony of destroying the BBC in a roomful of readily available hot meals".
Iannucci also talked of the Beeb coming under threat from a "spooky" enemy who he called "M, for Mysterious". It was a shame Armando didn't attempt M's distinctive accent.
Whether his speech helps the BBC remains to be seen. It may not need to after Culture Secretary John Whittingdale's conciliatory message the same day.
But the telly industry audience loved it and, despite Iannucci having expressed concern at the "Nurembergian" feel of the red and black banners on the stage, leapt to its feet in unabashed adoration.
Twitter: @iburrell
Register for free to continue reading
Registration is a free and easy way to support our truly independent journalism
By registering, you will also enjoy limited access to Premium articles, exclusive newsletters, commenting, and virtual events with our leading journalists
Already have an account? sign in
Join our new commenting forum
Join thought-provoking conversations, follow other Independent readers and see their replies