'My money keeps getting stopped and I don't know why': The people behind the increasing numbers of food bank users
The Trussell Trust reported increasing numbers of people asking for help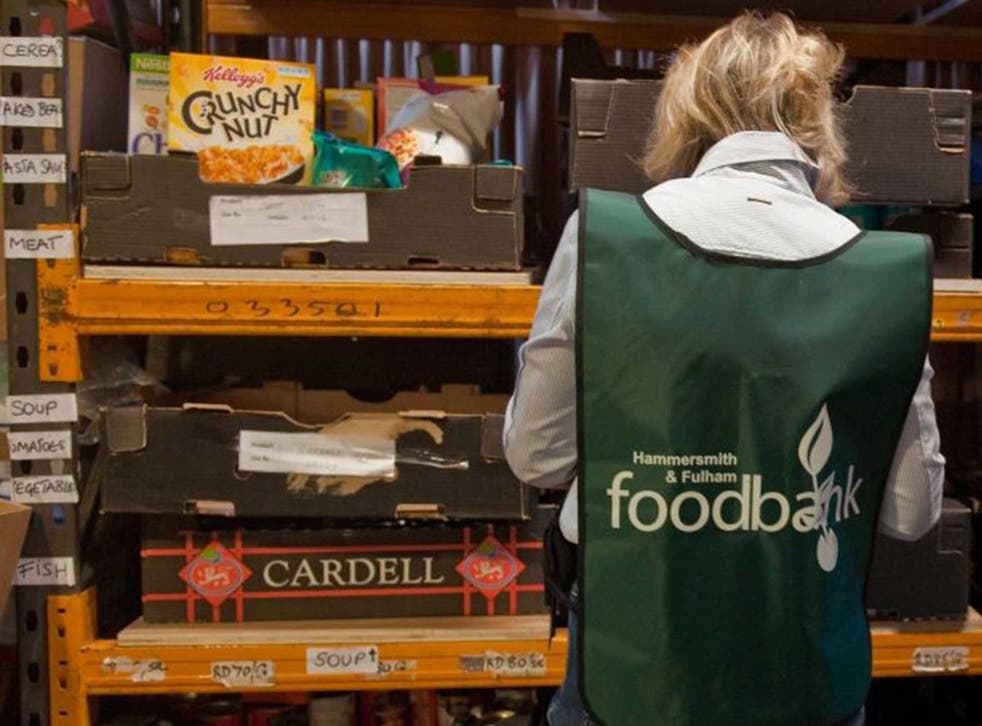 The latest figures from the Trussell Trust have revealed that in the first six months of 2014-2015 almost half a million people received three days' food.
The 38 per cent increase on the last collected figures by the food charity indicates more than a fourth of those asking for help did so after their benefits were "delayed".
Some of the heartbreaking tales from the managers of the banks include the man whose benefits were sanction after he missed an appointment. He had gone to the hospital after his partner suffered a miscarriage.
A Norfolk man approached the Cromer and District food bank after he was denied permission to attend the funeral of his best friend, as it clashed with his benefits appointment.
He went nonetheless – and was sanctioned by the local authority.
In pictures: Food banks

Show all 9
In a similar case a man from Bridgend, Wales, needed food after his benefits were sanctioned when he failed to attend an interview. Although he explained his father had passed away, his interview was rescheduled – for the day of the funeral.
Again, he chose not to attend and asked the Trussell Trust for help. He left their Bridgend food bank after telling volunteers: "At least you people could see that my head was all over the place".
Workers at Wokingham food bank, near Reading, described a mother-of-three's tears as she asked for food for her family. Her benefits had been sanctioned after she failed to attend an interview the Department of Work and Pensions (DWP) had cancelled.
In a statement to parliament, the Trussell Trust explained Suzanne's situation.
Her husband, formerly a clinical nurse, suffered a nervous breakdown and was unable to work and she was then made redundant while pregnant with the couple's second child.
They lost their home and car and were forced to rely on benefits, which were sanctioned after her husband was sent two conflicting interview dates – reducing the family of four's income to just £50 per week.
Alongside this, Suzanne walked four miles daily to care for her mother who was suffering from Parkinsons. After just under two months, the local authority back-pedalled, restoring the family's full benefits and back-dating their payments.
"I have gone without to feed my kids, and would go without again. It's heart-breaking to open the kitchen cupboards and struggle to feed my boys. I never thought I'd be in this situation," she told volunteers at a food bank near Glashow.
Renfrewshire food bank, to the west of Glasgow, gave food to one young man with learning difficulties whose benefits were sanctioned.
He wrote: "My money keeps getting stopped for some reason and I don't know why."
Join our new commenting forum
Join thought-provoking conversations, follow other Independent readers and see their replies