Air Marshal Sir John Curtiss: Airman who served in the Berlin Airlift and the Falklands conflict
For the Falklands war, he ended formation flying to save fuel and ordered mid-air refuelling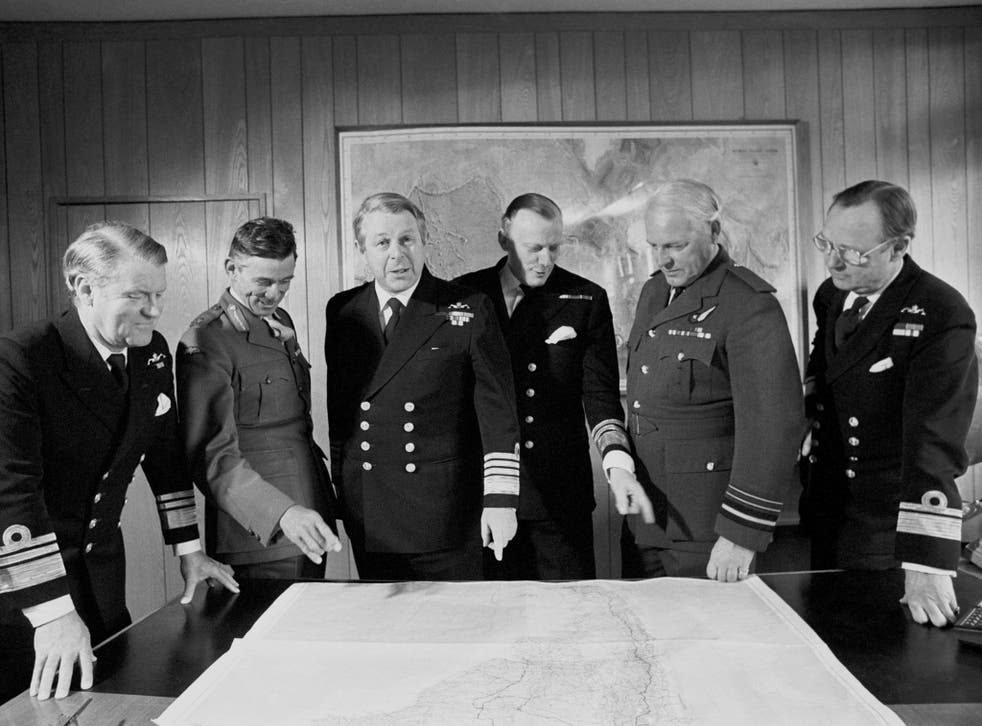 As a flier in the 1948 Berlin Airlift, and, as an Air Marshal directing air operations in the 1982 Falklands campaign, John Curtiss twice stretched the limits of the RAF's pioneering glory. As a squadron leader during the Airlift, a 14-month Nato operation to break the Soviet blockade of the German city, he saw at first hand the hazard of undercarriages buckling beneath the strain of short, frequent flights heavily loaded with supplies of food or fuel. Aircraft built for other tasks had to be coaxed into the job required, and 34 years later, as one of the top three Falklands commanders, he put that lesson into practice again.
Curtiss was quick to have Falklands campaign aircraft adapted for mid-air refuelling so that they could cover distances undreamt of, in single sorties travelling halfway across the globe. Curtiss's training as a Royal Air Force navigator gave him an especially broad view of operations. As an Air Marshal he still proudly wore his navigator's single-wing insignia, and is remembered by Second World War contemporaries of 59 Squadron, as Flt Lt E Allan recalled in his memoirs, as having been "the first occurrence of a nav becoming a pilot".
He is also thought to have been the first navigator to rise to be an Air Marshal. After the Falklands, Curtiss also acknowledged: "It was... fortunate for me that during my career I had flown with every operational Command." These included Bomber, Fighter, Training and Transport Commands.
He had made 263 short-distance supply trips into Berlin with the British Empire's long-distance workhorse, the propeller-engined, triple-tail finned York transport aircraft. And in 1982 from Northwood HQ he had the command at his fingertips of Nimrod Mk 2 patrol and Canberra reconnaissance aircraft; Sea King, Wessex and Chinook helicopters; Victor tankers; Hercules transporters; and Harriers, Vulcans, and Phantom jets.
In 1982 Curtiss was one of the handful of senior military leaders who attended meetings at the Cabinet Office with the Prime Minister, Margaret Thatcher, and her War Cabinet as part of the FLAIRGO – Flag, Air, and General Officers Committee – headed by Admiral Sir John Fieldhouse, Commander-in-Chief, Fleet, with Curtiss as Air Deputy and Major-General Sir Jeremy Moore as Land Deputy. Curtiss's largest headache was the security of the campaign's vital airbase on Ascension Island, a volcanic outcrop midway between Britain and the Falklands, about 4,000 miles from both.
"An air or sea attack by an enterprising opponent could have had a catastrophic effect" , he said in Through Eyes of Blue, an anthology of RAF memoirs edited by Wing Cdr Anthony Ross (2002). "So I added two Phantom air defence aircraft and an RAF Regiment Squadron to our defences. The Royal Navy provided a guard frigate."
Ascension, bristling with security and communications equipment, was being watched by a Soviet intelligence-gathering ship three miles off its single runway. Co-operation had to be sought from the US Air Force, to whom the runway had been leased. Air operations, Curtiss said, could only just be sustained through the hostilities' 100 days by keeping an oil and a water tanker close by.
Still more alarming, the pioneering opening salvo of the air war, codenamed "Black Buck", the bombing of the runway of the Argentine-occupied Falklands capital, Port Stanley, by Flt Lt Martin Withers in a Vulcan of 101 Squadron on 1 May 1982, revealed fuel use so high that future raids would have to be made differently.
The 7,860-mile raid – a round-trip distance never attempted before – succeeded in cratering the Stanley runway to stop Argentine jets using it, but one of the 11 Victor tankers needed for it almost ran dry and was only just saved from crashing in the sea by another scrambled from Ascension.
Curtiss abandoned formation flying, in which dissimilar aircraft had to compromise their speed and therefore fuel performance. He extended mid-air refuelling capability with the conversion of the Nimrods, allowing them to take their Searchwater radar much farther south than their original 1,800 mile range. So sophisticated was the Nimrods' radar that they could distinguish between submarines and whales – a problem that haunted the Task Force as it steamed south, watching for Argentine attack but coincidentally also following the mammals' southward migration. Curtiss's Air Commander's Report of the Falklands campaign, Operation Corporate was opened to public access from 8 February this year, but at the time of his death was again unobtainable, being "in use" by an unnamed government department.
John Bagot Curtiss was the son of EFB Curtiss, a major in the Royal Flying Corps, which was formed in 1912 and superseded by the RAF in 1918. He was educated at Radley College, Oxfordshire, and in New Zealand, where his family had relatives, attending Wanganui Collegiate School on North Island, before returning to Britain to study at Worcester College, Oxford. He joined the RAF's Oxford University Air Squadron in 1942, and after training as a navigator flew bomber missions over Germany in 1944 and 1945 with 578 and 158 Squadrons.
After stints with 51 and 59 Squadrons in Transport, and 5 and 29 in Fighter Command, in 1967 he became Director of the RAF Staff College at Bracknell in Berkshire, before serving as Station Commander, RAF Bruggen, and Group Captain, Operations, at HQ Strike Command. From 1974-75 he was Senior Air Staff Officer at HQ 11 Group, then Director-General, Organisation, RAF, until 1977, when he returned to Staff College as Commandant. In 1980 he became AOC No 18 Group, and, the Falklands victory won, retired, twice knighted, in 1983.
He capped five years as Director and Chief Executive of the Society of British Aerospace Companies with much charitable work, and in 2008 raised £4,000 for his local hospice in Hampshire with a sponsored parachute jump when he was 83.
John Bagot Curtiss, Royal Air Force officer: born 6 December 1924; CB 1979, KCB 1981, KBE 1982; married 1946 Peggy Drughorn Bowie (three sons, one daughter); died Milford on Sea, Hampshire 14 September 2013.
Join our new commenting forum
Join thought-provoking conversations, follow other Independent readers and see their replies