Andrea True: Disco diva of 'More, More, More' fame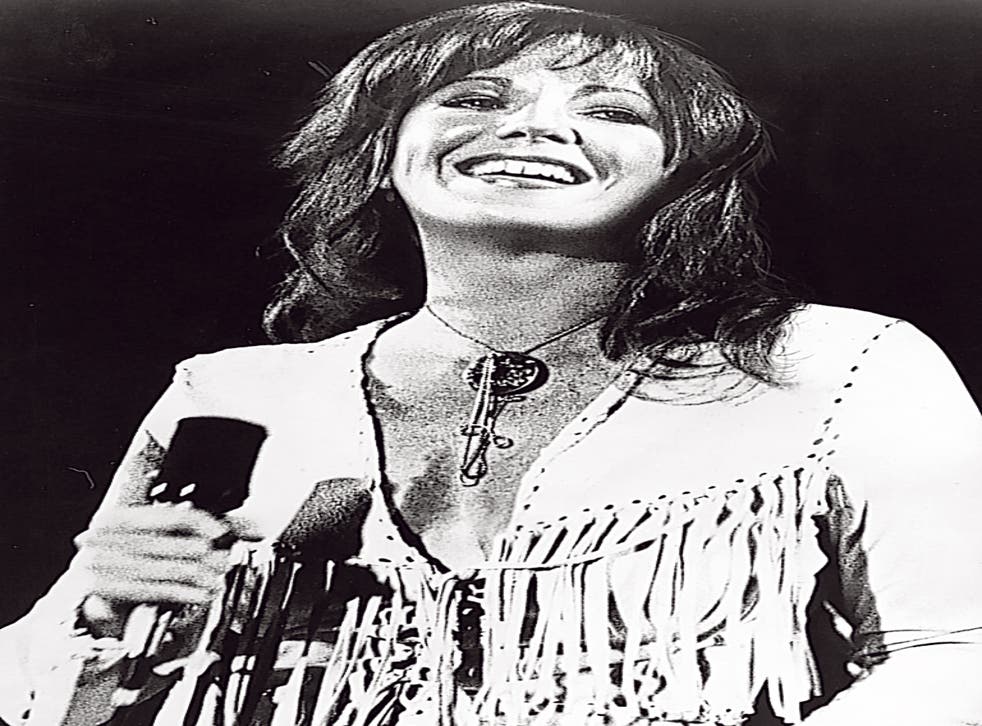 One of the most infectious, memorable, suggestive records of 1976, "More, More, More" allowed its singer, Andrea True, to make the transition from the adult films she had become infamous for and reinvent herself as a disco diva.
That year, she released the first of three albums as the gorgeous frontwoman of Andrea True Connection, featured on Top Of The Pops and returned to the US charts with another dancefloor filler, "Party Line".
However, after scoring further US hits with "(New York) You Got Me Dancing" and "What's Your Name, What's Your Number" – which also made the Top 40 in Britain in 1978 – she had surgery to remove a goitre that had developed around her vocal cords and lost much of her singing ability. She went on to work as a drug counsellor and a professional astrologer in Florida. In recent years, she reflected on her fleeting success in the US TV documentary series One-Hit Wonders and VH1 – Where Are They Now? In 2005, she was one of the contributors to Inside Deep Throat, the documentary Fenton Bailey and Randy Barbato made about the X-rated film Deep Throat and the porn chic phenomenon of the 1970s.
Born Andrea Marie Truden in Nashville, Tennessee in 1943, she attended an all-girl Catholic school there. Following her graduation in 1961, she moved to New York, where she studied acting and planned to make that her profession. By the early 1970s she had taken up the stage name Andrea True but mostly worked as an extra on films such as The Way We Were and 40 Carats, though she invested some of her earnings in recording a 16-track demo of a song entitled "I'll Never Stop Trying". "It was aimed at my ex-boyfriend," she told journalist Bruce Pollock in 1977. "The lyrics said that we were through... but I'm going to get where I want to go. I'll never stop trying. And I ran straight into hardcore movies."
Between 1972 and 1976 she made over 50 adult films under various pseudonyms – Inger Kissin, Sandra Lips, Singe Low – and became as notorious as the other New York-based "stars" of the emerging exploitation genre, Georgina Spelvin, Annie Sprinkle, whom she directed in Once Over Nightly, and Linda Lovelace and Harry Reems, with whom she appeared in Deep Throat Part II. In 1975, the Adult Motion Picture Association of America presented True with the "Most Versatile Actress" award, yet she was still only earning $500 per film and decided to capitalise on her fame with cabaret appearances. She also began doing TV commercials and landed an assignment to front a real estate campaign in Jamaica.
While she was there, the politicalsituation on the island deteriorated and she was not allowed to leave Kingston with her fee. The resourceful Truedecided to bring over Gregg Diamond, the drummer, songwriter and producer she had met while making herearlier demo, and spend the money recording more tracks in a Jamaican studio. Inspired by True's X-ratedcareer, Diamond wrote "More, More, More", a song that transcended its risqué origins and made the most of the singer's natural ebullience.
Having added a horn florish, Diamond gave the master tape to remixer extraordinaire Ted Moulton, who turned it into an irresistible floor-filler. Issued on the Buddah label, "More, More, More" became a worldwide hit and spawned an album of the same title, featuring the double entendre-heavy "Keep It Up Longer" and "Call Me" as well as "Party Line", all written and produced by Diamond, who also oversaw "(New York) You Got Me Dancing". Penned by Roger Cook and Bobby Woods, 1977's "What's Your Name, What's Your Number" was produced and arranged by Michael Zager of "Let's All Chant" fame, as was most of White Witch, the second Andrea True Connection album.
Following the failure of her third album, War Machine, in 1980, and the operation that damaged her voice, True dropped out of public life. However, she enjoyed the many covers of her signature song by Samantha Fox, Bananarama, Rachel Stevens and Dannii Minogue, and its recurrent use in everything from The Simpsons to TV commercials. "I want to be remembered as someone who gave people pleasure, with my music," she said in 2002.
Andrea Marie Truden (Andrea True), singer and actress: born Nashville, Tennessee 26 July 1943: died Kingston, New York 7 November 2011.
Join our new commenting forum
Join thought-provoking conversations, follow other Independent readers and see their replies