Archie Gibson: Tenacious midfielder for Leeds United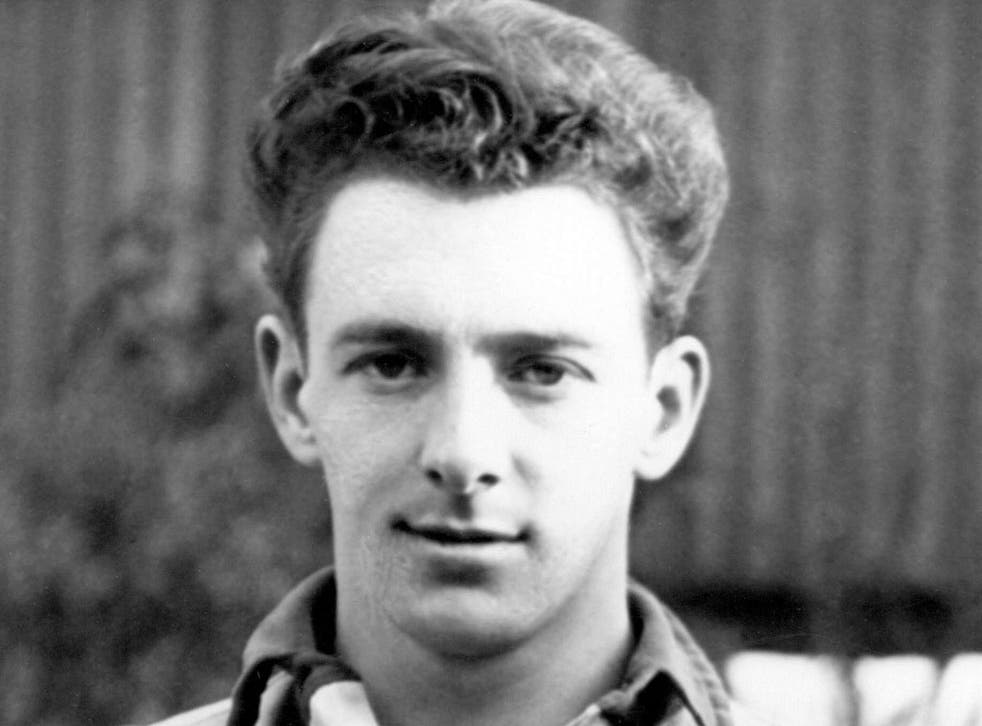 While Billy Bremner was the most iconic figure in the rise of Leeds United under Don Revie, the template for the diminutive, waspish Scottish midfield player at Elland Road was established by Archie Gibson, his predecessor in the old right-half role.
Gibson, who has died at the age of 78 after several years in which Alzheimer's robbed him of his trademark humour and generosity, was a team-mate – and housemate – of John Charles and Jack Charlton in the pre-Revie era. He is also fondly remembered as captain of Scunthorpe United's finest team, who fell tantalisingly short of promotion to what is now the Premier League.
Standing at 5ft 8in and weighing 10st, Gibson had left Girvan High School in Ayrshire to become an apprentice joiner when a Leeds scout spotted him playing for Coylton Juveniles in a cup semi-final at Falkirk in 1951. He was then an inside-right, but his tenacious tackling and distributive skills convinced his new manager, Major Frank Buckley, to convert him to a deeper position. His initial progress was frustratingly slow, largely because of two years on national service with the Army at Catterick.
However, once Gibson was given his opportunity by Buckley's successor, Raich Carter, in a Second Division defeat at Birmingham in March 1955, he made up for lost time. He shared digs with Charles, the Welsh colossus, and with Charlton, the future World Cup-winning centre-half, in a club house on an estate near the ground, from which they would stroll in to training and for matches.
Gibson was a fixture in the Leeds line-up as they won promotion to the top flight in 1955-56, his first full season. Stepping up to the highest level, he featured in all but two of 42 First Division matches as Leeds, benefitting from Charles's phenomenal return of 38 League goals, finished eighth. For a club where honours had been scarce, and which often found it hard to cement a place in the affections of a local sporting public more enthused by rugby league and cricket, these were heady days.
The pressure on Carter to cash in on Charles was compounded by the financial problems caused by a fire which had destroyed the West Stand. No sooner had the season finished than "The Gentle Giant" was sold to Juventus, the Italians splashing out a world-record fee of £65,000. The departing centre-forward deemed it "scandalous" for reporters to have branded Leeds "John Charles United". He insisted he had left behind some excellent players and later argued that Gibson "should have won a Scotland cap", saying that he was "good on the ball, could pass and worked hard".
Whatever the veracity of Charles's protestations, Leeds floundered without him. In 1957-58 they slipped to 17th out of the 22 clubs. The following season, which saw Gibson become the first Leeds player to be sent off in nearly 37 years after a flare-up with West Bromwich's Derek Hogg in a Christmas match, they edged up to 15th. Early in 1960, Gibson was joined in the first team by a 17-year-old compatriot named Bremner – and although Leeds marked the occasion with a win at Chelsea, they went on to be relegated. In the ensuing clear-out by the latest manager, Jack Taylor, Gibson was released after 178 appearances and five goals.
He left a club in sharp decline – arrested only after Revie's appointment as player-manager in 1961 – and joined Scunthorpe, an upwardly mobile Second Division team. Installed as captain, Gibson settled quickly in a side which relied for goals upon a striker called Barrie Thomas, much as Leeds had with Charles. Early in 1961-62, they routed Charlton 6-1 and had 5-1 victories over Southampton and Plymouth before, sweetly for the returning Gibson, they triumphed 4-1 at Leeds on Boxing Day.
Thomas, the subject of a £30,000 offer from Revie, hit all four goals and was the country's leading scorer with an astonishing 30 goals in 22 matches. Scunthorpe entered 1962 in top place, with a genuine chance of reaching the First Division, only to sell their talisman to Newcastle, a club below them in the table. They finished fourth (the play-offs were still 24 years away), five points short of promotion, and were relegated two years later.
Gibson was a model of consistency at the Old Show Ground, missing only 10 games in three and a half seasons. But a home loss to Manchester City in December 1963 proved to be the last of his 138 appearances (with five goals) for Scunthorpe, two days before his 30th birthday. He did not make the first team in a brief spell at Barnsley, although after taking a job in the steel industry he continued to be involved in the game he loved as player-coach at non-League Brigg Town.
Phil Shaw
Archibald Boyle Gibson, footballer: born Dailly, Ayrshire 30 December 1933; played for Leeds United 1951-60, Scunthorpe United 1960-63; died 23 July 2012.
Join our new commenting forum
Join thought-provoking conversations, follow other Independent readers and see their replies