Arthur Rowlands: Policeman who was awarded the George Medal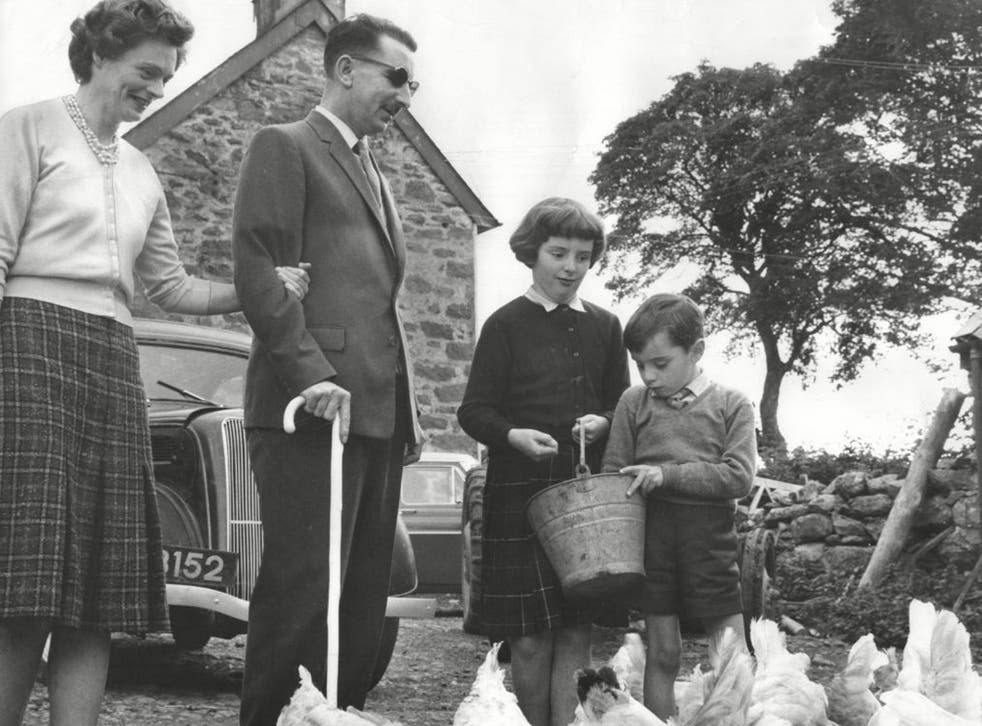 On the night of 2 August 1961, at about three in the morning, PC Arthur Rowlands was on patrol in the Machynlleth area of Montgomeryshire when he saw a man acting suspiciously in the vicinity of Pont-ar-Ddyfi just outside the town. There had been a number of incidents involving summer visitors to the area, and a spate of burglaries, and the police were on the alert for any sign of wrongdoing.
When challenged, the man ran into some nearby buildings but was cornered and confronted by the constable. "You shouldn't have come," the man told him. "I'm going to kill you." He then shot the policeman full in the face with a sawn-off shotgun before running away across the fields. PC Rowlands suffered severe injuries and was blinded for life.
Scotland Yard led the manhunt for Robert Boynton and he was captured by local policemen 10 days later with the gun still in his possession. At his trial, he was found to be criminally insane and sentenced to 32 years in Broadmoor, where he died in 1994.
Rowlands was treated at hospitals in Chepstow, Cardiff and Leamington but surgeons failed to save his sight. Remarkably this sweet-natured man bore no ill-will towards the man who had maimed him, recognising that he was mad and therefore not responsible for his actions. His Christian faith helped to sustain him even as he lay in hospital in great pain and he was supported by colleagues such as PC William Jones, whom he chose as his carer in hospital. Having joined the police force in 1946 he never regretted his choice of career and always encouraged young people to do the same. He and the three colleagues who arrested his assailant were awarded the George Medal.
But now, at the age of 39, his days as a policeman were over: he was facing an uncertain future in which he would have to remake his life. The father of two small children, he resolved to learn Braille so as not to forgo his pleasure in reading and with a view to finding useful employment. He attended the College for the Blind in London, where he quickly learned to read again, and equipped himself for a voluntary job at the telephone switchboard in police headquarters in Caernarfon. His wife, Olive, went back to teaching.
Soon he became a keen advocate of Guide Dogs for the Blind, working for the Gwynedd Guide Dogs Association. He helped to raise many thousands of pounds for the charity and took to visiting schools to show children what it means to be without sight. I once heard him describe how he remembered colours and places he had known before the dreadful incident on the Dyfi Bridge. When asked whether there was anything that irritated him he replied, with the sunny temperament that endeared him to many, that he wished people would not raise their voices when speaking to him just because he could not see them.
Determined to lead a full and active life, he did not let his blindness hinder his enjoyment of sport. He was often to be seen at the Farrar Road ground, home of Bangor City. As a young man of 18 in 1940 he had had a trial for Manchester United and, with his grandson, who provided a commentary, he went to Edinburgh in 2007 when Wales played Scotland at rugby union. He continued to walk the lower slopes of Snowdon, even going to the summit several times with his son. "At least I didn't have to worry about the mist," he remarked wrily. He was also a regular contributor to Welsh programmes on Radio Cymru. The last time I heard him he was speaking about the case of PC David Rathband, the policeman blinded by gunman Raoul Moat in July 2010, who was found dead at his home in Northumberland last March.
A fluent Welsh-speaker, born in Bala, Meirionnydd, and brought up as a farmer's son in nearby villages, Rowlands was a man of broad culture and a dry wit. In 1981 he was admitted to the Gorsedd of Bards, taking the White Robe, and in the year following he was given an honorary MA by the University of Wales, the highest honours Wales has to offer. A full account of his life is given in Enid Wyn Baines' Mae'r Dall yn Gweld ("The blind see", 1983). In his book Murder Was My Business (1971) the former Assistant Detective Commissioner John du Rose described Rowlands as the bravest man he had ever known.
Arthur Rees Rowlands, police constable and promoter of Guide Dogs for the Blind: born Bala, Meirionnydd 14 May 1922; married 1949 Olive Jones (died 2005; one son, one daughter); died Caernarfon, Gwynedd 2 December 2012.
Join our new commenting forum
Join thought-provoking conversations, follow other Independent readers and see their replies